MLB Considering New Rules on Roster Size, September Call-Ups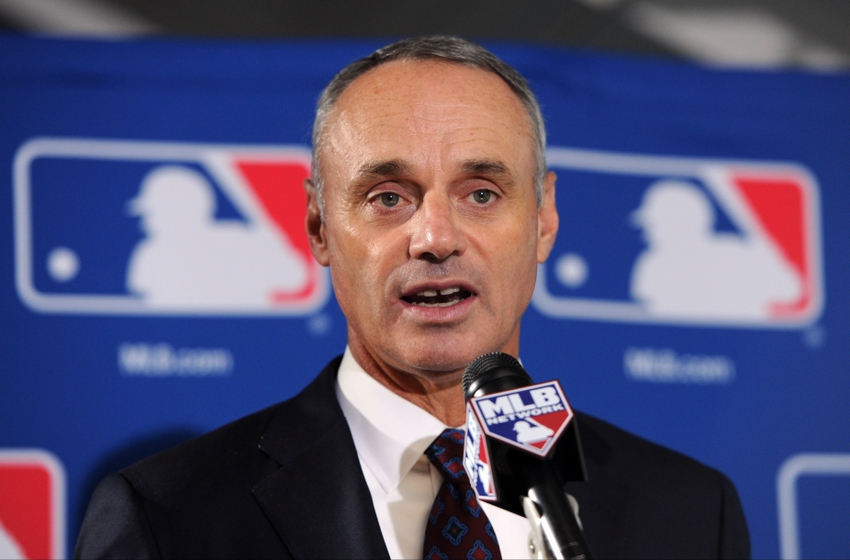 MLB is considering changes to the size of rosters during the year and the number of players eligible for games in September.
MLB has strange rules when it comes to roster limits. During the first five months of the season, teams are allowed 25 players on their active roster. Then, just as pennant races are heating up and the battle for the postseason begins, teams are allowed up to 40 players on their active roster.
There are some problems with this. For one, it creates a mismatch when one team chooses to have 40 players available and another only has 30. When a player is called up in September, his service time clock starts. The more service time a player accrues, the sooner he'll become arbitration eligible and the sooner he can become a free agent. Small market teams may be more inclined to limit their September call-ups so they don't start the service time clocks on their young players. This would help keep down the future cost of these players. A big market team doesn't have to worry about this as much.
This can become a problem when two teams are facing each other and one team has 10 more players available than the other. It would be particularly unequal if the game were to go extra innings. One team might have a bullpen full of pitchers while the other may resort to using a position player if they run out of arms.
From a fan's perspective, this can make September games drag on because of numerous pitching changes. In a September game in 2015, the Rockies and Dodgers used 58 players, including 24 pitchers, in 16 innings. It broke the record for players used by four and pitchers used by three. The game didn't end until after 3:00 A.M. Eastern Time.
Over the last few years, there has been an increasing call for change. According to Ken Rosenthal, roster size is a topic being discussed in the current negotiations of the Collective Bargaining Agreement (CBA) between the owners and players, which expires on December 1.
In exchange for an additional spot added during the season, the players may agree to a roster limit in September. Roster size would go from 25 to 26 during the season and be reduced from 40 to 28 during September. The 28-player limit in September would allow teams to swap out players, so it wouldn't be a hard-and-fast 28 players for the whole month. Teams would likely be able to choose which three players to make active from their 40-man roster for a set period of time.
More from Call to the Pen
The benefit to the players would be an additional roster spot during the season. This would be one more roster spot on each team that would make at least the major league minimum for the entire year. The drawback may come in service time for the players called up in September. The players and owners would likely have to work out how service time would accrue. Would only players on the active roster get service time credit or would all players eligible for the active roster get credit? This would all be part of the negotiations.
Adding a roster spot during the season could make games more interesting, as long as teams don't use that spot for another relief pitcher. Teams are currently keeping 12 or 13 pitches on their rosters, which leads to many pitching changes as managers play matchups. This is one reason games are longer than they used to be.
It wasn't that long ago that teams kept just nine or 10 pitchers on their active rosters and had more position players to use during games. The longtime manager of the Baltimore Orioles, Earl Weaver, was well known for using platoons. He liked having the advantage of his left-handed hitter facing a right-handed starter, and his righties against their lefties.
When Weaver was managing the Baltimore Orioles in the late 1970s, the team acquired lefty-hitting John Lowenstein, a career .239/.310/.358 hitter in eight seasons with Cleveland. Weaver knew Lowenstein had trouble hitting lefties, so he used him almost exclusively against right-handed pitching. Weaver often platooned Lowenstein with Gary Roenicke to form a very productive combination in the outfield. In four seasons with Weaver as his manager, Lowenstein hit .289/.381/.489. During this stretch, Lowenstein had 1,017 plate appearances against right-handed pitchers and just 43 against lefties. Having just nine or 10 pitchers on the roster allows for more platooning.
Teams today aren't going to cut back to nine or 10 pitchers, but adding a roster spot and limiting teams to no more than 13 pitchers would at least allow one more spot for a hitter than many teams currently have. Commissioner Rob Manfred has already said he favors restrictions on the use of relievers in an inning or a game because he would like to improve the pace of play. If teams used an extra roster spot for another reliever, it would go against that desire, so it wouldn't be surprising to see a limit put in place.
This article originally appeared on