MLB: Bullpens Are Evolving After Andrew Miller's Performance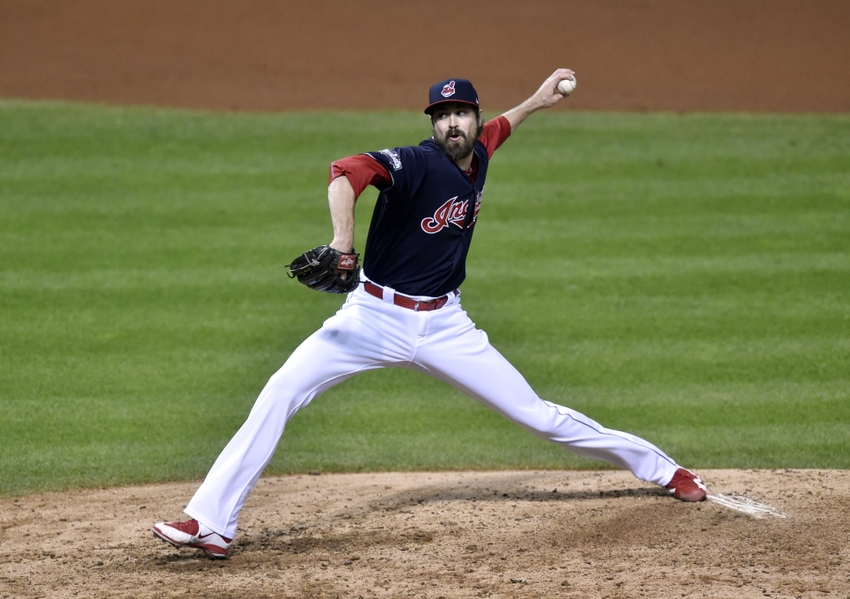 Will Andrew Miller's use in the World Series have an impact on MLB bullpens in 2017?
When Terry Francona called upon Andrew Miller in the fifth inning of the American League Division Series, reporters had plenty of questions after the game. Why, they wanted to know, would you use one of the best closers in the league in the fifth inning rather than waiting until the ninth?
"Because he's really good." Francona told them. A simple answer for a simple decision, at least in Tito's mind.
For traditionalists, this might not make sense. As long as baseball has had closers – which really hasn't been that long, actually – they've been the ones to take the ball at the end of the game. However, given the unconventional use of relievers by both the Cleveland Indians and the Chicago Cubs this postseason, will the baseball world reconsider?
It seems like they might
For years, the sabermetrics community has advocated for closers to be used in the highest leverage situations, rather than saved for a ninth inning than might never come. In the AL Wild Card game, for example, manager Buck Showalter saved closer Zach Britton for a save situation, instead of using him when the game was on the line. This tweet from Britton says it all:
Lol… #falseadvertising https://t.co/OoQNz9zS87

— Zach Britton (@zbritton) October 15, 2016
The Orioles season came to a close with Britton still in the bullpen. Had the O's and Showalter been more willing to manage their bullpen creatively, it might have been the Toronto Blue Jays who found themselves headed home at the end of the night.
General managers have expressed some reservations about a total redesign of the bullpen system, but they have acknowledged that it may become a more common practice.
"I hope so, because I think it's smart and it's making the game better," said Phillies GM Matt Klentak to MLB.com.

He added, "Managers are not only managing the back few innings of the game, but also managing the personalities of the pitchers themselves. It's not always as simple as it sounds."
That's true, and as long as relievers' contracts are structured in such a way that they are rewarded via bonuses and extensions based on saves and innings pitched, tensions can run high if a closer suddenly stops getting save opportunities or if all the innings go to a handful of relievers.
Andrew Miller is unique in that he is one of the greatest pitchers in league at the moment, and he'll garner attention regardless of which inning he pitches in. Most middle relievers, however, are not going to command that kind of national notice – and certainly not the kind of money that Miller earned when he hit free agency.
A prime example of this is the Tribe's bullpen:
Cody Allen, their primary closer, was fairly well-known by baseball fans. Bryan Shaw and Dan Otero were lights-out for most of the year, and received nearly no accolades. When Allen goes to sign his next contract, he'll be able to get much more than Shaw or Otereo will.
In order to keep peace in the bullpen, general managers need to structure contracts around value-based statistics instead of counting stats. Coming in and getting the save is usually no more useful than coming in and earning a hold, yet baseball treats it as a much more valuable statistic. That kind of systematic change will take time, as many contracts already include clauses pertaining to the current bullpen structure. There are also always a handful of teams that are resistant to any kind of change, and it will take a while before those clubs realize Francona has the right idea.
One immediate change, however, is that more bullpens will go to a two-closer system. The Indians were able to use Miller and Allen interchangeably if needed, giving them more options in earlier innings instead of having to hope a younger or less-effective reliever would be able to hold the lead. If one of them was "wasted" on putting out a fire in the fifth inning, the other was still available later for the save.
The old adage has always been "don't pay for saves", but as starters begin to exit games earlier and earlier, the importance of strong relievers will continue to grow. Analytics have proven that using your best pitcher is more effective than reserving him for an opportunity that isn't guaranteed to happen. Expect to see more teams following Francona's lead in 2017.
More from Call to the Pen
This article originally appeared on