MLB Awards Watch: Top Five AL Cy Young Candidates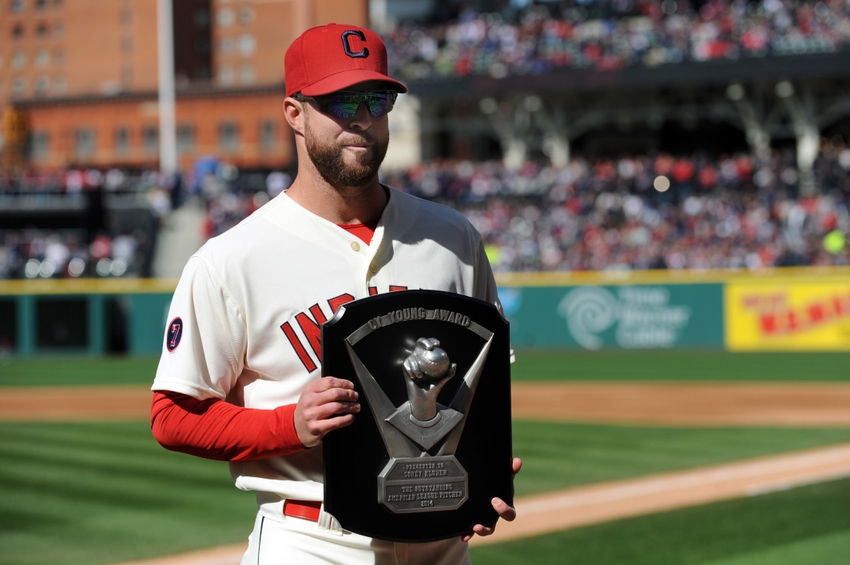 The MLB regular season is coming to an end, which means it's time for you to read a million awards prediction articles. I'll break down the top five AL Cy Young candidates.
The season ends in just 28 days and there are still so many questions left to be answered. The AL East is going to come down to the last day, a dark-horse candidate could possibly win the MVP and the race for the American League Cy Young is wide open. There are five realistic AL Cy Young candidates.
The candidates for the Cy Young have moved up and down the totem pole all season long. At one point, it looked like Chris Sale would take home the hardware, but he declared himself a seamstress and created one of the weirdest off-field disruptions in history. Now it looks like he may not even finish within the top six or seven.
Michael Fulmer seems like he could be a top option, but he currently isn't in line to have the top ERA due to qualifying reasons. He has the best AL ERA but must pitch 162 innings to end as a qualifier; he currently has 125.2 under his belt.
There has been no real standout among pitchers to take home the award. Most have struggled when put in the position to run away with the award, and there hasn't been an absolutely dominant pitcher yet.
There are a lot of things to look at when it comes to who deserves to be a Cy Young. The award is handed out to the best pitcher in each league, and usually goes to the pitcher who helped their team the most in the midst of a playoff push or division race. The award is voted on by the Baseball Writers' Association of America.
There are numerous sites that predict the outcome of the Cy Young award and give the probabilities after each outing. We will use the help of those sites and break down the top five candidates for the AL Cy Young award.
5
J.A.
Happ
(17-4, 3.44 ERA)
J.A. Happ has played the wild card in this year's Cy Young race. He took over in the Blue Jays rotation as a dominant ace after the departure of David Price.
He's gone an impressive 17-4 this season. Although we don't put too much weight on wins and losses, the people who vote for the award do, so excuse us for overusing this stat in this article.
At one point, Happ had the highest ESPN Cy Young Predictor rating in the month of August, but since then he has struggled. His current rating is 136.3, which is still good for fourth on that list. A couple of rough starts over the last few weeks have inflated his ERA and FIP, but his early success should not be overlooked.
Happ ranks in the top ten in the AL in wins, winning percentage, DIP percentage and batting average on balls in play. His major contribution has been in his clutch starts for the Blue Jays. Winning 17 games for your club makes you a bit of a clutch pitcher, and that's exactly what Happ has been this season.
His fastball has been one of the reasons for his success this year. His four-seam fastball has a wFB of 25, good for second in the AL. This measures his fastball runs above average. His fastball is clearly one of the best and most unhittable pitches in the league this year.
Yes, he is a bit of an oddball choice, but if Happ can pitch the Jays into the playoffs, he will get a lot of votes from the BBWAA.
4
Zach
Britton
(40 Saves, 0.65 ERA)
Yes, closers can win the Cy Young award, just ask Eric Gagne, Rollie Fingers or Dennis Eckersley.
It's always been an argument that closers don't pitch enough to be considered the best pitcher in the league, but let's really take a look at the value of a good closer. The 2014-2015 Royals had the best bullpen in baseball, and it showed when they made back-to-back World Series trips. The combination of Greg Holland and Wade Davis was almost unhittable.
The closer role itself is becoming one of the most valued in baseball. Major trades were made this season for Aroldis Chapman, Craig Kimbrel and Andrew Miller that all involved major prospects. So saying that Zach Britton isn't valuable enough just isn't true.
On top of all of this, he's been really, really good. His number of saves can't be the defining factor in all of this because he hasn't had as many save opportunities thanks to the O's pounding offense. However, he still is third in MLB with 40 saves.
His most impressive stat is his ERA. In 55 innings pitched, he has a 0.65 ERA. He went on a streak of 43 games without allowing an earned run. This is more impressive than it seems. Mariano Rivera and Trevor Hoffman, often thought of as the greatest closers of all time, never had an ERA under 1.30.
Out of all the balls hit in play, batters are hitting just .211. The hard contact percentage is 15.5 percent, the best in the league. Britton's extreme success has been when batters hit the ball, which makes his performance even more impressive.
ESPN Cy Young Predictor gives him a rating of 141.7, second best in the AL. He might be a closer, but Zach Britton has a legitimate chance to take home the award.
3
Cole
Hamels
(14-5, 3.25 ERA)
The trade that the Rangers made for Cole Hamels last July is proving to be one of the best mid-season trades from the 2015 season. Hamels was an All-Star this season, and now has a great chance of being a Cy Young winner.
This year in the American League, Hamels ranks in the top 10 in strikeouts, ERA, K/9 and opponent slugging percentage. His ESPN Cy Young Predictor rating is 134.6, ranking sixth best. Odds Shark gives Hamels a +200 chance of winning.
It could be said that Hamels has been more valuable to the Rangers as there hasn't been great depth in the starting rotation. His value is something that BBWAA voters will most definitely be taking into consideration.
Hamels' stats have been inflated over his last two starts after giving up six and seven runs, respectively. Take those out, and his ERA would be 2.67. That would rank him number one in the American League among qualified starters. This will most likely come into consideration for the voters.
Hamels has never come close to the top four of winning a Cy Young award, so to come to the AL, the better-hitting league, and be right in the thick of it is impressive. No Rangers pitcher has ever won a Cy Young, so he could even cement himself into Texas baseball history.
2
Rick
Porcello
(19-3, 3.23 ERA)
I wrote about Rick Porcello about a month ago, talking about how he is the "ace" of the Red Sox, and not to be modest, but I nailed it.
Porcello has the most wins in MLB with 19. He's on track to be a 20-game winner, and it's very likely that if the Red Sox make the playoffs, he will start over David Price. Porcello has been a godsend to the Red Sox.
Since June, Porcello has lost just one game. In June and July, he won six straight starts. His value is almost unmeasurable to the Red Sox success this season. On top of being the ultimate "put the team on my back" player, Porcello has put together a career-best season. His ESPN Cy Young Predictor rating is 169.5, the top rating among pitchers.
He has career highs already in strikeouts, ERA, FIP, earned runs, WHIP and home runs and hits per nine innings. Porcello is one of the best ground ball pitchers in the league with a 44.4 percentage. He's throwing fewer balls than he has in years past, and is not walking as many batters.
When the Red Sox have needed a big win, Porcello has been the guy to turn to. He has elevated himself from a middle-of-the-rotation pitcher to an ace. Don't be surprised if the Red Sox get their first Cy Young winner since 2000.
1
Corey
Kluber
(15-9, 3.16 ERA)
He won one in 2014, and he could most definitely win one in 2016. If there's any sort of front-runner in this Cy Young race, it's Corey Kluber. He has helped fuel a run by the first-place Indians, and has been one of the most dominant pitchers in 2016.
Kluber leads the league in most notable stats such as shutouts, FIP, ERA+ and WAR. On top of that, he's in the top five in wins, strikeouts, innings pitched, K/9 and WHIP. He's lost just three times since June, and has gone at least six innings in his last 11 starts.
At one point this season Kluber had a streak of 10 straight consecutive starts. In the months of August and September, arguably the most important months, his game elevated. He struck out 53 batters in 47.2 innings and had an ERA of 2.83. His current Cy Young Predictor is 141.4, which ranks third best.
Kluber has always been the leader of that Indians rotation, but he has a real chance to be the best pitcher in the AL for the second time in three years. He would join the elite group of just 17 pitchers to win the award more than once, and the 11th to win at least two in three years.
More from Call to the Pen
This article originally appeared on