MLB Awards: Did the BBWAA Get Cy Young Right?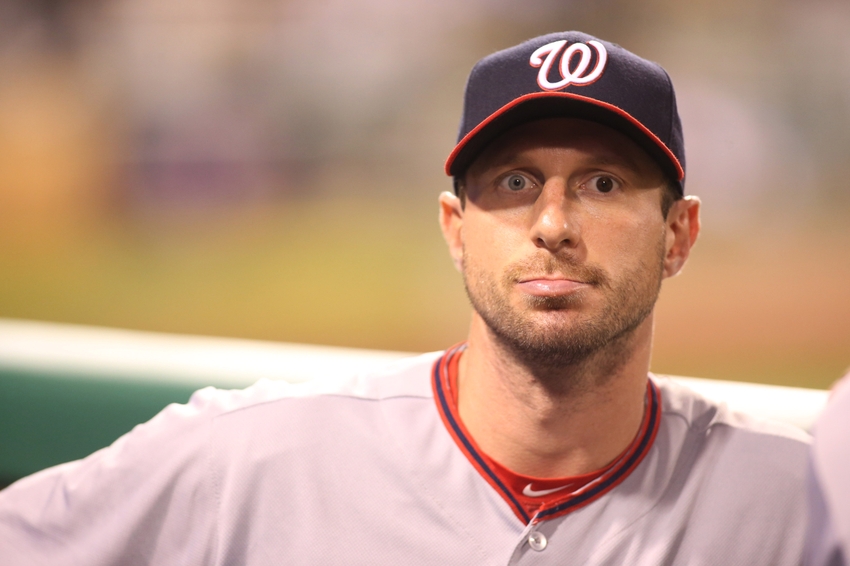 Last night the MLB Cy Young winners were announced. Max Scherzer won in the NL, and Rick Porcello won in the AL. Did the voters get it right?
For years and years BBWAA voters have overvalued pitcher wins in regards to Cy Young votes. In recent years we've seen voters take some steps in the right direction. In 2014 and 2015, Corey Kluber and Dallas Keuchel both had the most wins in the American League the year in which they won. In the NL, we haven't seen wins matter all that much for a long while, but that is mostly due to the award race having an even playing field in regards to wins. In the American League, we saw business as usual, relying on pitcher wins. In the National League, we saw even more push of advanced statistics. The two awards handed out tonight could not have been voted on more differently.
Let's start with the winner that was announced first, Max Scherzer winning the NL Cy Young Award. He was in theory competing with Jon Lester and Kyle Hendricks, the other two finalists, but Jose Fernandez made a great case during his season as well. Scherzer finished 2nd in strikeout and strikeout rate with 31.5%, behind Jose Fernandez and his ridiculous 34.3%. Scherzer had the best NL WHIP in 2016 (0.97), which was just good enough to put him above Kyle Hendricks' 0.98. Max Scherzer also had the most innings pitched in the National League. Jon Lester had 6th most, Hendricks 13th, and Fernandez 19th. That is likely where many voters saw a distinct difference between Scherzer and his counterparts.
When looking at ERA, both Hendricks and Lester were well above Scherzer's mark. Hendricks led the league with a 2.13, and his rotation mate Lester was just behind him with 2.44. Scherzer, on the other hand, was 8th in the National League with 2.96. Based on ERA and WHIP, Hendricks probably had a better case over Scherzer. However, voters took more than that into account, and rightfully so.
Scherzer's deficiency in ERA was well made up for by his ability to strike batters out and provide a whole lot more innings than the other finalists. The difference among Scherzer and the other finalists was small, no doubt, but Scherzer definitely deserved this award.
In the American League, Rick Porcello was named the Cy Young winner. He had an impressive season, in which he had a 3.15 ERA and 1.01 WHIP. Porcello's season was by no means bad. He had a great season with a very good team that ultimately fell short against what the postseason said was the best American League team. His numbers outside of wins were good, but it seems like wins are what pushed him ahead of the others.
Justin Verlander posted a 3.04 ERA and 1.00 WHIP with a 28.1% strikeout rate vastly superior to Procello's 21.2%. Corey Kluber had a 3.14 ERA and 1.06 WHIP while striking out 26.4% of batters faced. The margins between those three was incredibly thin. Verlander was likely the best overall candidate, because of his advantage over Porcelllo in strikeouts and over Kluber in ERA and WHIP. But the difference between the numbers was so narrow that many voters seemed to go back and forth on them. Justin Verlander, after all, got the most first place votes. He simply failed to get more down-ballot votes than Porcello did, and was somehow left off of a couple ballots.
Did the BBWAA make an egregious mistake in choosing Porcello? No. But they mostly based their final decision on wins, and failed to see that Justin Verlander was the best overall pitcher in 2016. Porcello was able to pitch well in a season where not many American League pitchers did. In the end, his team's performance helped push him over the edge.
The decisions made by the BBWAA in the MLB Cy Young vote weren't all that questionable. Max Scherzer deserved to win the award, even though Jose Fernandez dominated in strikeouts and Kyle Hendricks suppressed the most runs. Rick Porcello was probably outmatched in terms of performance by Justin Verlander and Corey Kluber, but in no way was his award completely undeserved. Surely, the BBWAA has made worse decisions.
More from Call to the Pen
This article originally appeared on