MLB 2017: Top ten second basemen
Second basemen make up one of the hottest positions in Major League Baseball. Who makes up the top ten at one of the new power spots in baseball?
Formerly home to offensively-challenged, glove-first players, second base is going through a transition in Major League Baseball. Similar to the boom in the late 1990s that saw power introduced at shortstop, that same movement is making its way over to the second sack. Last year, 14 second basemen hit more than 20 home runs, four hit more than 30, and Brian Dozier set the AL record with 42, becoming just the third player ever to hit more than 40 while actually playing second base. Five players also slugged better than .500, and both league batting titles were won by second basemen (Jose Altuve at .338 in the AL and DJ LeMahieu at .348 in the NL).
Making a top-10 list for this newly-explosive position won't be easy. Young studs on the rise and several other solid players will have a hard time breaking into the upper echelon for now, but that does not take away from the fact that there may be more exciting second basemen in baseball than ever before in the history of the game.
10. Ben Zobrist/Javier Baez, Chicago Cubs
The Cubs were spared some of the difficulties of balancing playing time for Ben Zobrist, Kyle Schwarber, and Javier Baez last year due to Schwarber's knee injury in the first week of the season. Manager Joe Maddon is going to have to do plenty of juggling with his available at-bats in left field and at second base this year. Zobrist started 113 games at second base last year, and was signed under the general assumption that he would see most of his playing time in the infield. Baez started 38 games, and played almost 400 total innings at the position.
Between the two of them — Benier Baebrist, if you will — the Cubs finished with a .841 OPS at second base, good for seventh in baseball. Zobrist cranked out 18 home runs, while Baez contributed 14 while also playing shortstop, third base, and outfield. Maddon has a very good problem on his hands as he goes about figuring out when Zobrist and Baez will play. Zobrist remains one of the steadiest hitters in the league, while Baez brings one of the flashiest gloves. Just an embarrassment of riches for the defending World Series champions.
9. Ian Kinsler, Detroit Tigers
If (or when) Major League Baseball goes back and looks into whether or not the baseballs really were wound too tightly in 2016, they might want to keep an eye on Ian Kinsler's 28 bombs. It took the four-time All-Star over 1,300 at-bats to hit 28 balls out of the yard between 2014 and 2015, but he was able to match that total in 679 at-bats last year while slugging close to .500.
Juiced baseballs or not, Kinsler remains a top second baseman in the league even as he enters his age-35 season. He won his first Gold Glove in 2016, a much-deserved honor for one of the best glovemen in baseball over the past decade. Kinsler is one of just five second basemen in baseball history with over 200 home runs and 200 steals. He is bordering on the fringes of the Hall of Fame conversation, and could propel his name higher with a few more seasons like 2016.
Kinsler has the potential to become a free agent after this season. The Tigers hold a club option for $12 million for the 2018 season. It might not come as a surprise to see his name pop up in trade talks later this summer if the Tigers slide out of playoff contention early in the season or start slowly. He would have to waive his no-trade clause, and reportedly wants an extension as a part of any move.
8. Rougned Odor, Texas Rangers
Odor will probably always be remembered for throwing a punch and decking Jose Bautista (something most of the league has wanted to do for years), but he is quickly climbing up the second-base ranks. He has already played 384 games in the big leagues before his 23rd birthday, with 58 home runs and a respectable .265/.302/.464 line. Odor hit 33 home runs in 2016, and has also knocked two out in the playoffs the last two seasons.
There are still plenty of roug(h) edges to Odor's game, notably his wild temper that has emerged on more than one occasion. He also has a penchant for swinging at nearly everything even remotely near the plate. Odor walked only 19 times last year while swinging at over 40 percent of pitches outside the strike zone, which was actually a step back from 2015. He will have to continue tightening his zone up to keep improving as a hitter. Odor's game is very similar to Jonathan Schoop of the Baltimore Orioles. Schoop is on the fringes of the top-10, and had an All-Star caliber first half to 2016 before his bad habits as a hitter led to a lengthy slump in the second half.
Odor is the best of the young second baseman in baseball, and can do some things on the diamond that are just flat-out unfair.
If Odor puts it all together this year, he should make his first All-Star team and push towards a top-five ranking in the league.
7. Jason Kipnis, Cleveland Indians
Because he has played his entire career in Cleveland, Jason Kipnis is probably not as well-known on a national scale as he should be. With the Indians making a run to the World Series last year, and looking like one of the top contenders in the American League this year, Kipnis may begin shedding his underrated tag. His postseason numbers last year took a major hit from a 1-for-19 effort in the ALCS, but Kipnis was a major offensive force in the ALDS and World Series where he batted .310 with a .595 slugging percentage and three home runs.
As a hitter, Kipnis is a versatile hitter with a good eye. He hits pitchers from both sides well, and has slugged over .450 in three of the past four years. Some of the speed that he showed with back-to-back 30-steal seasons in 2012 and 2013 has gone, but Kipnis still knows the right times to swipe a bag and is rarely thrown out. He also has over 40 doubles in each of the past two years, and topped 20 home runs for the first time in 2016.
Best of all (and perhaps most important to the Indians), Kipnis is locked into a very team-friendly contract. He is under contract for four more years and a maximum of $54 million, which makes him a bargain by today's standards. With more well-deserved recognition coming his way, Kipnis should continue adding to his two All-Star nods.
6. Brian Dozier, Minnesota Twins
For now, Brian Dozier is staying with the Minnesota Twins, and that may or may not work out for them. For months, Dozier was on the verge of being traded to the Los Angeles Dodgers, but the sides could not work out an agreement. In the end, the Dodgers walked away and made a trade for Logan Forsythe, and the Twins are left holding onto Dozier with the hope that his 2016 season was not a fluke.
Down the stretch last year, Dozier was seemingly homering every day. He hit 23 of his 42 home runs in August and September, one every 10.4 at-bats. Dozier finished the second half with 28 home runs and a .291/.344/.646 line. That explosion came on the heels of a first half where he batted .244/.335/.450, numbers that align almost exactly with his career averages.
It is up to Dozier to prove that his second half was not the product of pitchers feeling free to attack him with fastballs while the rest of the Twins lineup floundered. Only 12 of his homers came with men on base, after all. Dozier chalked his home runs up to feeling more comfortable with changes to his swing, and the results do go against the second-half swoon he encountered in 2015. If Dozier comes out raking, the Twins will be able to fetch a major prospect haul for him at the deadline. If not, he still has a very movable contract, but the return will be lesser than it would have been this winter.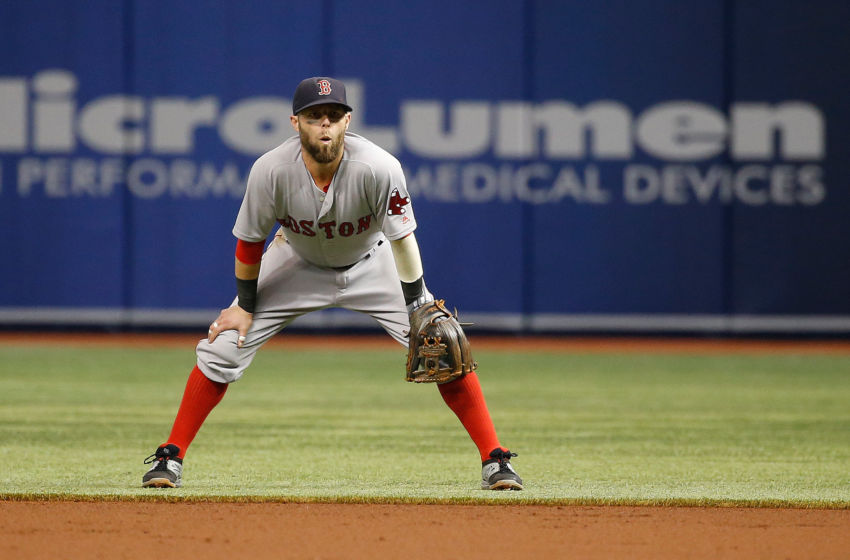 Sep 24, 2016; St. Petersburg, FL, USA; Boston Red Sox second baseman Dustin Pedroia (15) against the Tampa Bay Rays at Tropicana Field. Mandatory Credit: Kim Klement-USA TODAY Sports
5. Dustin Pedroia, Boston Red Sox
With the retirement of David Ortiz (allegedly), Dustin Pedroia is one of the few remaining holdovers to the Red Sox team that won the 2013 World Series. Eleven years into his career, Pedroia remains one of the peskiest hitters in the league. He battled back from injury-plagued years in 2014 and 2015 to post his first season with an OPS over .800 since 2011 last year.
Some of the speed and power Pedroia displayed earlier in his career have declined, but he is still a lock for a line somewhere in the range of .300/.350/.450 every year. That type of line is becoming more common for second basemen in baseball, but Pedroia also backs it up with a strong glove and undeniable leadership and intangibles.
The new blood in the Boston lineup should continue helping to make sure Pedroia sees plenty of pitches to hit. He does everything a manager could possibly ask for from a top-of-the-order hitter, and batted .362 when leading off last season. Pedroia suffered through a few lean year with the Red Sox, but is being rewarded for his patience while the young talent developed around him. By the time he hangs them up in a few years, Pedroia will likely have at least one more World Series ring and a real shot at Cooperstown if he is able to stay healthy.
4. DJ LeMahieu, Colorado Rockies
LeMahieu is a bit of a throwback to the second basemen of years past. He is strictly a contact hitter, and one of the best in the game. The Rockies second baseman won the NL batting title last year (albeit by questionable means as he sat out games down the stretch) while also turning in a career-high slugging percentage of .495. Even with the Coors Field advantage, LeMahieu had never slugged above .400 for a full season.
With the Rockies, LeMahieu should continue cranking out .300 seasons with increasing power. His 6'4″ frame suggests untapped power potential remains, and his 32 doubles last year were a career best by 11. The effects of playing in the Mile High City cannot be overlooked when discussing this second baseman, but he did bat .303 on the road last season. He also made strides last year by upping his walk rate by several percentage points.
Hitting with Nolan Arenado and Carlos Gonzalez behind him in one of baseball's most exciting lineups will ensure that LeMahieu will continue seeing an abundance of fastballs to hit. There is very little reason to expect that he will not contend for more batting titles and All-Star spots in the future. If the Rockies are able to capitalize on their blossoming young pitching, even more eyes will be drawn to the pure swing of DJ LeMahieu who is still slightly under the radar.
3. Daniel Murphy, Washington Nationals
Hardly anyone that covers or watches the game of baseball saw Daniel Murphy's 2016 season coming. Sure, he exploded in the 2015 postseason, but sustaining that type of production over a full season looked like the longest of long shots. What Murphy did last year served to completely change the way we have to think about him as a ballplayer going forward, and his $37.5-million contract could go down as one of the biggest free-agent steals in recent history.
For the first seven years of his MLB career with the New York Mets, Murphy slashed a very solid .288/.331/.424 with 62 home runs. He made an All-Star team in 2014, and made a reputation as one of the hardest players to strikeout. Last year, he batted .347/.390/.595 and led the NL in doubles, slugging, and OPS while striking out only 57 times the entire year. Murphy was able to keep up the power he found down the stretch in 2015 while maintaining his ability as one of the best contact hitters in baseball.
Murphy's defense is a liability at second base, but that hardly matters at this point. He has been a negative in terms of dWAR for the past five years, but with an OPS approaching 1.000, that can be overlooked. Murphy should continue seeing the bulk of his starts at second base for the Nationals, but will make the occasional start at first base.
2. Robinson Cano, Seattle Mariners
Three years into his massive $240-million deal in Seattle, Robinson Cano continues to have one of the sweetest swings in baseball. The spacious dimensions of Safeco Field have not slowed him down, and he hit 39 home runs last year, which topped his old career-high from the launching pad in the Bronx. Despite battling nagging injuries in his second year with the Mariners, Cano has continued to put up excellent numbers.
Cano hit the All-Star break in 2015 with a .251/.290/.370 line, looking uninspired. It was later revealed that he was playing through a double hernia. Since that dismal half of baseball, Cano has batted .308/.363/.535 with 54 home runs. His defense has also rebounded as his health returns. Safeco Field has not hurt him too much, and Cano has actually slugged 14 points higher in his new home than Yankee Stadium with ten more home runs in four fewer games.
There were questions about Cano's ability to carry a team in Seattle, and he admitted to signing there because the money was highest. Everything is trending in the right direction entering year four of the megadeal. On the back end — years eight through ten — Cano's offense and defense may fall off a cliff, but for now, he is an elite second baseman, worth every dollar he is paid.
1. Jose Altuve, Houston Astros
The littlest player in the game, it is almost comical at times to watch Jose Altuve run around the diamond with men nearly a foot taller than him. There is, however, nothing comical about Altuve's game. He has led the AL in hits for three years running, with two batting titles, two stolen base crowns, three Silver Sluggers, and three All-Star nods. To top it all off, he developed a home-run swing in 2016 and hit 24 bombs.
The leaping swing by Altuve to protect his teammate on the hit-and-run play will remain one of the greatest at-bats in league history (for entertainment purposes, anyway), but Altuve has become a transcendent star. He has almost single-handedly propelled the Astros back into the upper ranks of baseball. On the road last year, he batted .376 with more walks than strikeouts.
The Astros built their team on the back of analytics, but no statistical model could have predicted that 5'6″ Altuve would blossom into the toughest out in the game. He is the unquestioned heart and soul of the team, and the complete package on and off the field. It really is a joy to watch Altuve accomplish so many unlikely things, and his place as the best complete second baseman in baseball cannot be disputed.
This article originally appeared on