MLB 2017: National League West Rankings
Jason Evans/FanSided via Call to the Pen

Fansided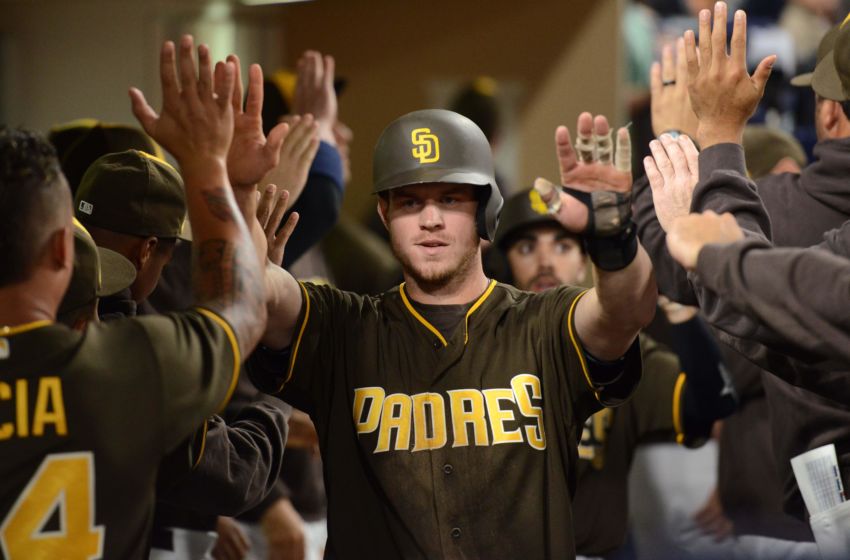 Sep 23, 2016; San Diego, CA, USA; San Diego Padres first baseman
(C) and third baseman
(background) are congratulated after scoring on a single by left fielder
(not pictured) at Petco Park. Mandatory Credit: Jake Roth-USA TODAY Sports
We conclude our MLB 2017 divisional preview with a look at the National League West.
We've reached the end of our MLB 2017 divisional previews with a look at what should be a pretty interesting division in the National League west.
Instead of making that one big move, the Dodgers made some more incremental improvements, acquiring Logan Forsythe for second and Sergio Romo to the bullpen while keeping Justin Turner and Kenley Jansen.
The San Francisco Giants got the closer they needed in Mark Melancon in free agency, though questions remain about third base and left field.
The Arizona Diamondbacks have a new regime with Mike Hazen coming over from the Boston Red Sox. They traded Jean Segura in a deal for Taijuan Walker and Ketel Marte, added catchers Jeff Mathis and Chris Iannetta and closer Fernando Rodney.
In Denver, the Colorado Rockies should be a very interesting team to watch. They have some of their young pitching emerging and added Greg Holland and Mike Dunn to their bullpen. They also added Ian Desmond in free agency to play first base.
The San Diego Padres are looking towards the future. They have some interesting prospects coming up this season and many more after spending a small fortune on international talent. It may be a long major league season though in looking at their roster as currently constituted.
So how will this division break down? Will the Dodgers be at the top or can the Giants or even the Rockies leapfrog them in 2017? Let's take a look.
Starting Pitching
5. Padres- They've rolled the dice on Jered Weaver, Jhoulys Chacin, and Trevor Cahill to compete with guys like Clayton Richard and Jarrod Cosart. The only young arm who could crack this is Luis Perdomo
4. Rockies- Chad Bettis led the way, but this rotation is about youngsters Jon Gray, Tyler Anderson and Jeff Hoffman. Tyler Chatwood is solid.
3. Diamondbacks- Zack Greinke will make around $1 million per start. He has to step up and be the ace and stay healthy this season. Shelby Miller can't be as bad as he was last season. Taijuan Walker, Robbie Ray, Patrick Corbin, Archie Bradley and Brandon Shipley are all interesting young arms for this team.
2. Dodgers- The Dodgers have about 52 starting pitchers. Clayton Kershaw is the best on planet Earth. However, the rest of the rotation has injury questions (Rich Hill, Brandon McCarthy, Hyun-Jin Ryu, Scott Kazmir, Alex Wood) youth (Julio Urias) and Kenta Maeda who was their most durable.
1. Giants- Madison Bumgarner, Johnny Cueto, Matt Moore, Jeff Samardzija. Not a bad 1-4 in a rotation.
Bullpen
5. Diamondbacks- Fernando Rodney was brought in to close, but I wouldn't expect him to be with the club by the end of the season. They have Randall Delgado and Enrique Burgos. Watch out for Zack Godley
4. Padres- Brandon Maurer should close. They have Carter Capps and Kevin Quackenbush from the right side with impressive lefties Ryan Buchter and Brad Hand.
3. Rockies- What does Greg Holland have? If not a lot, they have Adam Ottavino, Jake McGee, Mike Dunn and Jason Motte at the back end of the bullpen. Could be an effective and deep group.
2. Giants- Mark Melancon should finally stabilize the back of the bullpen for the Giants, which was their Achilles heel and really showed in the playoffs. Will Smith, Derek Law and Hunter Strickland should set up for him. It should be better this season.
1. Dodgers- Kenley Jansen is back as closer for a team that had one of the best bullpens in the game. Sergio Romo will fill the Joe Blanton role in the bullpen with Josh Fields, Pedro Baez and Grant Dayton in front of Jansen. It should be one of the game's best yet again.
Infield
5. Padres- The Padres are banking on Wil Myers to be a franchise cornerstone after the extension he got. Yangervis Solarte should be better after going through an awful year off the field. Ryan Schimpf had some impressive power as a rookie. Can he do it again? Who is at shortstop? Luis Sardinas? Carlos Asuaje? Allen Cordoba? Austin Hedges finally gets his shot to be at catcher full time.
4. Diamondbacks- Paul Goldschmidt should be back to his usual self this year with more support. Jake Lamb emerged as a power threat. There are some questions up the middle with Brandon Drury, Chris Owings and Ketel Marte. They added Jeff Mathis and Chris Iannetta behind the plate for defensive abilities.
3. Giants- Buster Posey is the best catcher in the game. Brandon Crawford may be the best defensive shortstop. Joe Panik looks to rebound after injury issues last year. Brandon Belt is sold at first. What will Eduardo Nunez provide at third or will Aaron Hill steal the job?
2. Rockies- Nolan Arenado may be the best third baseman in the game. DJ LeMahieu won the batting title at second. Trevor Story showed impressive power at short. Ian Desmond comes in to play first. Which Ian Desmond will show up, the one from the first half last year or the second?Tony Wolters and Tom Murphy should split catching duties.
1. Dodgers- They brought in Logan Forsythe for second. Corey Seager is just going to get better at short. Justin Turner is back at third and Adrian Gonzalez at first. Yasmani Grandal has power and good defense behind the plate.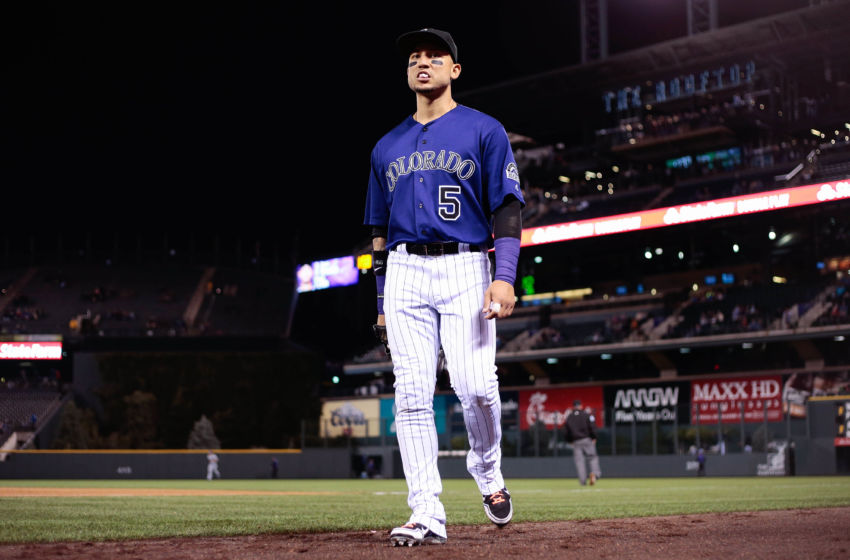 Outfield
5. Padres- Hunter Renfroe and Manuel Margot are unproven, though did some impressive things in the minors. Alex Dickerson should be in left.
4. Giants- Denard Span and Hunter Pence have injury questions. Who will be in left field? Mac Williamson? Jarrett Parker? Could Eduardo Nunez see time there?
3. Diamondbacks- They have to hope AJ Pollock comes back healthy. If he does, and returns to his All-Star form, the Diamondbacks are a much better squad. David Peralta also needs to stay healthy. If he does, look out. Yasmany Tomas has plenty of power and played better last season.
2. Dodgers- The Dodgers have about 17 outfielders for two spots, like at starting pitcher. Joc Pederson should be in center most days. In left and right? Good question. Yasiel Puig, Andre Ethier, Andrew Towles, Francisco Gutierrez, Kike Hernandez, Scott Van Slyke and Trayce Thompson could all see time. It's gonna be about health and matchups.
1. Rockies- Carlos Gonzalez is entering a contract year. Charlie Blackmon will look to build on an excellent year. Gerardo Parra struggled through some injuries last season. David Dahl and Raimel Tapia are both young players to watch in this group.
Final Standings
So how will the teams shake out? Remember, lower score is better.
5. Padres (19 points)
4. Diamondbacks (15 points)
2. Rockies and Giants (10 points)
1 Dodgers (6 points)
It's going to be a long process in San Diego, though there is plenty of talent coming and getting a look at guys like Renfroe and Margot all season should be fun. The Diamondbacks are going through a bit of a restructuring and don't be surprised to hear Greinke trade rumors all year long. Can the Rockies pitching hold up for an entire year? The Giants pitching should carry them and hopefully for their sake they can get more hitting and figure out left field.
The Dodgers should win this division. I don't think they are the best team in baseball, however, their depth is unsurpassed in the game today and should be able to cover whatever injuries may come, like they did last season.
Anyone too high? Too low? Leave a comment and let us know.
More from Call to the Pen
This article originally appeared on