Minor League team cancels 'A-Rod Juice Box Night'
By Gordon Dixon.
Alex Rodriguez is often the target of slander and jokes. On Friday, it was the Charlotte Stone Crabs, a minor league affiliate of the Rays, who had the Yankees designated hitter in their sights.
The Stone Crabs planned to hand out the above pictured juice box which reads "The Sports Drink. 100 % Juiced. Side Affects include: tainted records, inflated ego, omission from the Hall of Fame, and more!" to the first 500 fans in attendance of their game against the Tampa Yankees. Those who received one could either drink it or donate it to the Charlotte County Homeless Coalition. However, both the Yankees and Rays expressed displeasure with the promotion and urged the Stone Crabs to cancel.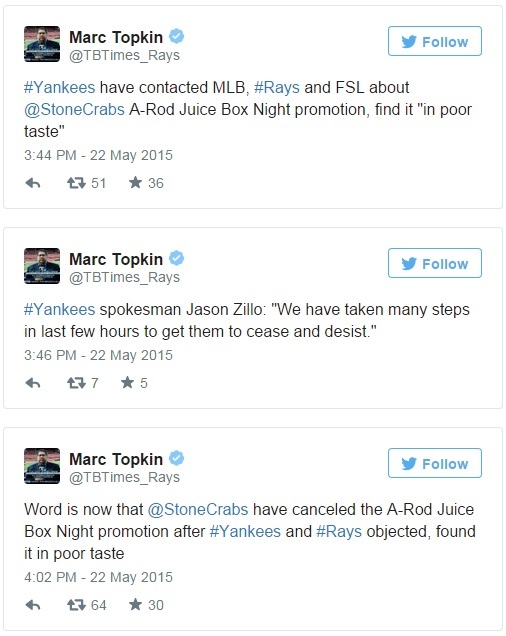 The Yankees haven't exactly been the most supportive of Rodriguez recently, like when they decided to not give him a $6 million bonus for hitting career home run No. 660. In this instance, this time they appeared to have his back and received a bit of a consolation when the Stone Crabs issued this apology:
"On behalf of our entire organization I apologize to the New York Yankees, our affiliate club the Tampa Bay Rays, and all fans who may have taken offense," said Stone Crabs General Manager, Jared Forma via the Tampa Bay Times. "While our intent was to raise awareness for the Charlotte County Homeless Coalition and the Salvation Army, we realize this promotion may have been offensive to many and for that we are sorry and have decided to cancel the promotion. The Stone Crabs organization has the utmost respect for the New York Yankees and Tampa Bay Rays organizations and wishes both organizations only the best in the future."
More from Larry Brown Sports: