Minnesota Twins: Is Brian Dozier Baseball's Best Power Hitter?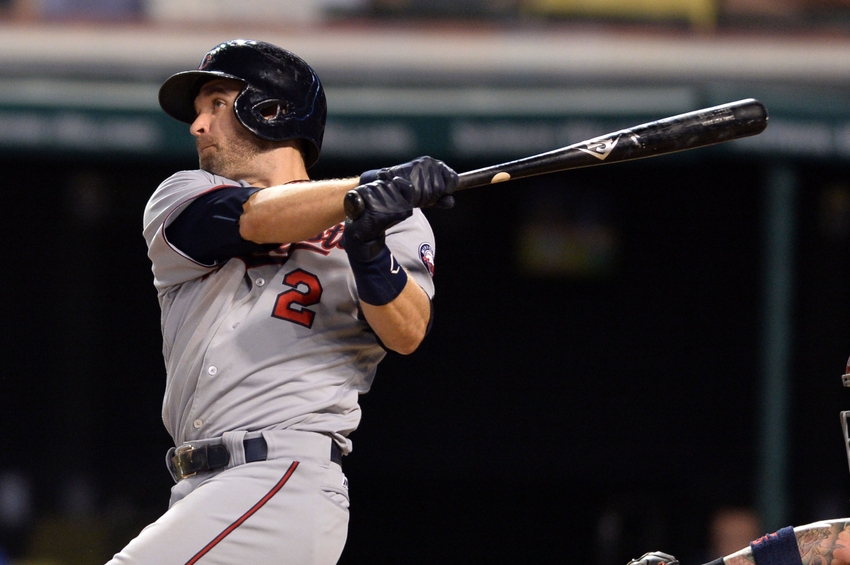 In recent months, no player has hit more home runs than the Minnesota Twins Brian Dozier.
In the eighth inning of yesterday's game against the Royals, Brian Dozier deposited his third home run of the day deep into the bleachers in left field. The Minnesota Twins second baseman had a day to remember even though his team fell to Kansas City 11-5. This performance was a wakeup call to some fans who have been sleeping on Dozier's impressive 2016.
Brian Dozier hasn't just been good as of late. He's been historically good. Following the show he put on Monday, a number of analysts began to highlight how impressive his recent run has been. In particular, he's been one of baseball's best power hitters since June.
Brian Dozier's 24 HR tied for 3rd most all-time in player's first 50 games after All-Star break, behind McGwire and Sosa in '99, per Elias.

— Jon Morosi (@jonmorosi) September 6, 2016
Brian Dozier has 30 homers over his last 70 games, dating back to June 19. No one else in MLB has more than 21 homers over that span.

— Rhett Bollinger (@RhettBollinger) September 5, 2016
Top HR seasons by 2B in PED testing era (2004-):
37-Brian Dozier (2016)
36-Dan Uggla (2011)
36-Aaron Hill (2009)
36-Alfonso Soriano (2005)

— Mike Berardino (@MikeBerardino) September 5, 2016
More from Call to the Pen
Dozier's season totals tell the story of a player having the best offensive season of his MLB career. Currently he's hitting .279/.350/.576, and if the season ended today those would all be career highs. His current OPS of .926 easily eclipses his previous high of .762 set in 2014. He's already racked up career totals in home runs (38), RBI (91), triples (5), and total bases (302). In a down year for the Twins, Dozier's performance has been one of the few bright spots. However, after the first few months of the season, few would have expected this output.
From April 4 to May 31, Dozier looked like he could be a major disappointment at the plate. By the end of May, he was hitting just .202/.294/.329, and his five home runs didn't indicate a player who would close in on 40 by the end of the season. However, as the calendar turned to June a different Brian Dozier emerged. His 1.163 OPS in June was an improbable increase in production, and many expected him to regress. However, he was able to stay well above his early season performance in July (.824), August (1.072), and the early part of September (1.304).
Get the FanSided App
How exactly has Dozier transitioned from underachieving middle infielder to one of the best hitters in the American League? Fans knew he was better than he showed early on. In 2014 and 2015, he hit over 20 home runs, and he was above average by OPS+. Still, few would have expected him to be the sixth-best hitter in the AL by wRC+ (141) at this point in the season.
In late August Aaron Gleeman of Baseball Prospectus attempted to find an answer to Dozier's hot streak. The common assumption was that Dozier had changed his approach in some way, and that he was now willing to use the opposite side of the field. He's a notoriously heavy pull hitter, and many worried that if pitchers began to pitch him away it would minimize his productivity. Gleeman argued that the facts don't support this answer. As a power hitter Dozier has remained pull heavy. His 2016 Pull percentage of 56.9 percent is the second highest of his career.
One thing analysts and fans can be sure about is that this recent surge has dramatically increased Dozier's trade value. In an article for CBS Sports, Dayn Perry suggested a handful of contending teams who would be interested in an upgrade at 2B for the 2017 season. In 2015 the Twins signed Dozier to a four-year, $20 million contract. Over the next two seasons he's scheduled to earn $6 million and $9 million which also makes him incredibly affordable.
While there might not be much interest regarding wins and losses for the rest of the season in Minnesota, Brian Dozier has given an entire fan base something to be excited about.
This article originally appeared on