Milwaukee Brewers: A Capable and Focused Franchise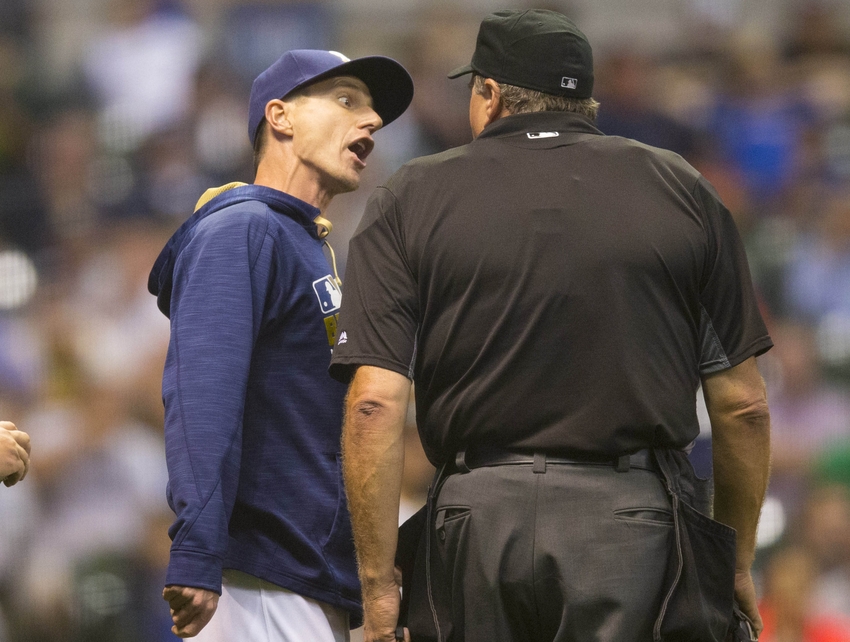 Some see the Milwaukee Brewers as an inept franchise, going nowhere. Personally, I don't see this team that way, and in a lighthearted spirit, I'm ready to debate.
Let me start with a disclaimer: I'm a Milwaukee Brewers fan. I spend a lot of time thinking about the Brewers. I read each and every Brewers' minor league box score during the season. Also, I have a cat named Carlos Gomez. That kind of stuff.
Still, I consider myself a reasonable person. I can be (relatively) objective, even about something like defending the honor of world's best mascot, Beer Barrel Man.
Yesterday, I read an article from a writer over at a sister site on the FanSided network, Call to the Pen. It was an article about the Milwaukee Brewers.
The Brewers are a small-market team, and they didn't win much in 2016, so I was initially surprised anyone outside of Milwaukee was posting about them.
At least one writer doesn't see the Brewers as a well-run organization. In fact, "inept" was his descriptor of choice.
As always, differing opinions are great, and they make the world an interesting place, so let me be clear I'm not trying to pick a fight here.
However, I'd still like to argue in favor of our beloved home team, if I may. The major points within the article seem to be the following:
Members of the front office get rich whether the team wins or loses, so they might not care about winning.
The front office is indecisive about the future of Ryan Braun.
The front office made poor decisions in free agency prior to the 2016 season.
This culminated with the writer saying he'd be surprised if there "wasn't a conundrum of protest rising from the rabid base of Milwaukee Brewers fans these days."
No offense, but that's like MLB-centric beat poetry.
Anyway, I'd like to break down this argument one step at a time. The first critique might be levied more at the times we live in, rather than just the Brewers, but I'll give it a shot anyway.
1. Every team has an owner or owners who make a lot of money.
It's not simply the Milwaukee Brewers executives diving into piles of gold coins like Scrooge McDuck. It's all  MLB executives diving into piles of gold coins like Scrooge McDuck.
If money truly did make people stop trying, then none of the players in any of America's major sports would try very hard, and the team owners would try even less.
I suppose it simply comes down to world view. I don't think many players play just to make money. Same for actors, or directors, or team owners. They're already wealthy. They could quit their jobs and relax on a beach, but they choose to follow their passion.
Additionally, owners and general managers have been rich off of baseball for a long time. This isn't a new development. If this is a problem, it has been a problem for half a century. Yet the sport continues to thrill and enliven fans.
Sure, it's hypothetically possible for any owner –or player– to have zero passion for baseball or winning, but it's still not very good business to willingly produce a shoddy product if the end goal is to make a profit.
2. I'm glad the front office isn't rushing the Braun situation.
The second argument, if you don't remember, is that the front office "traded and untraded Ryan Braun seventeen times last summer."
I take that to mean that the team has both pursued trading, but also retaining, the best hitter on the team. I simply don't see that as a bad thing. To me, it's the proper thing for a front office to do.
The Milwaukee Brewers appreciate Braun's value to the organization, but also think the whole system could benefit from trading him in the right deal. Exploring all options makes perfect sense to me, and I think every front office does it.
3. I think the team did fine in free agency.
The article criticized the Brewers for signing Will Middlebrooks, with the writer speculating that the Brewers thought they had made their "big splash" for the year.
Clearly that was foolish, the author contends, because Middlebrooks isn't good, and is only worth a 2017 minor league deal from the Rangers. There's  just one problem; the Brewers also signed Middlebrooks on a minor league deal.
The Brewers did in 2016 what the Rangers are doing now. They're taking a flier on a player who clearly has (or had) Big League potential.
The second criticism covered the signing of Chris Capuano. I wasn't a very big fan of this signing myself, to be honest. Like I said before, I'm not here to sugar-coat everything. Still, I think management was trying to do something good, specifically exposing a young team to a veteran journeyman.
More from Reviewing the Brew
They also wanted a lefty specialist, with Will Smith essentially working as the team's setup man. Capuano also had the ability to spot-start, if the team needed him. Once again, he first signed with the team on a minor league deal.
Chris Carter's name was also brought up, and I think he might be the easiest of the three to defend. The writer highlighted Carter's league-leading strikeout numbers and his paltry .222 batting average.
Still, Carter posted a .821 OPS and a 112 wRC+, both of which paint a prettier picture, while giving us a better look at his offensive value as a whole.
Carter was a one WAR player in 2016, which is clearly nothing special, but he not only filled a position of extreme need for the team, but did it at a bargain price ($2.5 million).
Then we come to the writer's final claim. He feels that fans must be very angry at the Milwaukee Brewers. That is certainly true of some people. Every fan is going to look at their home team a slightly different way. Some simply get angry at a high loss total.
But mostly, as the rebuild has continued, I've seen increased fan approval for the front office.
Personally, I think management has done a great job under David Stearns. Specifically, the organization has consistently made solid trades under his supervision.
Even the one potential blemish, sending Jean Segura to Arizona, was a perfectly logical one in my opinion. Segura had been dismal for the Brewers for over two seasons.
Additionally, Stearns traded for the winner of the 2016 RtB Newcomer of the Year award, Jonathan Villar, prior to the season. In that trade, Stearns gave up only a High-A level pitcher who is just one year younger than Villar.
He also brought in Keon Broxton, a high-risk, high-reward player who could be the Brewers' centerfielder of the future.
Moreover, the organization has one of best farm systems in the Major Leagues, a clear sign that the team is being proactive, even if the box scores don't always reflect it.
I don't speak for anyone but myself, but as a fan of the Milwaukee Brewers, I am greatly encouraged by the organization's direction, especially in the last year.
This article originally appeared on