Mike Trout and His Biggest Obstacles In Front of the 2016 MVP Award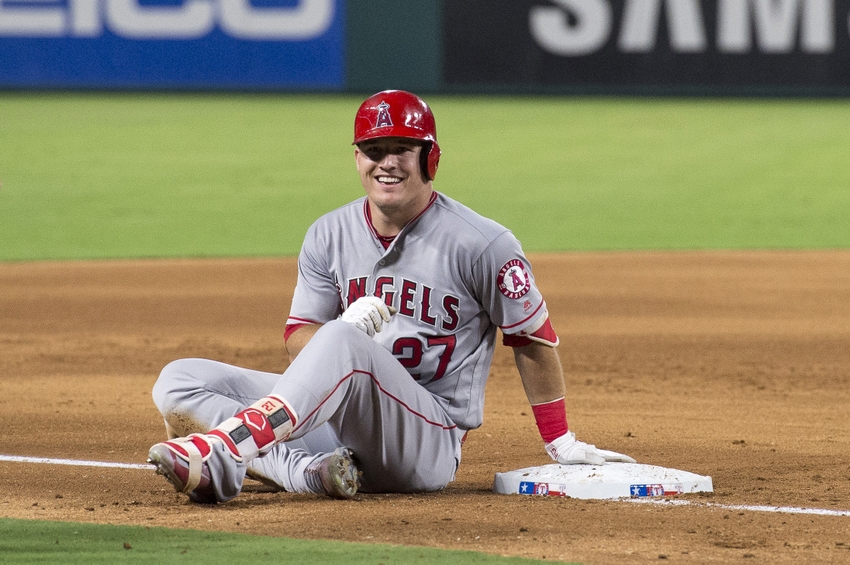 Mike Trout was able to put up yet another amazing season. Trout was one of the few bright spots for the LA Angels this season and the team would not have been half as good if Trout wasn't on the team.
With the LA Angels having one of their worst years in recent memory, though, many think Trout won't be a contender for the AL MVP award.
LA Angels Mike Trout has finished in the top two of MVP voting the past four years, and he won the award back in 2014. Since Trout joined the LA Angels full-time in 2012 he has shown the world that he is the best player in the MLB.
This season was no different. Trout put up a batting average of .315, an on-base percentage of .441, 116 bases on balls,100 RBI's, 29 home runs, thirty stolen bases, and an OPS of .991 for a total WAR of 10.6.
This is Trouts second highest WAR season, his rookie season being the highest at 10.8.  Trout was able to get new season highs with his on-base percentage and his bases on balls. I would argue that this was Trouts best season so far.
So who could spoil Mike Trout's possibilities for winning the AL MVP this year? I'm going to go through Trouts five biggest obstacles this year from least likely to most likely. Let's begin.
David Ortiz
I know, Boston Red Sox's David Ortiz isn't likely to win the award. The fact that Ortiz only played five innings on the field this whole season is the biggest determining factor against his odds. Offensively Ortiz was able to put together an amazing season that shouldn't be scoffed at. Ortiz put up a .315 batting average, .401 on-base percentage, 38 home runs, 127 RBI's, a 1.021 OPS, a -1.2 defensive WAR and a total WAR of 5.1. With such a great offensive stat line and it being his last year, I'm sure Ortiz will at least garner a few votes.
Jose Altuve
Houston Astro's Jose Altuve was able to put up his best season by far this year. Altuve posted a .338 batting average, 30 stolen bases, 24 home runs, 96 RBIs, a .928 OPS, a .2 defensive WAR and a total WAR of 7.7. Altuve was able to continue his high batting average ways all while gaining some more home runs and RBIs than earlier years. Much like the LA Angels, the Astro's weren't able to make the playoffs. If that is an argument against Trout's odds, then it's double for Altuve. Last year Altuve finished tenth in the AL MVP race. So, there is a great chance he breaks the top five this year with his improved stats.
Josh Donaldson
Toronto's Josh Donaldson was able to win the MVP last year. This year his stats were close to his MVP season but were lacking in some major categories. He put up a .284 batting average, 37 home runs, 99 RBIs, a .953 OPS, a .4 defensive war and a total WAR of 7.4. The only stat that Donaldson was able to improve upon this year were his on base percentage and in turn his OPS. Granted he improved on both by a bit, he was walked 36 more times this year. Every other of the offensive stats of his went down.
Some argued last year that Donaldson shouldn't have gotten the MVP award, so him not being able to put up similar numbers might be discouraging towards voters. Donaldson still had an amazing year that was close to resembling his MVP season last year and his team was able to make the playoffs, so I'd expect him to crack the top three in MVP votes this year.
The Angels Front Office
The LA Angels this year had their worst season since Mike Scioscia took over the managerial duties. The LA Angels have only made the playoffs once in the past six years, they were swept by the Kansas City Royals.
Something hasn't been clicking for the LA Angels. The front office has spent a boat load of money on aging players past their prime. The aging players haven't worked out over the years unless you consider Pujols any sort of success, and the LA Angels are paying for it.
This year the LA Angels' front office did one thing right: they kept the main core of the team while adding a few upgrades into the mix. When players started dropping like flies with injuries there was no depth and the Angels couldn't recover. In turn, another year was wasted of Mike Trout in his prime, and it may hurt Trout's chances for his second MVP award.
Mookie Betts
Boston's Mookie Betts has been thrown around as one of the top contenders for the AL MVP by just about everyone. This year he was able to post a .318 batting average, 31 home runs, 113 RBIs, .897 OPS, a defensive WAR of 2.8 and a total WAR of 9.6. This is Mookie's third year in the pros and he improved his stats in a very big way.  Last year he finished 19th in the AL MVP race with Boston in fifth place in their division. This year Boston was able to make the playoffs and he Mookie was able to improve considerably. I would be shocked if he doesn't break the top three in the MVP race.
The American League MVP race this year is bound to be a good one. There are plenty of worthy players that could take the award. I firmly believe that Mike Trout not only deserves the award, I think he is going to win it as well. Trout has proven that he is the best player in the league, and has been able to do it consistently. This year he had his best all-around year, all while carrying his team on his back.
This article originally appeared on