Miami Marlins Trade For Dan Straily: Three Key Questions
Thursday morning, Miami Marlins fans awoke to curious news as the team acquired righty starter Dan Straily from the Cincinnati Reds for a trio of Top 10 prospects that included promising young fireballer Luis Castillo. Fellow pitcher Austin Brice and outfielder Isaiah White were the other two prospects in the deal.
As linked above, Jon Heyman broke the news of the official swap, and Jim Bowden of ESPN broke down the full package of prospects.
But as I said, curious news, and there is a lot to unpack here when sizing up just how much sense (if any) this deal made for the Marlins. Because there is no doubt it was a great trade for the Reds, one they had to make given their clear rebuilding mode mentality. Straily could win the Cy Young, all three prospects could flame out spectacularly, and the Reds braintrust would still get credit for trying. The Marlins on the other hand just dealt away three of their best prospects for a guy whose career WAR value ranks just 0.5 points higher than Tom Koehler.
And Koehler has been way, way, more consistent in getting there.
However, by traditional stats, Straily was pretty good last year, and even more so when stacked against previous fifth starter candidates Jeff Locke and Jose Urena. He recorded a 3.76 ERA and pitched in over 190 innings- marks that would have respectively ranked first and second on the Marlins in 2016. That was the best season of his career, but if he produces a similar effort again, it's hard not to argue that the 2017 starting rotation is in much better shape than it was three days ago. If nothing else, he'll last a lot longer than the Locke/Urena option every fifth day, putting less strain on a bullpen that was routinely put in a bad position by short starts by back end starters last year.
Of course, I could have said the same of Jason Hammel. Or Doug Fister. Or made my case for signing Greg Holland and even further deepening an already deepened pen. Really anything that involved money instead of prospects, while simultaneously adding a player that had enjoyed more than two seasons in the majors that weren't catastrophically bad or marred by significant injury.
So it comes down to three major questions you have to ask yourself when casting your vote on whether this move is more "same old Marlins" or one of those shrewdly successful deals that will look at least momentarily successful? First up, what's most likely to happen? Second, how much do you trust the front office? And third, how much do you believe in the 2017 Marlins?
We'll take these in turn.
What's Most Likely To Happen?
Two options being weighed here. On the one hand, you have Dan Straily reproducing his 2016 value. On the other, you have Luis Castillo turning into an above average starting pitcher. If the Marlins just traded away a guy that will become a No. 1 or No. 2 caliber arm in the next few years for a guy with a ceiling as low as Straily's, then it was an unquestionably poor move. If last year was an outlier for Straily, same story obviously. But is that likely?
Well, maybe. Very little was known about Castillo until last season, to the point that most fans probably knew more about Austin Brice, the other pitcher that went in the deal. Plenty is known about him now though, as plenty of scouts have raved about his velocity and early success since being converted to a starting pitcher. Success that led to his being valued as highly as the No. 5 prospect in the Marlins system at the time of the trade. But this is also a guy that didn't even make the ESPN Top 100 prospect list heading into 2016, and more to the point, wasn't even regarded as an organizational Top 10 guy at that time. These estimations fluctuate wildly, and often not based on a huge amount of track record; we're talking 14 IP of AA experience here.
Straily, as noted, just had a career best season- slightly better than his breakout campaign in 2013. Those performances do bookend two years of inconsistency and injury, however, and there were a couple statistical red flags that went along with last year's success. For one, his FIP came in at 4.88, over a full point higher than that 3.76 ERA. He also discovered about the only way to get mentioned in the same sentence as Max Scherzer while having it be a bad thing- the pair tied for the NL lead in HRs allowed with 31.
Still, the slight edge might go to Straily here. The Marlins were a better defensive group than the Reds in 2016, and that's even with an underperforming Adeiny Hechavarria and an underpresent Dee Gordon. Also, if you're a fan of park factors, only three stadiums in baseball had a more favorable HR rate for hitters than Great American Ballpark. Only four were worse for a hitter than Marlins Park. So there's arguably even grounds for expecting improvement, though I think holding serve is the most realistic scenario.
Do You Trust The Front Office?
This is the tricky part. Sometimes they trade Nathan Eovaldi for David Phelps and Martin Prado. Sometimes, not so much. You need only look as far as the team at the other side of the table to have some real concerns with this swap. The current ace of the Reds rotation is Anthony Desclafani after all, while Mat Latos still finds himself looking for work as a free agent.
The recent history isn't great, with most of the moves made to add on to this corp just not working out. The flip side is that they put together this corp, with names like Marcell Ozuna, J.T. Realmuto, and Christian Yelich all unearthed by the Marlins organization. So they've had their successes as well.
Which is this then? Depends how much you value prospects, and more to the point, our current prospects. Yes, the Marlins traded three Top 10 prospects. But our farm system is currently regarded as nothing less than terrible. Did we lose that much, really? The farm will never be rebuilt if we keep dealing pieces away, but that doesn't mean you lock yourself in to keeping pieces you don't value just because they're pieces.
And that brings us back to the fact the Marlins front office has now traded Luis Castillo twice. Popular opinion amongst many evaluators that know far more than I do see this as a mistake, to the extent that the only reason Michael Hill must have had for pulling the trigger on this was worrying fans couldn't handle a world where two guys named Luis Castillo wore a Marlins uniform.
Putting that reason aside though, after the big Colin Rea redo last summer, they had five months to rethink things, and still traded him. Even after the team lost their young, controllable, face of the franchise starting pitcher under unspeakably tragic circumstances. Surely the club's evaluators would know more than anyone else, right? About Castillo, about Brice, about a random outfielder that's just a little blocked at the moment?
It's possible anyway. Don't get me wrong, I wish they hadn't made the deal either. But just the devil's advocate argument on the table.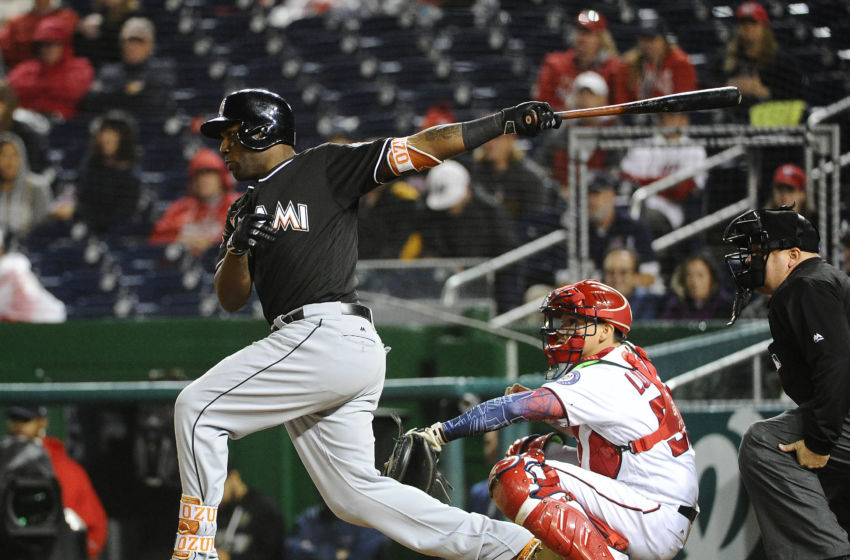 Do You Believe In This Club?
Clearly, the front office does. Some rumors have them not even done tinkering with this roster. The offense could be great- they sported the fourth best average in the majors last year. The bullpen is impressive. The starting rotation….okay, serious liability. But the team has added three new starters to the competition, and the depth is at least improved.
Partly, this could be about being as good as possible in a season set to showcase Marlins Park as the home All-Star Game. Not a bad idea at that- being a winning team in 2017 would likely mean more to the organization than being a winning team in 2018 or 2019. Quietly, the payroll for a Marlins team is well over the $100 million mark, which is a lot for this market. My preference would have been to pay Hammel, to give C.J. Wilson a shot, to spend rather than trade. But for the first time since 2012, I feel a little bad telling Jeffrey Loria he isn't spending enough.
This is the one that it really comes down to. If you believe this team can make the playoffs, even just make it, you probably need to give them a pass on this. Save your anger for when Desclafani makes the All-Star team, or Andrew Heaney is a playoff MVP for the Angels. Or even for when Straily gets hurt in May, and we have nothing to trade with in July.
My verdict? I believe this team will be in it right to the end again. I'm just not convinced Dan Straily will have anything to do with it.
This article originally appeared on