Miami Marlins Kyle Barraclough's Impressive Rookie Campaign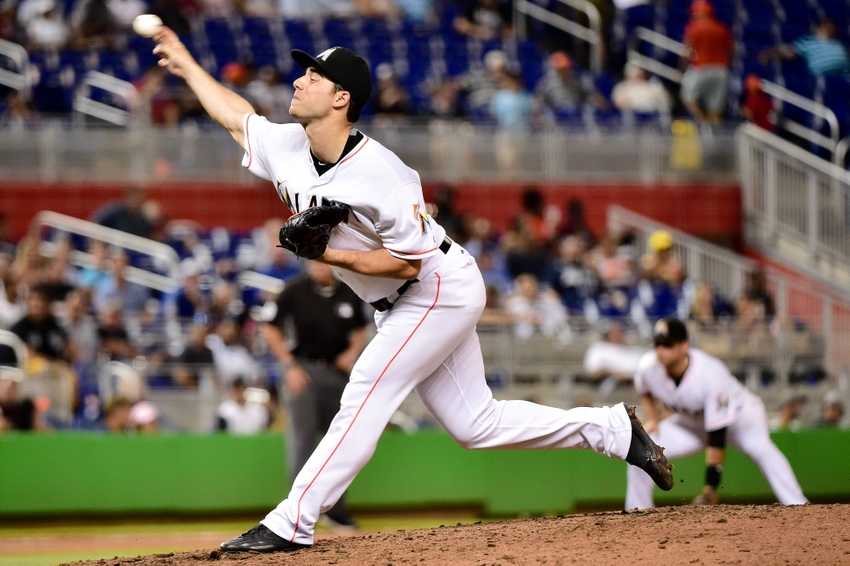 Overshadowed by other impressive rookie performances, Miami Marlins reliever Kyle Barraclough is having an excellent season of his own.
For the most part, middle relievers and setup men are overlooked. Without a statistic that is important in fantasy baseball circles, like the save, these pitchers tend to get overlooked by fans. That is, unless they implode and cost a team the game, at which point they earn the wrath of that fanbase.
It is even more difficult for a rookie setup man to get attention, especially with this year's crop of talent. Players like Michael Fulmer, Gary Sanchez, Corey Seager and Trevor Story all burst on to the scene this year. Impressive foreign players, like Seung Hwan Oh and Kenta Maeda, have shined for their teams this year. It would be difficult for any middle reliever to be recognized amongst such talent.
However, Miami Marlins reliever Kyle Barraclough has produced an excellent season, even if it is under the radar. While the Marlins push for bullpen help at the trade deadline, and their acquisition of Fernando Rodney, have not worked out, Barraclough has established himself as a force in the bullpen.
More from Call to the Pen
Heading into last night's action, Barraclough has produced a 2.85 ERA and a 1.225 WHiP in his 75 appearances, going 6-3 with 29 holds. While he has struggled with his command, walking 44 batters in his 72.2 innings pitched. However, Barraclough has struck out 113 batters, with his 14.0 K/9 the best in the National League of any pitcher with 60 or more innings this season.
Armed with an upper 90s fastball and a wipeout slider, Barraclough has been a devastating weapon. Generating ground ball after ground ball due to the sinking action on his four seamer, he has produced 1.18 ground balls for every fly ball, generating 1.74 outs for every out in the air.
With Barraclough's command issues, that ground ball rate, as well as his ability to generate strikeouts, can be a great way to work around those problems. In fact, he simply does not have pitches put into play against him, as only 47% of plate appearances against Barraclough end with a ball being put into play. Should that command improve, and Barraclough gets his walk rate to manageable levels, he could be one of the better relievers in the game, and a possible option as the Marlins closer next season.
Kyle Barraclough has been quite impressive for the Miami Marlins this season. It seems as though he is only scratching the surface of his potential, and with a bit more command, could be one of the more dominant relievers in the game.
This article originally appeared on