Miami Marlins: Jose Fernandez Worthy of Cooperstown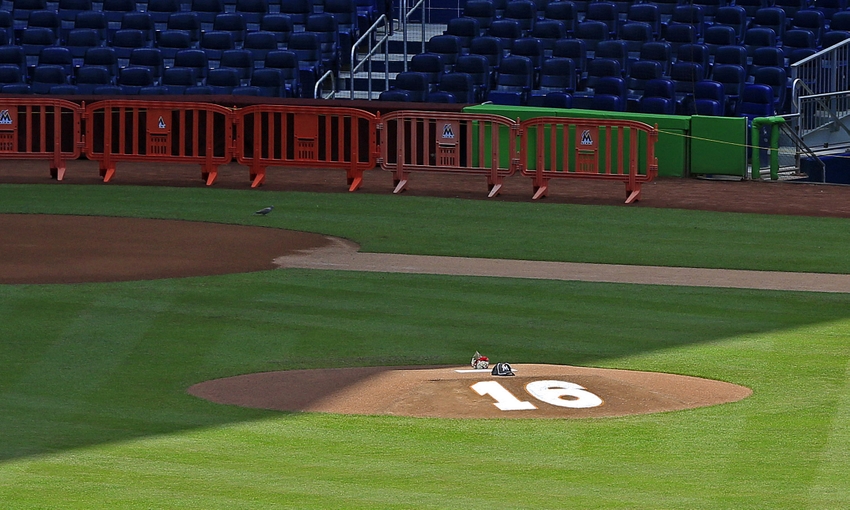 Miami Marlins legend Jose Fernandez left us much too soon. Even with his young career, the pitcher deserves a permanent place in baseball history.
You can say many things about the late Miami Marlins pitcher Jose Fernandez. A pitcher larger than life in South Florida and Cuba, he was one of three men killed early Sunday when the boat he rode in capsized at high speed off Miami Beach.
Of the many tributes that poured across television and the Internet, there was one plaudit missing. Hall of Famer.
Now on current rules, Fernandez is not eligible. He never played 10 seasons of Major League Baseball. Considering his age, 24, it was not possible for him to get that much experience. With a career win total of 38 ad 589 career strikeouts, his numbers alone would not merit discussion.
More from Call to the Pen
The Hall of Fame is more than numbers. Twice, the Hall bent the rules to admit players in special circumstances. Roberto Clemente in 1973 after his death and Lou Gehrig in 1939. Granted, both players would have been elected after the five-year waiting period if they retired normally. Still, they received special treatment.
Fernandez deserves a hard look too. Obviously, we can speculate what his numbers might have been. He never led the league in any major category. Because of Tommy John surgery, he never started over 29 games a season. What this young man accomplished on the field in his short time showed a ton of talent and a mountain of potential about to be cashed in.
When you add his life story, his absolute love and exuberance of the game and his impact on the city of Miami and their Cuban population, asking for a special waiver makes sense. It took four attempts and time in jail for Fernandez to leave Cuba and reach the United States. On one such trip, he helped someone who fell overboard on whatever horrible device to escape and saved a woman's life. His mother's.
Add his sheer dominance on the mound and you have a story the best producers in Hollywood would tell you was too far-fetched.
Truth is stranger than fiction. If you needed to cast someone as a 21st Century baseball hero, Fernandez would come right out of special casting.
His story, his message and sheer joy deserve a better fate than history books and Internet articles on his birth and death anniversaries. On the edge of superstardom, tales of his starts need a bigger audience than the dusty playgrounds of South Florida. He deserves what was taken away Sunday, immortality at baseball's highest cathedral in Cooperstown.
Will it happen? Probably not. We will never know what numbers a full career might have produced. Arm trouble next year may have turned Fernandez into an average pitcher.
No In-Editor Preview for 120 Sports Videos
Video Details
ID: 203353010
Source: 120 Sports
Fernandez's legacy and personality deserve permanent recognition. A powerful positive force in the game, what better way than a plaque with his fellow legends in Upstate New York.
This article originally appeared on