Miami Marlins: Is Giancarlo Stanton an Offseason Trade Candidate?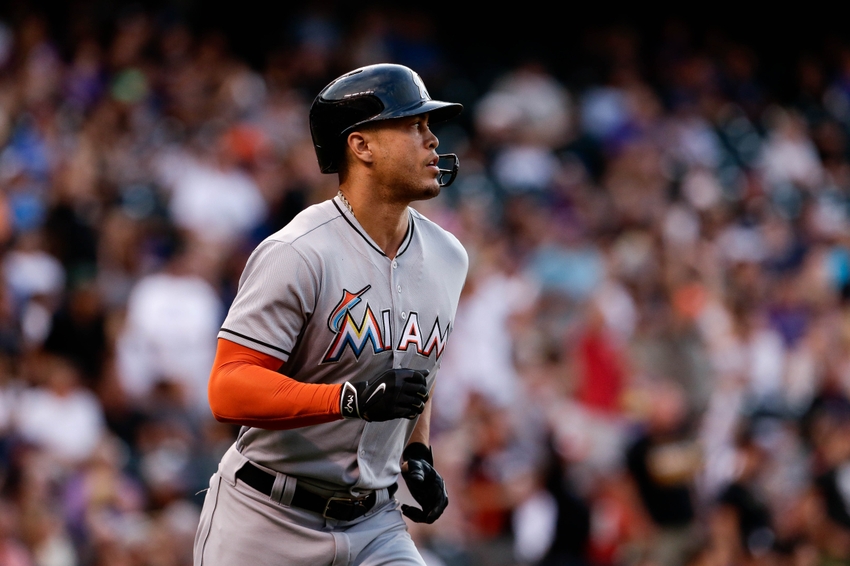 Attached to a mammoth contract and coming off a disappointing season, could the Miami Marlins find a market for Giancarlo Stanton this winter?
Over the weekend, Nick Cafardo of the Boston Globe published an article identifying players with big contracts who could be traded this offseason. The first several names read like a list of the usual suspects, until you reach an entry that might catch you by surprise: Miami Marlins right fielder Giancarlo Stanton.
Stanton isn't exactly a stranger to trade rumors, even after signing his record-smashing contract extension a couple years ago. But he hasn't been discussed much at all so far this winter. To be fair, Cafardo's mention is more speculative than based on specific reports, but it didn't come out of nowhere. At the end of October, the Miami Herald's Barry Jackson said two scouts told him they believed the Marlins should look to unload the slugger.
There is somewhat of a disparity between the popular image of Stanton and the player he has actually been on the field. Most think of him as one of the game's premier power hitters, a physical freak built for the express purpose of belting tape-measure home runs. And that's all pretty much true. However, injuries have consistently held Stanton back from being the dominant force he could be.
In his seven-year major league career, Stanton has crossed the 120-game threshold in a single season three times (2011, 2012 and 2014). Groin and middle body issues limited him to 119 contests this year, and he played in only 74 the previous season due to a broken hamate bone in his left hand.
We're reminded of what he can do every time he crushes a pitch into the stratosphere; his Herculean display in last summer's Home Run Derby was a great example on a national stage. But his inability to put together a full "trademark" season has kept him from higher honors like the MVP award.
When he did take the field this year, Stanton's production was a bit less than we've grown accustomed to seeing. Though he managed to hit 27 homers in 470 plate appearances, his slash line dipped to .240/.326/.489. After back-to-back seasons with an OPS over .900, his .815 OPS was the lowest of his career. The Marlins (and any team that would hypothetically want to trade for Stanton) will hope the decline in numbers was mainly caused by the injury problems.
More from Call to the Pen
Of course, any potential trade involving Stanton would have to clear that most imposing of hurdles: his contract. The 13-year, $325 million beast he signed in November of 2014 is still a sight to behold two years later. Stanton will make $14.5 million next season, but after that his annual salary bumps up to $25 million and progressively escalates, clearing the $30 million mark in 2023. He can opt out after the 2020 campaign at age 30, but the likelihood of that will depend on Stanton's performance in the interim as well as the future economic landscape.
Any way you slice it, Stanton is a massive financial commitment, one only a handful of organizations could reasonably make. Cafardo lists a few of the predictable ones like the Yankees, Red Sox, Mets and Angels, along with some not-so-obvious such as the Braves and Blue Jays.
Despite the injury history and underwhelming 2016 performance, Stanton remains one of baseball's top talents and an asset virtually every team would love to have. Having just turned 27, he is certainly still young enough to put those frustrations behind him and realize his full potential. For that reason, it makes sense for the Marlins to hold on to him as the franchise cornerstone they envisioned when they signed him to the extension.
Why would they consider cutting ties? According to one of the scouts Jackson talked to, the Marlins are in such dire need of pitching they might feel compelled to shop Stanton sooner rather than later. Miami would presumably need to pick up some of the weighty tab on his mega-deal to maximize its player return, though. Cafardo also adds that after the untimely death of Jose Fernandez, there's a growing sense the team could look to change direction.
This is probably not something that is going to happen this offseason, as teams in need of power-hitting outfielders have far less expensive options on both the free agent and trade markets. But it's worth keeping an eye on as you put a few more coals on the hot stove fire.
This article originally appeared on