Miami Marlins Fish Flash 10/22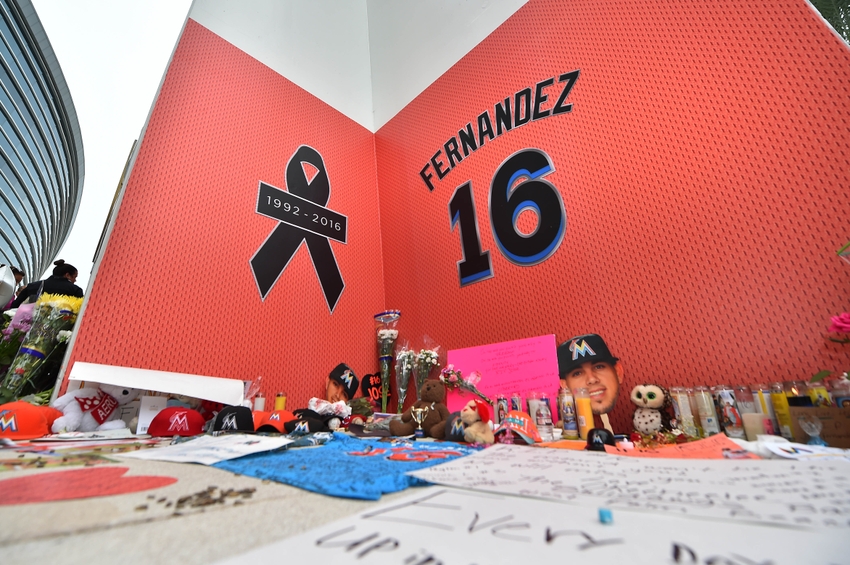 Morning Marlin Maniacs, and welcome to today's Fish Flash. Big day for baseball, as we find out whether a World Series drought long enough to make the most jaded Marlins fan feel good about themselves will come to an end. And that's just if the Dodgers win.
If the Chicago Cubs win, all sense of order and reason in the universe will fall by the wayside.
For the Marlins though, a quiet week, but not one entirely without some worthwhile news pieces to peruse. From heartfelt gratitude, to some early hints as to how the club will improve, to a not-as-sobering-as-usual picture of where we stand on the sports landscape, we've got you covered. Time to dive in.
Leading off, an emotional message from Maritza Gomez Fernandez. This was sent to the Miami Herald, and published as an Op-Ed piece. This all too brief era in Marlins history will remain stitched in our memories forever, and in this piece, the mother of the fallen star pitcher expresses just how thankful she is for the fond affection and warm regard shown for her son.
Offensive Growth Expected From Within 
Next up, MLB.com's Joe Frisaro takes you through what seems to be the Marlins organization thinking on shoring up an offense that spent far too much time this season struggling to score. Hits yes, runs no was the theme for the 2016 Marlins, and Frisaro indicates that you're going to see a lot of the same faces at the plate in 2017. Read up as to the why.
Want your voice heard? Join the Marlin Maniac team!
Ultimate Standings No Longer Ultimate Bummer 
Last up, the 2016 Ultimate Standings. In case you're like me, and like waiting for your hard copy of ESPN The Magazine to show up, I give you this moment to stop reading and amuse yourself with the bottom video before you leave this Marlins website and hold off on contemplating the Marlins until later in the season.
Good for moving on? Awesome, back to this last Marlins news nugget.
ESPN The Magazine releases an annual rundown of where every professional sports franchise ranks, and this year marked a huge moment for the Marlins organization. Compared to the past two seasons, this group rocketed up the list, and even now ranks significantly ahead of a major South Florida sports franchise. Check it out for the full details.
That's all the news that's fit to print right now Maniacs. Enjoy the remainder of the NLCS, be it one game or two, and we'll catch up with you later in the week. Be sure to enjoy those Marlins highlights that will grace the TV screen too, as the Fish are closely tied to the postseason histories of Cubbies and Tribe alike.
This article originally appeared on