Mets: Yoenis Cespedes Press Conference Highlights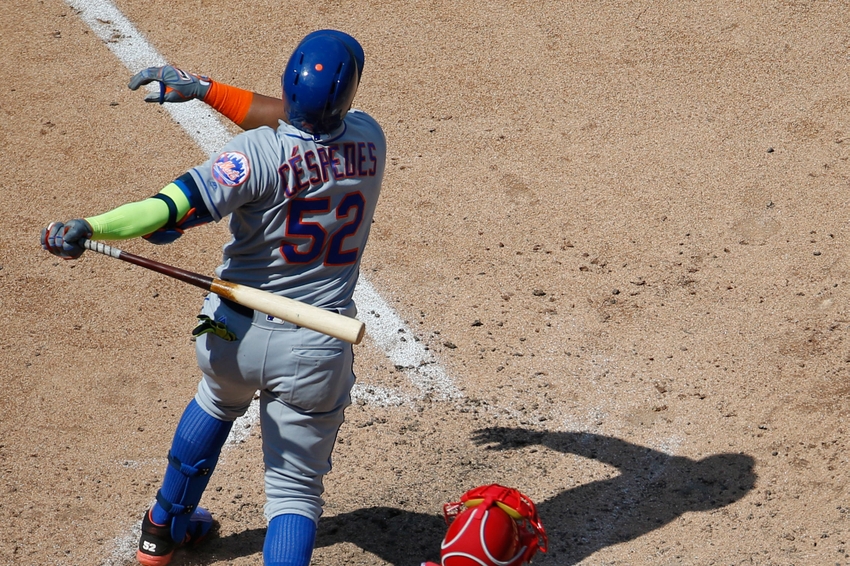 Yoenis Cespedes made his appearance at Citi Field since signing his new deal
The New York Mets held a press conference late Wednesday afternoon to officially announce the signing of outfielder Yoenis Cespedes. The deal is for $110 million over a four-year span, as we already know. Both Cespedes and the team fielded questions from reporters during the Q&A part of the press conference. Here are some of the highlights:
"When @ynscspds plays for the #Mets, the Mets win." – @MetsGM pic.twitter.com/vlcbKouzzi

— New York Mets (@Mets) November 30, 2016
– Sandy Alderson joked about the fact that the Mets have acquired Yoenis Cespedes three different times in the last 17 months (one via trade, and two signings).
– Sandy also envisions Cespedes playing left field exclusively going forward. The team is comfortable with Granderson and/or Conforto in center field.
– Yoenis made a promise to Mets fans for the next couple of years when through a translator he said, "I promise that my goal will be to bring back another World Series championship to this team."
.@ynscspds promises to bring a #WorldSeries championship to the #Mets fans. ???????????? pic.twitter.com/TlFfvayGFE

— New York Mets (@Mets) November 30, 2016
– When asked about what brought him back to the Mets, Yoenis said the atmosphere and friendship this club has is unique, and the fans also made him feel welcome from the beginning.
– Jose Reyes was apparently one of the first people to find out about Yo's decision to come back. Cespedes says he was jumping for joy when he heard the news. We can totally relate to that Jose.
– Cespedes also pointed out that he knew he could possibly get five years with another team, but insisted he already knew he was comfortable and happy in New York with this team, and these fans.
– Yo ended the presser with another one of the best things Mets fans could have hoped for: he hopes to be able to end his career with in Queens with the Amazin's.
– The Mets top brass also chimed in after the press conference. They said they'd spend money when the time was right, and by signing Cespedes to this large deal, they're proving it.
Jeff Wilpon discusses Yoenis Cespedes' signing and the Mets' payroll: pic.twitter.com/ezHEKdIFhQ

— Anthony DiComo (@AnthonyDiComo) November 30, 2016
All in all, this was about as standard a press conference as you can get. Yoenis got to put on his new #52 jersey, and show the world his $110 million smile. Yo is back in Queens, and he'll be here for another four years. Now let's make good on that promise!
This article originally appeared on