Mets: The curious case of Matt Harvey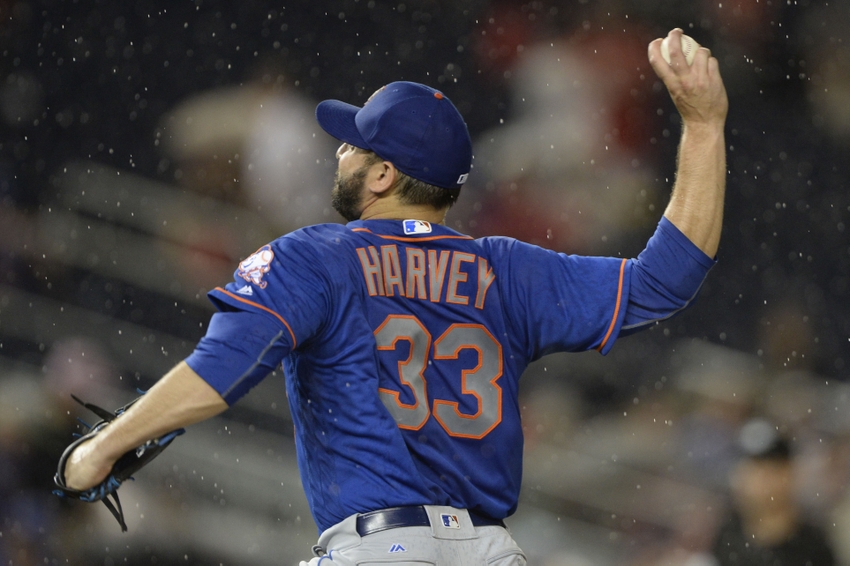 Much could be said in regards to Matt Harvey and his young career.
You honestly sometimes forget that he's only pitched two full seasons at this level. So far in his short career he's been a mix of Leonardo DaVinci and Walter Sobchak from The Big Lebowski. He paints the corners on the plate like an artist working a fresh canvas, yet sometimes has the mixed-up tendencies of a Cohen Brothers movie character (Raising Arizona is really underrated, by the way). 
But I firmly believe it's the perfect mix for a young guy living the dream in the greatest city in the world. It has it's positives and negatives, especially for a guy a team desperately needs to perform at the highest level. With him, they compete for a championship. Without him, it doesn't look as good.
However, the difference between Matt Harvey and the rest of this young staff is that he's not only Batman, but he's the Joker, the Riddler, and even some of Alfred the Butler. He could mow you down with filthy pitch after filthy pitch, or work the count and get you to break your bat on a squibber to first base. No matter the scenario, Matt Harvey might just be the most important Met to wear the royal blue pinstripes next year.
When I think of Matt Harvey, the most prominent thought that comes to mind is him wanting the ball at the end of Game 5 against Kansas City in the World Series. It didn't turn out the way we wanted it, but I'd want that guy to pitch every game of the season if possible.
Sometimes a player's raw emotion can get the best of him, and we saw how it ended. But to give a great eight innings and still want the ball says a lot. You need that raw emotion to compete and make yourself different from everyone else.
That's the Matt Harvey the Mets need if they want to compete for a championship next season. You mix that brash attitude with the stuff Harvey has and it's like a creation straight out of Dr. Frankenstein's lab. 
He knows he's going to strike you out. He tells you what pitch he's going to throw, where he's going to throw it, and still makes you whiff on it. But like any athlete or person, he has flaws. Going to a Yankees game while your team is playing isn't smart. Not wanting to talk to the media after they post articles about you (no matter how ridiculous they may seem) isn't smart.
"He's had a great deal of time to work out and focus on his body and strength, so we expect him to come back and be the Matt Harvey of old." -Scott Boras
Everybody goes through things and feelings and it could get the best out of you. But for an athlete making tons of money, it doesn't go over well with fans. The audience just wants to see you pitch, pitch well, and do your job. As upsetting as it seems, they really don't care about all that other stuff. Produce good results and they'll love you. Don't pitch too well and they'll give it to you, especially here in New York.
We especially saw last year when Harvey was sporting a 4-10 record with an almost 5 ERA (injury-ridden and all), that the fans weren't happy. You don't pitch well so it leads to all the Scott Boras-stuff. "He doesn't want to pitch here…..He wants to pitch for another team….." yada, yada, yada. It's amazing to watch from a distance how players can truly direct where the talking points will go. For a player who's never had an ERA above 3 (when healthy) , it's pretty scary to see just how great he can be.
In a rotation that is already sporting Jacob deGrom, Noah Syndergaard, Steven Matz and possibly Zack Wheeler, Harvey can get back to being the anchor of possibly the most talented pitching staff in the game. With people feeling that it's DeGrom's rotation or Syndegaard's rotation now, coming back healthy, he could lead it with a chip on his shoulder.
I think it's a pretty good problem to have, trying to figure out which of those three is the best pitcher. Plenty of teams would love to have either/or of those names. And with the way Harvey is negatively portrayed in the media by some, he could take all that negative energy and do what he does best. He could pitch.
This article originally appeared on