Mets Season in Review: Bartolo Colon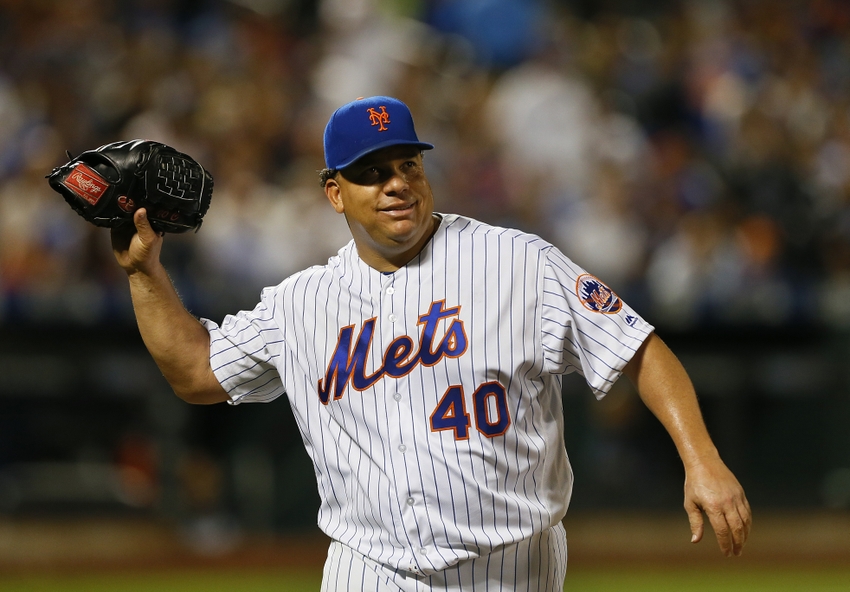 The year is 1997: Titanic is the number one movie in the box office, the remastered version of Elton John's "Candle in the Wind" is number one on most charts, and the seeds of sexiness that would make their way to the Mets were sowed on a field far away in Anaheim, California.
Making his debut for the Cleveland Indians nearly 20 years ago, the rest is history.
Yes, the man with the rubber arm is no longer a Met and as hard as that is to comprehend, he still gave us a couple of great seasons. The one thing I always felt Colon got labeled with was being a character. Because of his size and weight, it was always funny to see him either bat or have to run off the mound and field his position. But when it was all said and done, he is a really good pitcher. Pitching to a 14-13 record in 2015, he started 31 games. Holding a 4.16 ERA through 194.2 innings, that's pretty good for someone with essentially one pitch, and in his forties.
Now, let's take a look at Colon's 2016 Season.
How He Fared with the Mets in 2016
At the age of 43, Bartolo Colon had statically his best season as a New York Mets pitcher. In what was his third and final season, Colon pitched to a 15-8 record through 34 games started. In 191.2 innings pitched, Colon kept his ERA under 4 for the first time as a Met (3.43 earned run average).
What was even more impressive with Colon was that he struck out 128 batters with pretty much one pitch, a fastball. Even more impressive was he only walked 32 batters the entire season! To be able to do that with pretty much one pitch, you need precise control. The one thing Colon worked on towards the later part of his career, especially when he got to Oakland in 2012, was his control.
Since 2012, in 931.0 regular season innings pitched, Colon walked only 138 people. As insane as that seems, it was imperative for an older pitcher without overwhelming stuff to have perfect control.
Fast forward to 2016, and the blueprint created was surely one that Colon could manufacture and continue to be successful with. Add that with Colon staying healthy for most of the year because of his durability and you have a guy who was an anchor for this rotation last year.
Areas to improve upon
When you're 43 going on 44, you have to be doing something right if you're still pitching in the show. We saw that in his return to the National League back in 2014, Colon would need to bat. And while he didn't bat well last year, he obviously improved on his first year because he took it more seriously. Driving in 4 RBIs and smacking two doubles in 2016 along with a home run against James Shields back in May (you'll always remember where you were when that happened), may have been the most incredible thing we have ever seen.
Another area Colon had trouble with was certain games where he just didn't have it. You could tell exactly when it was coming, too. Early attacks by hitters would have the game out of reach by the 2nd inning. To the credit of Colon, he continued to fight even when he obviously didn't have it at times. That might be more on the manager to know when to pull his starter, though.
Projected Role in 2017
Being with the Braves, you have to think Colon could possibly be the opening day starter for Atlanta. With moves being made (signing RA Dickey to a 1 yr/$7.5 million and trading for Jaime García), the rotation isn't as bad as people would think. Led a year ago by Julio Teheran, these guys, especially Dickey and Colon, were brought in to eat innings for a young team.
Colon, who started an opening day for the Mets, could slot anywhere in that rotation. He brings a veteran presence to a team who is looking to make some noise in the future. With a good lineup, the pitching will need to step it up if the Braves want to compete next year. I could see Atlanta nearing a .500 record this year if everything works out.
Contract Status and Trade Rumors
Signing a 1 year, $12.5 million deal with Atlanta this offseason, it's going to be hard to see the Colon leave a team he made better in his years here. That being said, it was a stiff price to pay a player on a pitcher-rich team with other needs. With the emergence of Seth Lugo and Robert Gsellman last year, you could slide those guys into the rotation if needed, for far less money.
For a pitcher that eats up innings, you'll need to find them from other people. Obviously health is the main concern, but the Mets are in that field where they have a plethora of young pitchers. Don't be shocked if you do in fact see the Mets sign a long-inning reliever who could also step in and start if needed. That being said, New York is definitely a little less sexy today.
More Rising Apple thoughts on Bartolo
Michelle Ioannou, Editor 
Bartolo Colon. My favorite, many fans favorite, ugh. He had a fantastic 2016 season. And how is he rewarded? By not being resigned by the team that he along with Noah Syndergaard helped carry. My heart still hurts and I'm still very much broken. Minus being pelted in the hand by a hit and having to come out of a game minutes after it began, Colon was healthy the entire season. He was consistent. The guy that was supposed to have a bullpen role came the only starter (next to Thor) that the team could rely on. Colon had a great 2016 season and it kills me he won't be with the team in 2017 as he should be.
Big Sexy gif time!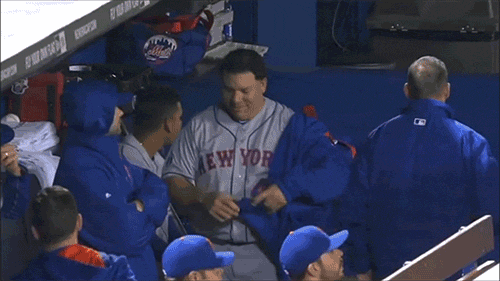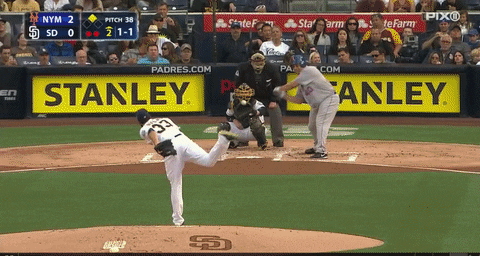 This article originally appeared on