Mets scratch Noah Syndergaard from Saturday's start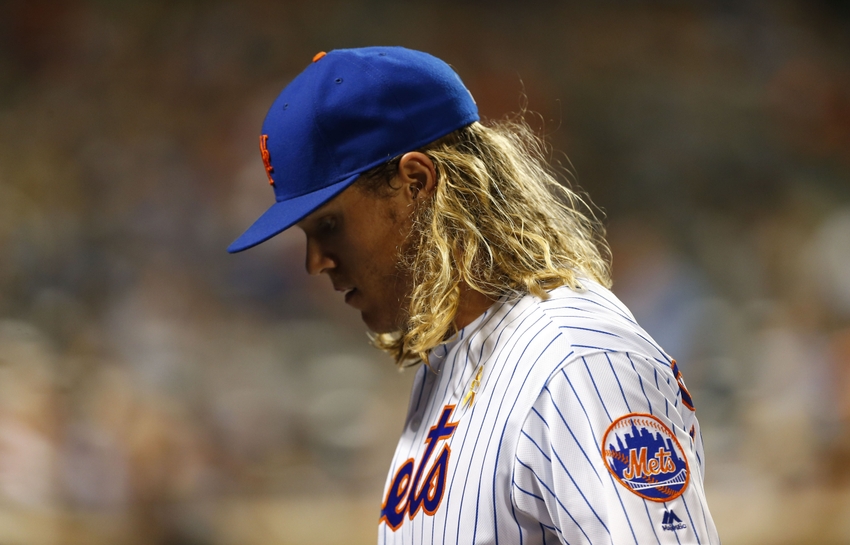 Before, we all enter panic citi, it's okay. It's just strep throat.
Phew.
With the majority of the Mets' starting rotation already down, it's no secret that the Mets can't afford to lose Noah Syndergaard as well. Of course all of us who received the update gasped and feared when reading "Mets RHP Noah Syndergaard will not pitch tomorrow vs. Phillies" but then breathed a sigh of relief when seeing "due to strep throat."
Once again, phew.
The news dropped Friday afternoon around 4 PM because that's pretty much when all Mets news drops. I'm just grateful that this bit of news wasn't horrific, and I'm sure you all are as well.
Sean Gilmartin will start in Syndergaard's place tomorrow.
Terry Collins said today that the team is hopeful that Syndergaard will be able to pitch "in a couple of day." This makes sense, because it is just strep throat.
My concern, well mild concern, now would be if other members of the team will catch it. I've always been very prone to strep throat, and I know how easy it is to catch. Obviously the Mets don't need their entire team coming down with it at the same time. But hopefully, this won't be the case.
If anyone should be the most worried about catching it, it should be Syndergaard's roomie Scooter, better known as Michael Conforto. They are pretty much the best roommates. But actually, they're phenomenal roommates. This is why it wouldn't surprise me if in a couple of days we hear that Conforto has it as well.
In the past week, the Mets have announced that Jacob deGrom was scratched from his start and out for the season. Just yesterday the Mets scratched Steven Matz from his start, and he's likely done from the season. And today, Syndergaard is scratched from his start tomorrow. Well, they do say bad news comes in threes.
And in the words of my brother, "At least Thor's arm isn't falling off."
This article originally appeared on