Mets Robert Gsellman Rotation Relief: Waiver Worthy?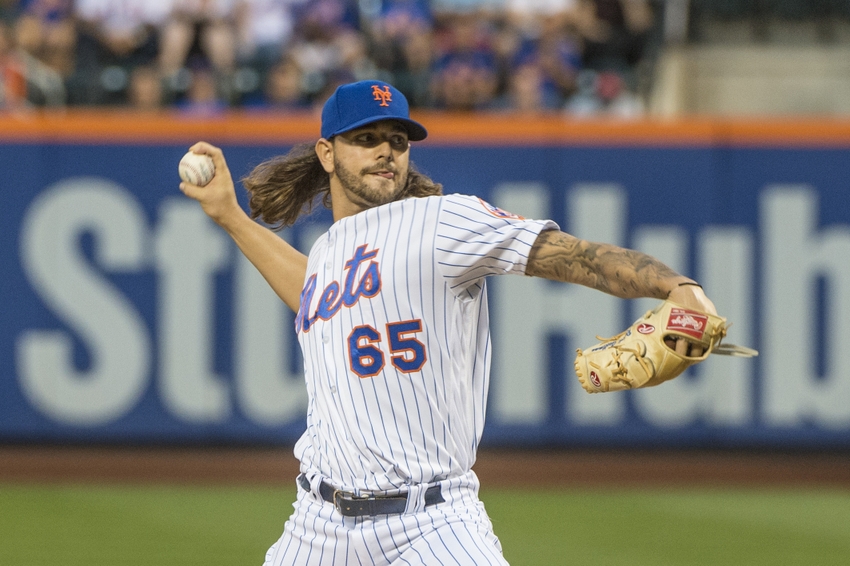 Robert Gsellman has stepped into the rotation and performed well for the Mets over his last twp starts. Could he now be a waiver wire add moving forward?
The New York Mets have been ravaged by injuries this season, and 2016 will forever be surrounded by the questions of, what ifs? But, as the Mets still try their uphill ascent to a playoff spot, they have looked for help wherever they could find it. Robert Gsellman now takes on the role of the next man up, and has performed admirably since joining the team. Yet, is he worth any fantasy consideration?
Gsellman was a 13th round draft pick by the Mets in 2011. He was a multi-positional athlete out of high school, but the team decided that he would pursue being a starter in the minors. Over 89 starts in the minors, Gsellman has found success, posting a 3.11 ERA and 6.5 SO/9, over that span.
Gsellman has pitched at every level in the minors, but his best seasons have come the last two years between AA and A ball. In 2015 he had a great 2.89 ERA over 24 starts, and followed that with a 3.99 ERA in 20 starts in the minors this season. He did run into trouble at the AAA level in 2016, to the tune of a 6.47 ERA, but the hitter friendly PCL surely drove up his numbers.
With Steven Matz, Noah Syndergaard, Matt Harvey, Jacob deGrom, and Zach Wheeler, all missing time or are now out for this season, it is easy to see why the Mets desperately needed someone to provide them with rotation relief. While he was thrust into his first big league action out of the bullpen, he has since permanently joined the rotation.
Gsellman's 6.5 SO/9 is respectable, but nothing that will excite fantasy owners. But, much like Bartolo Colon, proficiency can outweigh pure velocity when it comes to getting outs. However, Gsellman's fastball sits in the 93-95 mph range, his slider has improved, and his sinker still serves as his out pitch. He did surrender four earned runs versus the Phillies over six innings in his first start, but followed that performance, by limiting the Nationals to one run over six innings.
Robert Gsellman gets the Braves for his next start, obviously a great opponent in which he can continue his steady performance. For many fantasy owners, this upcoming week marks the last week before the playoffs, making Gsellman a great back-end of the rotation add. The Mets also have one of the weakest schedules over the rest of the season, offering Gsellman even more opportunities to string together a solid stretch into the fantasy playoffs.
More from Fantasy Baseball Crackerjacks
This article originally appeared on