Mets receive text from Yoenis Cespedes, who expresses interest in returning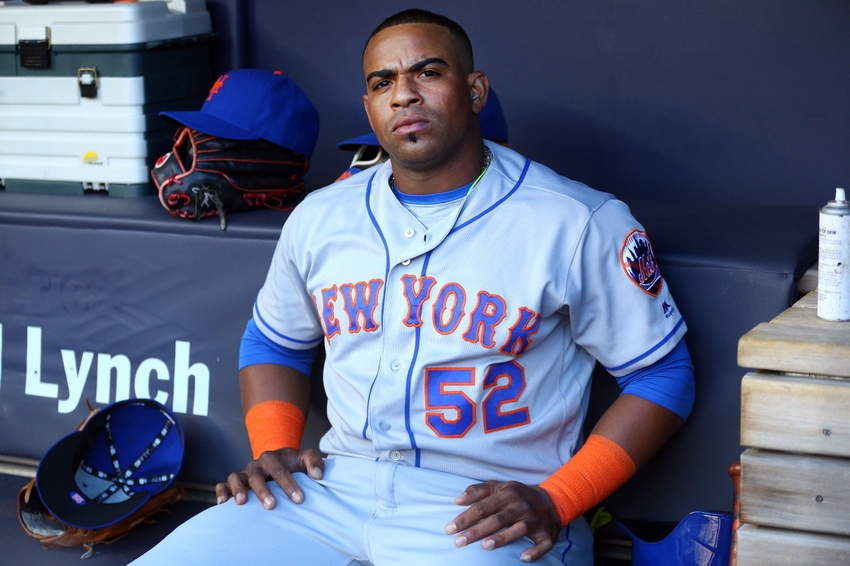 We finally have Yoenis Cespesdes news!
Well, kind of.
Cespedes texted the Mets.
That's good news, right?! While speaking with WOR 710 on Wednesday, Mets GM Sandy Alderson said that Cespedes texted the organization. In this text, our favorite Lion King stated that he had interest in coming back to the team.
YAY. Do you hear that Mets? He wants to come back. The big bat that the team needs wants to come back.
BRING HIM BACK.
Dear Mets, you already made Mets fans, and players, extremely upset by letting Bartolo Colon go. (No, I'm still not over it. I'm still very broken). Don't make us all fall further into sadness — and well anger — by not bringing Cespedes back.
Just yesterday both Jose Reyes and Curtis Granderson stated that they want Cespedes back. In fact, they even said that all the Mets players want Cespedes back.
Wait, and today we find out that Cespedes wants to be back on the team.
BRING HIM BACK.
It seems like common sense to me.
Alderson did also state today that he has not had any direct contact with Cespedes. He did have the following to say, though:
"I think we've said as an organization that we'd like to have him back," Alderson said. "Free agency provides its own sort of intrigue, so we'll see where things take us. I think we're, in one sense, in a better position than we were in last year" (because of Cespedes' familiarity with the organization and the city). …"I think we're gonna have to wait a while to see how this turns out. I think he wants to be back."
Work your magic Sandy. You brought Cespedes to New York, please keep him here.
In other Cespedes news from today, Mike Puma of the NY Post reported that the Mets are one of four teams in the market for Cespedes. A deal could be done within the next month, by early-December.
That deal better be with the Mets.
More from Rising Apple
This article originally appeared on