Mets jeopardized Michael Conforto's growth this year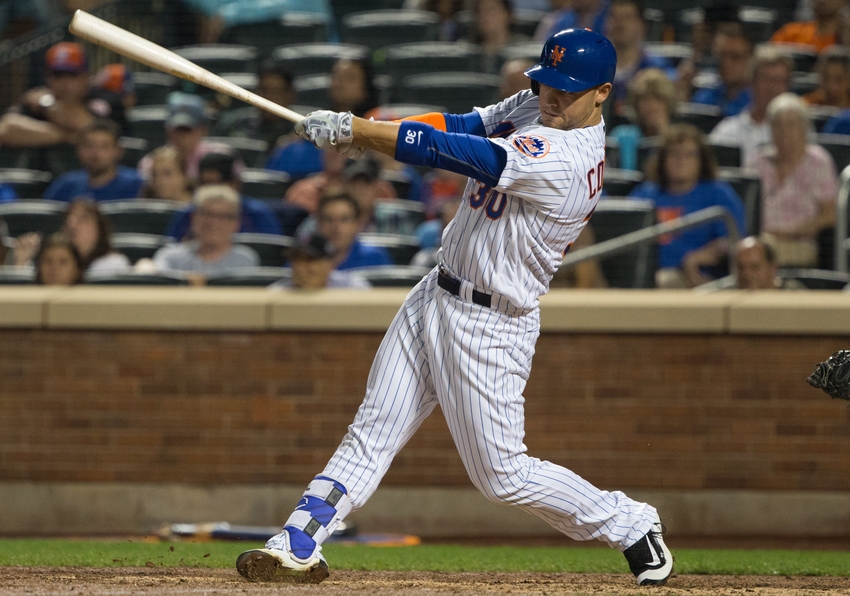 Coming into 2016, there was a lot of optimism for Mets outfielder Michael Conforto. He was coming off a solid 2015 performance that whet the appetite of fans
In 2015, Conforto hit .270 with nine home-runs and 27 RBI in 194 at-bats for the Mets. In the playoffs, he contributed, especially in the World Series (.333 average and a 2 home run game in Game 4). Every sign pointed to Conforto being a budding star.
The first month of the 2016 season continued that narrative as Conforto hit .365 with four home runs and 18 RBI. Then Madison Bumgarner came to town. In one of the many mistakes the team made with Conforto, Terry Collins chose to start him against Bumgarner on May 4 at Citi Field. He started despite having limited action against left-handed pitching until that point.
It may not be fair to pin a season's demise on one game, but it sure looks like that game started a downward spiral. Conforto hit .169 in May and .119 in June before being mercifully demoted to Triple-A Las Vegas. There, his average was a healthy .344 in 16 games before being recalled on July 18.
Upon his return, his position was taken when an ailing Yoenis Cespedes asked to be moved to left field. This forced Conforto to move to an unfamiliar center field position. The move was only temporary as he lost that position the next week when Jay Bruce was acquired.
The Bruce acquisition moved Curtis Granderson to center and left Conforto as the odd-man out. And Conforto only stayed with the big league team because Cespedes' quad required a DL stint.
During this stay of execution, Conforto again struggled, hitting just .200 with four extra-base hits. When Cespedes returned in mid-August, Conforto was sent back to Las Vegas. Again, he dominated the Pacific Coast League. At year's end, his final line in Las Vegas was .422 with 19 extra-base hits in just 128 at-bats.
By the time he made his way back to the majors with all of the other September call-ups, it seemed like he had lost the confidence of Terry Collins. He was reduced to pinch-hitting duties with an occasional start. There were times when Collins would start guys like Ty Kelly over Conforto.
As bad as Conforto looked at times in 2016, it wasn't the right move to treat him like a super-utility player. When Lucas Duda went down with his back fracture in June, many suggested that Conforto learn first base on the fly.
When you are trying to nurture and encourage the growth of a player, you can't shuffle him from position to position and team to team. Even with his success in Las Vegas, the Mets should have waited until there was a clear position with the big league team before recalling him.
So where do the Mets go from here with Michael Conforto? First, they have to figure out who is going to even be around for an outfield spot in 2017. Will Cespedes be back? Will they pick up the option on Jay Bruce? If they do, will they trade him? Will they try to move Curtis Granderson before his contract expires? Conforto unfortunately has to wait.
Once the outfield starts to take form, the Mets can determine where Conforto makes the most sense.
Can he play an entire year in center field or learn yet another new position at first base? Either way, the Mets have to let Conforto play without fear that every bad game could mean a visit to the manager's doghouse.
Conforto has proven he can perform at the major league level. He has also proven that he is no match for minor league pitching. The Mets are in a difficult position where they need to win now while keeping an eye on the future. The rub is that Conforto is the key to both, and management can't lose sight of that again.
More from Rising Apple
This article originally appeared on