Mets GM Sandy Alderson looks forward to the 2017 season
Michelle Ioannou/FanSided via Rising Apple

Fansided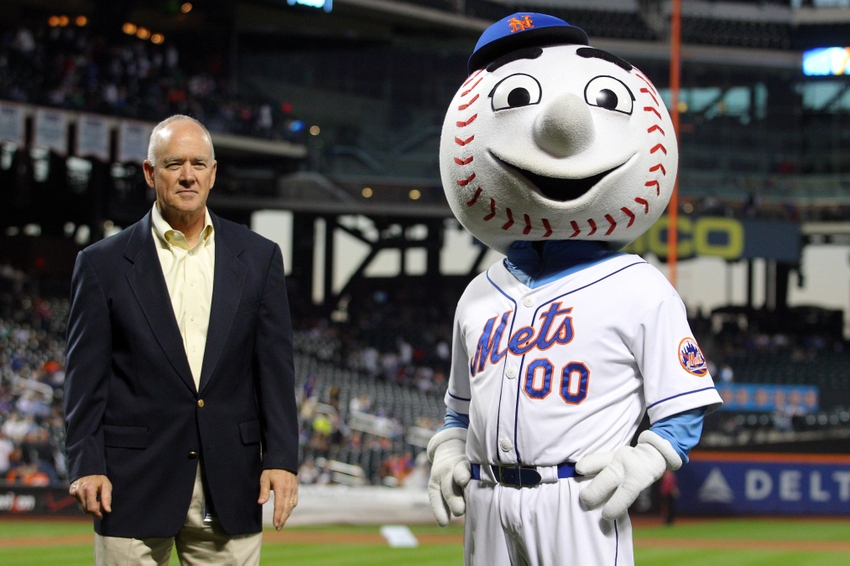 Mets GM Sandy Alderson is excited about this season. And you should be too.
As if the fact that Mets pitchers and catchers reported to Spring Training on Sunday isn't exciting enough, Alderson is here to pump us all up a bit more. The Mets GM spoke with Steve Serby of The New York Post about a plethora of topics.
Now, what was the first thing he had to share? His excitement for this upcoming season.
Additionally, Alderson acknowledged the fact that the team did not add any big names from outside the organization — you know, that thing many fans have been complaining about this offseason. Well, what does he really think about this?
"I think that while we haven't seen a lot of new faces or won't see a lot of new faces in spring training, other than some young players that we have coming through our system, we're gonna have players coming back who weren't able to perform, mostly for health reasons last season, and as a result I think we've got the potential to be better than we were last year and comparable to what we were in 2015. We've got starting pitchers coming back, we've got position players coming back, we've got some young players with room to grow… I just think the potential is there to be very good."
Well, there you have it.
Now I can sit here and remind you about all of the injuries from last season, but I won't put you through that. I will however remind you that our pitchers are expected to be healthy this season, so fingers crossed.
Speaking of pitchers, does Matt Harvey have something to prove now that Noah Syndergaard is seen as the ace of the team? He probably feels like he does, and Alderson obviously does have some expectations for him which we'll get to in a second…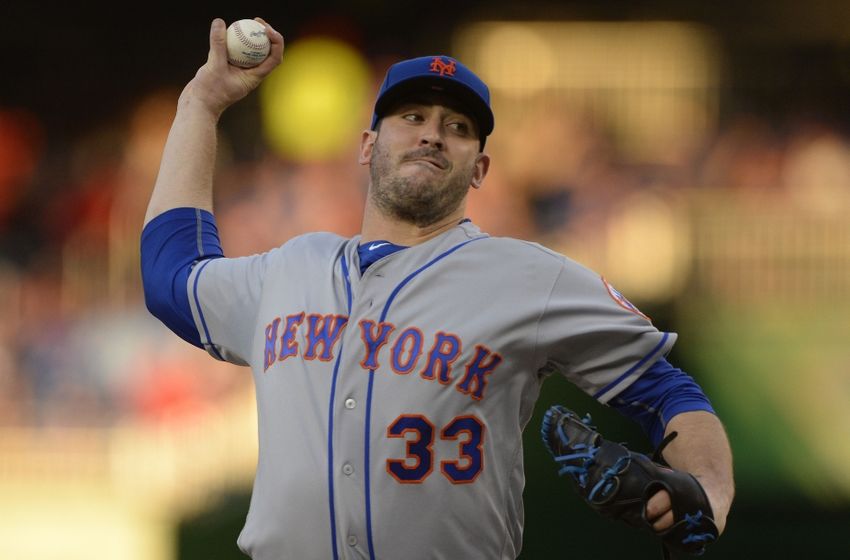 As everyone knows, Matt Harvey missed the majority of last season due to Thoracic Outlet Syndrome and surgery for it. Because of this, he couldn't feel his fingers while he was pitching — obviously less than ideal (duh). But the Dark Knight is expected to rise again this season.
What does Sandy think of Harvey's health at this point?
"I haven't actually seen him throw off a mound, but I've seen video, know he's in excellent shape.
… He's in good spirits, he's been working hard and has been throwing. And so from all of those indications, it appears that he's right on track. I always caution and remind myself that we'll know a lot more in spring training as Harvey and others progress through their throwing programs. But right now everything looks very good."
Sandy also proceeded to acknowledge everyone's hated term, without actually saying it, innings limit:
"I say it's very positive. He has gone through some health issues that obviously have been some disagreements over how to address those health issues and so forth, but I think that's largely in the past. I think he's in a very good frame of mind. We're very high on him. So I think the relationship… probably better than people perceived it to be a couple of years ago, and it's just as good now."
Still have doubts about the Dark Knight rising? You shouldn't really, Alderson says.
"We haven't discussed it at all, but knowing the competitor that he is, knowing how he enjoys pitching in New York and the feedback that he gets from the fans, I think he's anxious to get back to that level. There are lots of motivating reasons, but I don't think there has ever been any doubt about his desire to succeed and perform level."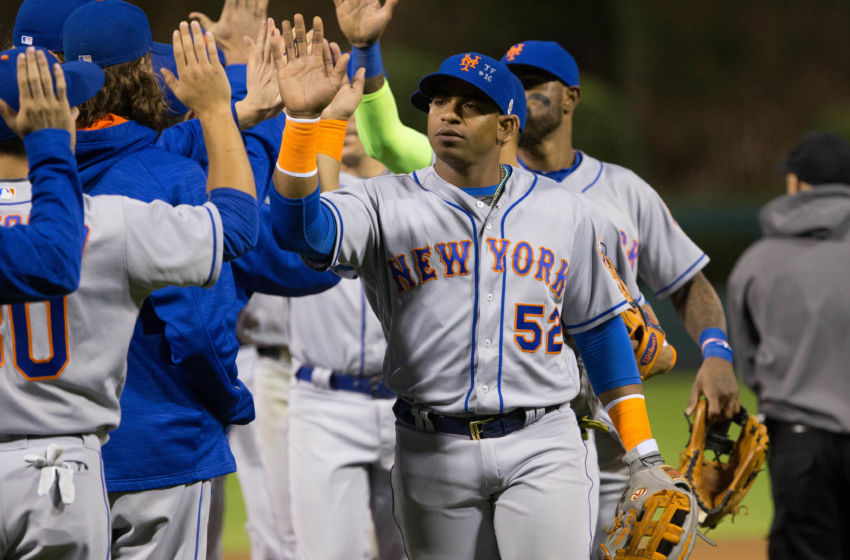 Now of course, Alderson had to talk Yoenis Cespedes. I mean, the man is responsible for him being on the team — and back on the team.
Well, why is the Lion King a perfect fit in Queens? There are obviously a lot of answers to this question, but
"I think just the way in which he approaches each game. He has a flair that people have come to appreciate. That flair comes with outstanding ability as well. You can tell he's superconfident, he's an outstanding athlete … and a bigger-than-life aspect to his game with his power and his arm. Fans enjoy winning games, but I think that in New York, personalities stand out as well. He hasn't heretofore communicated all that much, but there's that quiet, mysterious aura of power and speed and strength, it's manifested quite often at the plate. People are intrigued by it. Hard to ignore that (chuckle). … What I'm most [excited] about is that he's been working out in Port St. Lucie pretty regularly and I think is really motivated to play well and be healthy this year, and that's a very good sign."
I'm also excited that Cespedes has been in PSL working out… and hopefully winning more champion hogs and finding more horses to ride into Spring Training on? As much as I love his antics, not everyone does, as we all know by many fans, and even the media, making comments about his golfing. You know, like that time he played golf last year when he was injured and still played during the 2015 NLCS when he wasn't 100 percent healthy.
The Mets GM opens up about this golfing — does he really care?
"No, I really don't. Last year there was an unfortunate juxtaposition between the golf and the leg injury that didn't sit well with some fans, and wasn't looked on favorably by the media. I don't think there was any real connection between the two."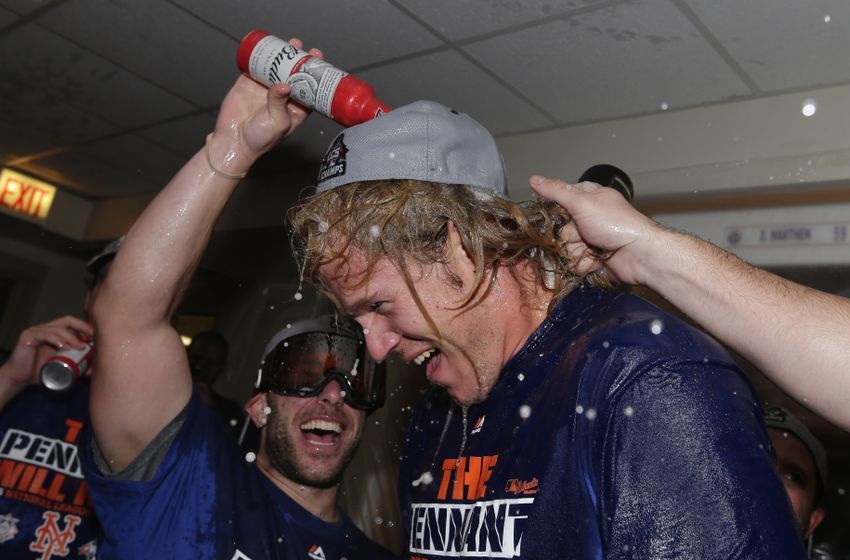 Now, let's talk World Series.
Yes, I'm still heartbroken over the 2015 World Series, and the 2016 Wild Card obviously did not make it any better. Will 2017 be the year to change all this? We still have unfinished business to finish.
Mets fans, it took us a while to get over it (jk let's be real, we're still not over it), and it took Alderson a while to get over it as well (jk he's still not over it either).
"I don't think one ever gets over the sting of losing a World Series (chuckle). I lost a couple in the 1980s, and I'm still not over that. I certainly have never acquiesced in the notion that Kansas City is a better team. They played better than we did during that period of time when it was critical, but we had our chances, and it could have gone the other way. But it didn't."
Oh, and Alderson wants a World Series.
"It would be gratifying for all of us in the organization, especially to be able to do it here in New York City largely because I know how much it would mean to Mets fans here in New York, 'cause I know how much they cherish their memories of 1986, and in some cases 1969. It would be great to make that a trifecta."
1986 memories? 1969 memories? I unfortunately have neither as I was not born until after this. I'd like some happy World Series memories too, because right now all of mine are sad.
Let's make this trifecta happen.
This article originally appeared on