Mets and Yoenis Cespedes have not talked about contract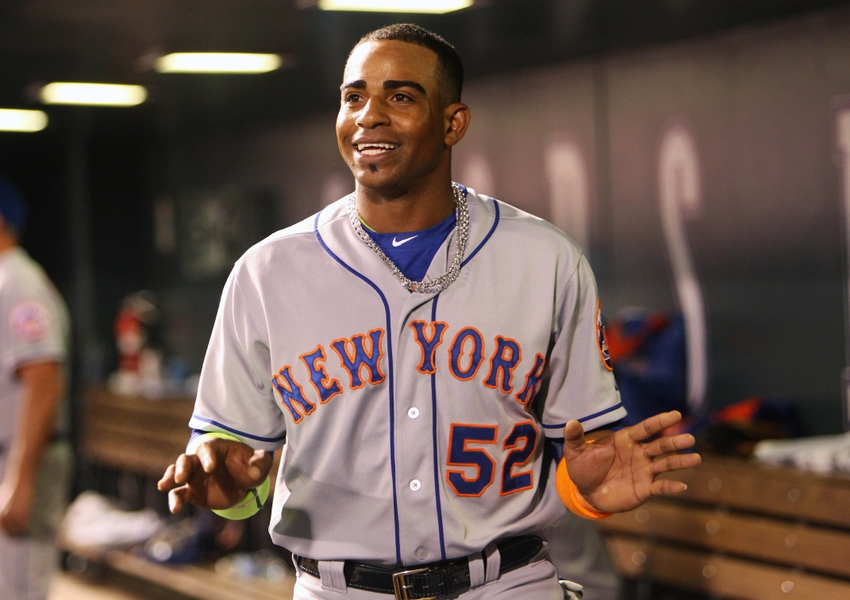 The Mets are taking their time with Cespedes.
With many around the league convinced that Yoenis Cespedes will be opting out of his current contract as soon as possible, the question then becomes how the Mets will approach the situation. ESPN's Adam Rubin reports that the club has not sat down with Cespedes to talk about a new contract as they still feel he'll be seeking a bigger deal somewhere else this offseason.
Much like last year's offseason, Cespedes will be looking for a long-term deal with a big payout instead of a two or three-year contract. Unfortunately for him, there weren't any suitors that were willing to go that far with him last year, so the Mets' best offer of $75m for three years kept him around.
There has been some speculation that San Francisco could be making a play for Yoenis. The San Francisco Chronicle noted on Tuesday that a deal between the Bay Area club and Cespedes could happen, but the history doesn't indicate it will. The Giants haven't signed many big name outfielders to large contracts in a while, and they have other areas that need improvement as well. My favorite quote from that piece is that the "Mets would be tough to outbid."
What if Yo leaves?
Cespedes' departure obviously presents our own team with some major problems. Not only would it leave the Mets with a big power hole in their lineup, but without a right-handed batter that plays the outfield regularly. Curtis Granderson, Jay Bruce, Michael Conforto and even Brandon Nimmo all swing as southpaws. Juan Lagares would become their lone option on the opposite side of the dish, which, let's be frank, isn't ideal as a replacement for Yo. Because of this, there is some speculation that Jose Reyes could see some time in the outfield.
After being acquired last year, Reyes got some work in center field so there's a chance that could happen. Thankfully, he was never needed in there in 2016, but that idea has apparently stuck with the Mets' brass. With team captain David Wright likely to attempt a comeback in Spring Training, Jose Reyes' spot in the Mets' infield is no longer a guarantee. Moving him to the outfield could keep his bat in the lineup in case the infield has no room for him.
I get a feeling the Mets are again slow-playing their negotiations with Yoenis. They'll let him look and see what's out there, but ultimately, he'll be back. If they were ready to pony up another $47m over two years for him if he stayed under contract, there's no reason why they can't make a competitive three-year offer to keep them in the Cespedes sweepstakes.
This article originally appeared on