Mark Trumbo: How Will his Free Agency Effect His Fantasy Value?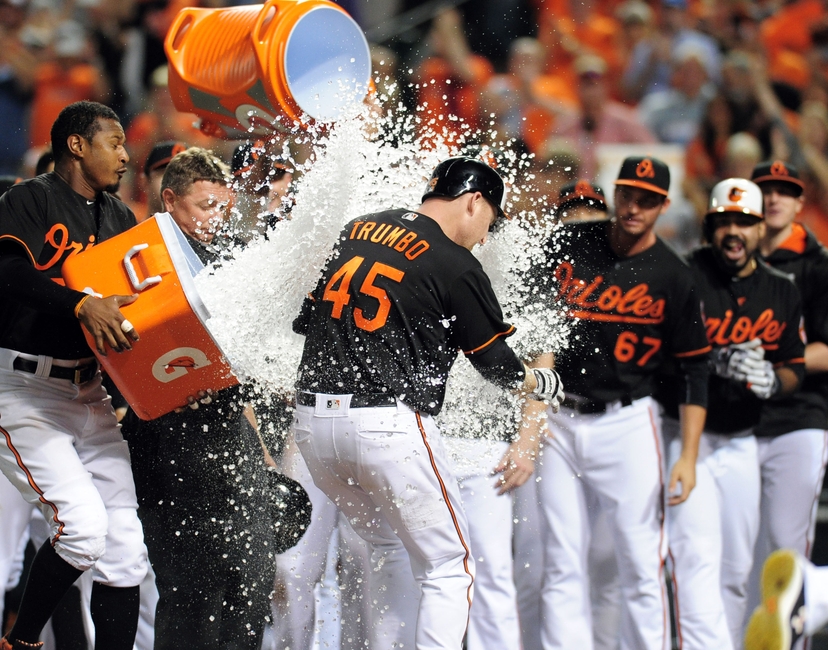 Mark Trumbo led the AL and Orioles with 47 HR last season, and he will hit the open market heading into 2017. But, will his fantasy value be effected by his free agency?
It was not a surprise to see Mark Trumbo lead the AL in HR, his power is not exactly a secret around baseball, but to see him post 47 HR/108 RBI could have never been expected. The Orioles struck late offseason gold again, just as in the case of Nelson Cruz, and fantasy owners rejoiced at the bargain value price tag he carried. But, how will a potential move in free agency effect his fantasy value?
Like in the case of Mike Napoli, this is a two-part question. On one hand in order to believe that a potential move will have an impact, fantasy owners have to trust that he can somewhat replicate what he did lat season. Trumbo finished the 2016 season with a, .256/47 HR/108 RBI/.850 OPS/94 R, line. A nearly impossible stat line to repeat, but can he get close?
Trumbo was a man possessed over the first half of the season, .288/28 HR/68 RBI/.923 OPS, and was arguably the most feared hitter in MLB over that span. He made the All-Star team, and it looked as the O's had added a the best hitter in MLB to an already solid lineup.
The move to Camden Yards seem to do wonders as well, as he mashed 25 of 47 HR there. Over the first four months of the season, he was posting at lest 6 HR/15 per month, even though two of those months featured sub-.240 AVG months.
He led a lot of fantasy teams to early success, and even though a drop off was expected, owners were hoping that the crash back to earth would not be rocky.
Unfortunately, the crash came hard and fast.
Trumbo's second half line, .214/19 HR/40 RBI/.754 OPS, was not what fantasy owners had in mind. Now he did have a 10 HR month in August, and ended the season with a .272/7 HR September, but the K and AVG woes caught up to him.
Fantasy owners know it is not fair to ask for 47 HR again, but most would like to know whether or not Trumbo made a tangible change that led to his power uptick. But, there was no clear change his game based on his batted ball data. Trumbo has been in the league 6 years now, so there is plenty of batted ball data to compare.
Last season, his rates read as followed. 17% LD, 40% GB , 43% FB, 42% Med, and a 39% Hard contact rate.
His career rates: 17% LD, 40% GB. 40% FB, 47% Med, and a 35% Hard contact rate.
As you can see there is not a lot of disparity here, which does not bode well for a potential repeat. His career high in HR is 34 in 2013, which is a perfectly fine amount for fantasy owners to expect based on his rates, but not 40+ threat we saw last season. The only real reasoning behind his uptick was that his Pull rate jumped by 5%, and his Hard contact jumped by 6%. He simply hit the ball harder, while pulling it more, which fits well in Camden and the AL East.
The most peculiar stat from Trumbo last season was that he could not hit LHP to save his life. He posted an out of character, .173/10 HR/24 RBI/.608 OPS, line against them. He is just a career .251 hitter against them to being with, but to see him struggle that much, was a surprise. He should do better versus them next season, but his .284 AVG against RHP will surely fall closer to his career .251 AVG clip.
This brings us to his free agent market. It is still early, and Trumbo will more than likely wait for Edwin Encarnacion to come off the board first before he signs, but there has been one interesting team linked to him. The Colorado Rockies are emerging as a lead candidate for Trumbo, a salivating possible fantasy destination.
The Rockies desperately need a first basemen, they resorted to throwing Gerardo Parra there last season, so the need is real. Imagining Trumbo playing half his games at Coors would shoot his fantasy value through the roof. In 12 career games at Coors, he has 8 HR and 20 RBI. This serves as just a glimpse of what he could do over a 81 game slate.
The O's featured a solid lineup, but the Rockies may just have the deepest lineup in all of baseball, even before Trumbo may join it. Possibly sliding him behind the likes of Charlie Blackmon, DJ LeMahieu, Nolan Arenado, Trevor Story, or even Carlos Gonzalez, and it is easy to see how his counting stats would skyrocket.
Trumbo is still going to strike out a ton, his 25% K rate was a career high, but if he can maintain his Pull and Hard contact rate at Coors or any other hitter friendly ballpark, 30+ HR are certainly in play again. Keep in mind this was a guy who averaged 410 ft. per HR, so his raw power is still as prestigious as ever.
Mark Trumbo will not repeat what he did last season with the O's, in 2017. But, if he could land let's say in Colorado or even back in Baltimore, the chances he can get close to his 2016 value rise drastically. All fantasy owners need to keep track of where he lands this spring. He will be a highly contested player on draft day, thus owners have to formulate an opinion on him. His free agency landing spot will certainly help in that process.
More from Fantasy Baseball Crackerjacks
This article originally appeared on