Mariners Robinson Cano: He is Still Pretty Good Heading Into 2017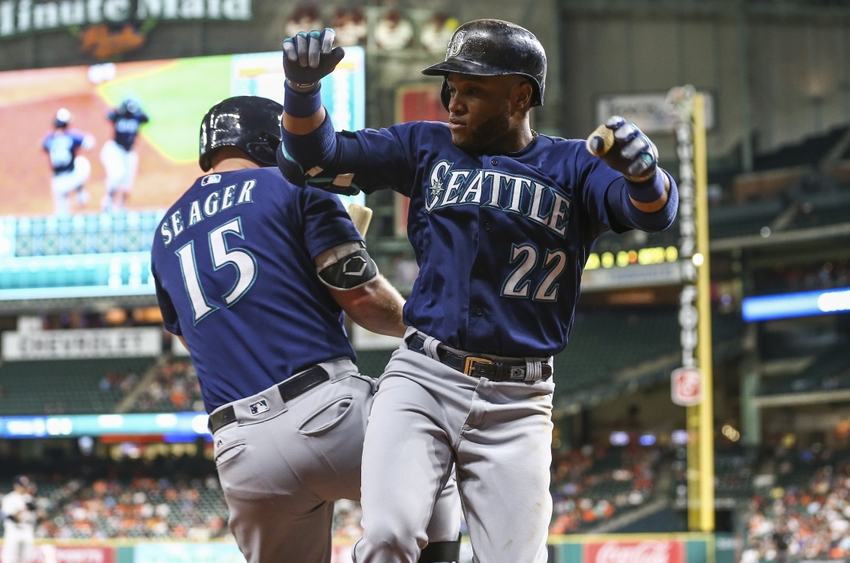 Robinson Cano once again silenced doubters, after having his monster season for the Mariners. Should fantasy owners expect more of the same in 2017?
Robinson Cano is and has been, one of the best players in MLB for the last 10 years  Yet, its not always been sunshine and praise, whether it be lack of hustle or relative subpar seasons, he has received his fair share of flack. But, as has been the case for most of his career, the talent proved to be undeniable, and the Mariners were reminded why they wrote him a blank check.
Cano went ballistic last season, posting a, .298/39 HR/103 RBI/107 R/.882 OPS line. I would say he looked like his vintage self, but his power was on full display, as his 39 HR were a career high. He was an absolute force, and the smoothest swing in baseball looked to be fully locked in. But,  there was a large fantasy contingent that had crossed Cano off their lists even before the draft.
Cano's time with the Mariners has been admittedly underwhelming. The run production wasn't there, and even though the usual AVG/OBP stats were there, it was hardly $240 mill worth. While he had been subpar, he was coming off his best campaign, .287/21 HR/79 RBI.779 OPS, with the M's in 2015.
This was not the line that fantasy owners expected, especially with his price tag, but some were losing sight of just how unbelievable Cano was. He started the 2015 season with an intestinal issue, and then pulled an abdominal muscle in August. Yet, played 156 games and still posted those numbers.
He would eventually require double hernia surgery last offseason, and entered spring training with a clean bill of health. He didn't even play in Dominican winter ball, so he was at tip top shape entering 2016. Fantasy owners, and maybe rightfully so to an extent, did not want to hear this though.
Instead, Cano was pegged as a potential bust or reach, even though things were not as bad as it seemed. Whiche brings us to 2017, and if Cano can come close to replicating.
Let's look at his batted ball data.
In 2015 he was injured, but still there's a substantial data set. That season they read as, 25% GB, 24% LD, 50 GB%, 37% Pull, and 34% Hard contact rates. Solid ratios all things said and done.
In 2016, 36% FB, 18% LD, 45% GB, 39% Pull, and 36% Hard contact rates. Cano was able to make up for the 6% drop in his LD rate, by pulling more FB. Add the factor that he improved his Hard rate as well, and it's easy to see where the power uptick comes from.
Amazingly, Cano will already turn 34-years-old next season. Even though the years may be catching up, his raw power isn't fading. Based on ESPN Home Run Tracker, in 2015 Cano's AVG HR distance was 402 ft., a solid mark for 21 HR.
Now in 2016, he hit 18 more HR, yet maintained a 395 ft. AVG distance. That's only a 7 ft. drop, a great indicator that he is still hitting the ball solidly. One interesting note, is that he also tied for the league high in "just enough" HR, or homers that only clear the fence by less than 10 vertical ft.
Let's say he loses 10 of those just enoughs, and they turn into doubles. That's still about 30 HR, with almost 35 2B, yet still 90+ RBI. The Mariners will still sport a solid lineup, so the counting stats will be there as usual. Safeco still plays huge, but right field isn't too bad on LHB, 17 of his 39 HR did come at home, so that's a non issue.
This should be the season where fantasy owners begin to respect Cano again, and he settles in as a top five round value pick. The second base position is deeper than usual, but Robinson Cano still belongs in the conversation of one of the first taken.
More from Fantasy Baseball Crackerjacks
This article originally appeared on