Madison Bumgarner and Yasiel Puig exchange words, benches clear (Video)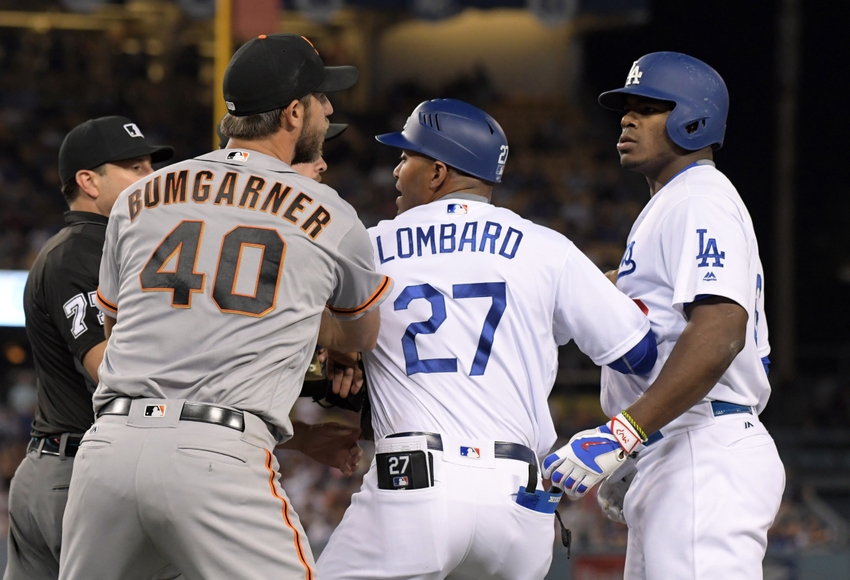 The war between Madison Bumgarner and Yasiel Puig took an interesting turn when a confrontation led to both benches clearing. 
There's no better rivalry in baseball right now than the one between the Los Angeles Dodgers and the San Francisco Giants. You can tell the two teams legitimately loathe each other. Even the Boston Red Sox and New York Yankees rivalry has gone soft with David Ortiz hugging everybody before each game. If there was any doubt the Dodgers and Giants still hate each other, Madison Bumgarner and Yasiel Puig erased it by having a confrontation. It led to both benches clearing and even a few punches getting thrown.
This is not the first time Puig and Bumgarner have angered each other. It all started back in May of 2014 when Puig hit a home run off Bumgarner and Bumgarner took offense to Puig's bat flip. In September of 2014, Bumgarner threw at Puig and Puig nearly charged the mound. People thought the two had gotten over it, but they still harbor quite a bit of resentment towards each other.
This is what makes baseball great. Sure, it's just a game and it deserves to be treated as such. However, players are competitive athletes who want nothing more than to win. Obviously there has to be a loser. Just like in any situation with such a great conflict of interest between two sides, emotions are going to flare and rivalries are going to form.
It's great to see that passion from both sides. As long as neither side crosses the line, there's nothing wrong with a good old-fashioned rivalry. It creates interesting storylines and likely helps ratings quite a bit. Everybody loves it when athletes are honest and express themselves. There has to be a line and it likely starts at making physical contact. But as long as the line is not crossed, these confrontations make baseball more entertaining.
More from FanSided
This article originally appeared on