Los Angeles Dodgers: Yasmani Grandal's Quiet Contribution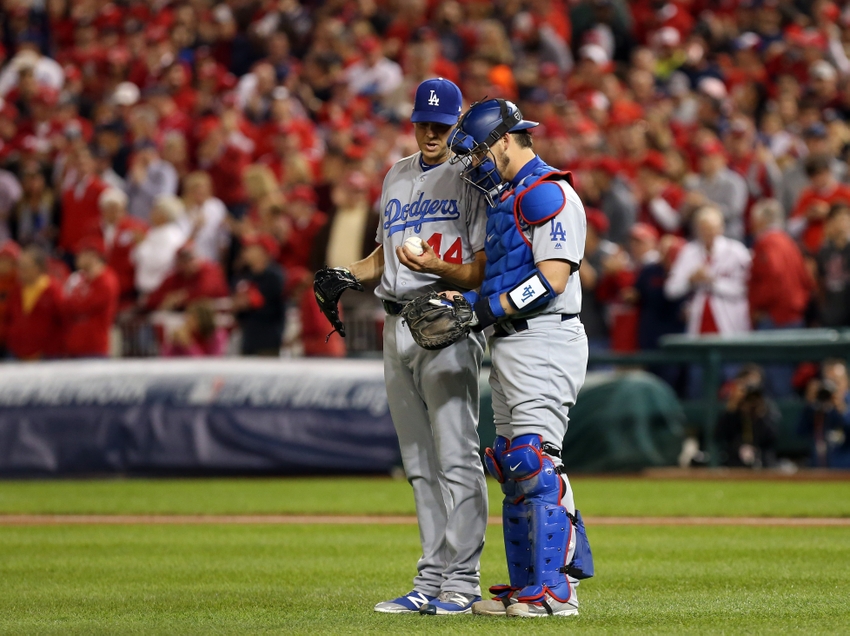 The Los Angeles Dodgers are tied 1-1 with the Chicago Cubs in the NLCS, just three wins away from reaching the World Series. Players like Clayton Kershaw, Corey Seager, and Justin Turner have made huge contributions, but Yasmani Grandal has quietly contributed in his own way.
A huge key to playoff success is getting contributions from the players not considered to be stars. The stars of the Los Angeles Dodgers pitching staff are Clayton Kershaw and Kenley Jansen. For the hitters, Corey Seager and Justin Turner lead the way. Aside from those players, there is a secondary group that includes the veteran leader Chase Utley and bounce-back player Joc Pederson.
Another player for the Dodgers is making a case to be part of that secondary group of players, vitally important to postseason success. That player is Yasmani Grandal.
His struggles have been highlighted this postseason, because of his inability to hit with the bases loaded during the NLDS. He hasn't stepped up at the plate like the Dodgers have needed, but he's been incredibly valuable in another way. As a catcher, hitting is just one of the many ways he can impact the game.
More from Call to the Pen
One of the most important things that Grandal excels at is framing pitches. It's incredibly difficult to discern the difference between a struggling umpire and a catcher who is absolutely great at framing pitches, but over a season long sample it becomes clearer. According to basically the only existing framing statistic, CSAA, Yasmani Grandal was second in Major League Baseball behind only his NLCS foe, Miguel Montero. When Baseball Prospectus takes into account all aspects of catching, Grandal ranks second once again behind only Buster Posey. In other words, Grandal is one of if not the best defensive catcher in the league.
How much do these skills really matter though? Is the value of framing single pitches at a time really that high? Well, the value of Grandal's skills were seen in game 2, when he helped Clayton Kershaw and Kenley Jansen combine for a 2 hit shutout. While some argue that there were questionable calls, especially late in the game, some of that can be attributed to Grandal's excellency behind the plate. These are the small ways that Grandal can affect each and every game, pitch by pitch.
Not only is he excellent behind the plate, but his woes in the postseason don't do him justice at the plate. He has notched just two hits this postseason, but he was a regular contributor to the Dodgers offense throughout the regular season. This most likely means that he will crawl out of his slump at some point, the Los Angeles Dodgers hoping that he does so before the series with the Cubs is over and they are sent home.
In the regular season Grandal hit .228/.339/.477 with 27 home runs, a .249 ISO, and 122 wRC+. Those numbers might not seem incredibly flashy like Corey Seager and Justin Turner's, but they are one of the best among catchers in the league. His wRC+ ranks 3rd among catchers with at least 400 plate appearances. His ISO ranks 2nd in the same group of catchers, and his home run total is also 2nd in that group. He's been one of the best hitting catchers in the league this season while also excelling behind the plate.
Grandal's excellence behind the plate is best represented by his FRAA, Baseball Prosepctus' defensive statistic, because it takes framing into account. For that reason, Grandal ranks 10th in all of baseball in WARP with 6.76, just barely behind MVP candidate Daniel Murphy. No version of WAR is perfect, but WARP seems to believe that Grandal has been an integral part of the Dodgers success this season. WARP is right.
The Los Angeles Dodgers rode the backs of Grandal, Turner, and Seager to win the NL West division despite missing their best player for over a month. Now they are riding the back of that best player. If they want to beat the Cubs, both the offense and Clayton Kershaw will have to be firing on all cylinders.
This article originally appeared on