Los Angeles Dodgers: Yasiel Puig Pulled off of Waivers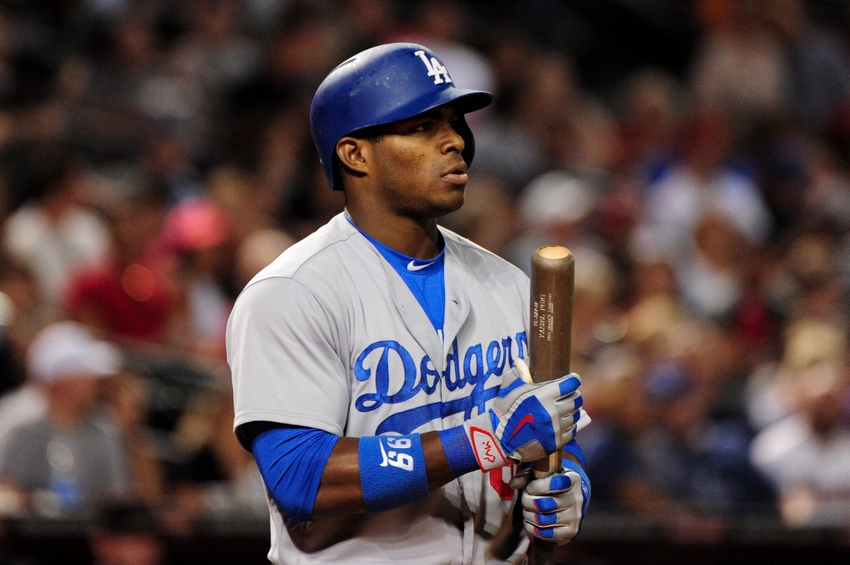 Yesterday, Yasiel Puig was claimed off waivers by an unknown team. Today, the Los Angeles Dodgers revoke the claim and are deciding what to do with the 25-year-old outfielder.
The Los Angeles Dodgers are now pulling Yasiel Puig off of waivers. Last night it was reported that an unknown team claimed Yasiel Puig's rights. With a team claiming him, Los Angeles had the ability to either negotiate a trade with the unknown team, allow the team to take on Puig's entire contract, or revoke the claim and retain Puig's rights.
After an ESPN report (via Twitter) that the Dodgers are not likely to deal Puig, the revocation was inevitable. Even after Puig was placed on waivers, many believed that it was more likely that Los Angeles was gauging interest for the upcoming winter negotiations.
Ideally, Los Angeles would love to have Puig contribute at the major league level during this final stretch. Puig at the major league level has produced a .260 batting average with 7 home runs and 34 RBIs in 81 games. At the minor league level, he has been much better.  In the minors, Puig has a .358/.422/.605 slash line with 5 home runs and 14 RBIs in 24 games.
More from Call to the Pen
Puig's case is incredibly interesting due to his history. The former All-Star has the potential of a superstar but has had a rough two seasons with on and off-field issues. He is also on a reasonable contract for a team needing an outfielder. The 25-year-old is under control for three more seasons and makes $8.214 million in 2017 and $9.215 in 2018. For 2019, he is eligible to exercise his arbitration rights.
According to the Los Angeles Times, the Dodgers are unsure if Puig will join the MLB roster despite revoking the claim. They are, however, calling up four other players: Austin Barnes, Luis Avilan, Louis Coleman, and Josh Ravin.
The Dodgers are in a tough situation. Puig seems like he would contribute at the major league level, but the Dodgers are cautious of his attitude issues. Puig would likely have a part-time role if called upon and his previous behavior suggests that wouldn't go over well.
With the Dodgers' consistent injury issues, Puig could provide a spark to their lineup. On most days, the Dodgers start 5 left-handed hitters and lack quality depth in the outfield. And with Josh Reddick's recent struggles, Puig's right-handed bat could really make an impact.
Whether the Dodgers keep Puig or decide to deal him this winter, they need to decide if he can help them win today. Currently, the Dodgers are 1st in the NL West division, but only by 2 games. With the Giants on their heels, Los Angeles doesn't have time to let off the gas. And if they do want to deal him, his value will spike if he helps them in the playoffs. Whatever happens, look for Yasiel Puig's name to headline rumors this winter.
This article originally appeared on