Los Angeles Dodgers: Vin Scully Receives Presidential Medal of Freedom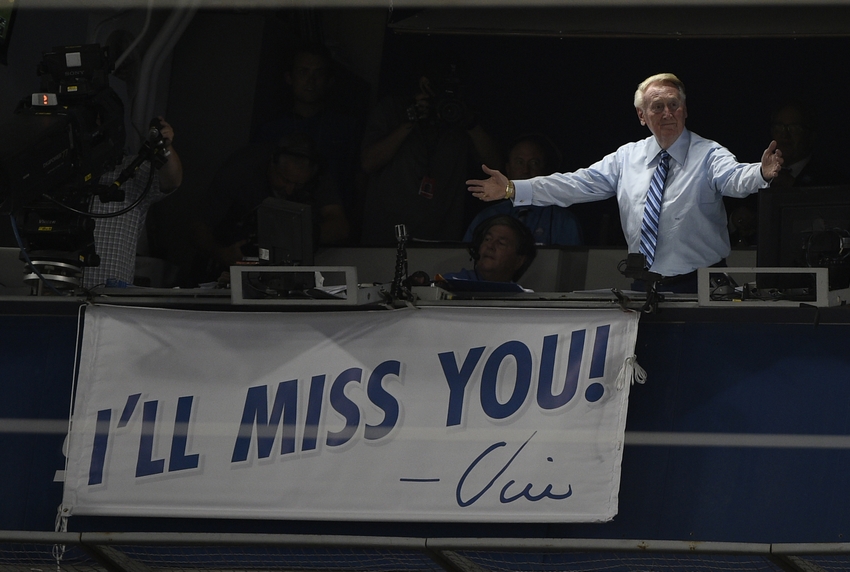 Despite effectively hanging it up after the 2016 season, longtime Los Angeles Dodgers announcer Vin Scully is still being recognized for his contributions.
Vincent Edward Scully is one of, if not the, most recognizable voices in sports. Think of any historic baseball moment – Kirk Gibson's walk off home run, Hank Aaron's record-breaking blast, or Bill Buckners' blunder – and it is likely you heard the voice of Vin Scully. Baseball wasn't Scully's only avenue either, as he also covered football, tennis, and golf.
What makes Scully so amazing is his dedication to his craft. Sixty-Seven years Vin Scully called games for the Los Angeles Dodgers. The average life expectancy in the United States is only twelve years longer! No matter your age, your background, or your favorite team, we all share the same love for Vin Scully.
On Tuesday, President Barack Obama honored Scully with the Presidential Medal of Freedom. This award recognizes individuals who have greatly contributed to our society. Since it's inception in 1963, 598 recipients have received this award. Scully was awarded this honor by President Obama to signify his contributions to America's pastime.
According to Oliver Macklin of MLB.com, President Obama said the following regarding Scully:
"The game of baseball has a handful of signature sounds — you hear the crack of the bat, you've got the crowd singing in the seventh-inning stretch and you've got the voice of Vin Scully."
Scully was one of 21 recipients of the award at this ceremony. This list included names such as Tom Hanks, Robert De Niro, Michael Jordan, and Bill and Melinda Gates – to name a few. When asked about his experience by ESPN Vin stated, "An experience like we've just gone through is extremely humbling. I sat there and listened to the credits of all these incredible people, and then for me to wind up as if I'm one of them, makes you feel inadequate. But I'm thrilled and honored and humbled for the experience."
Out of the recipients, Scully was one of three from the sports realm. Michael Jordan and Kareem Abdul-Jabar joined Scully alongside actors, authors, and philanthropists. Scully joins 11 baseball players to be bestowed with the honor. People like Jackie Robinson, Hank Aaron, and Roberto Clemente have received this honor.
Scully has undoubtedly already proven to be one of baseball's immortals. Now, Scully can be recognized as one of the greatest human beings in American History. What Scully has done for the game of baseball is unprecedented, and the hope he leaves us all with is undeniable. We all should remember Scully's voice, his natural excitement, and his poetic words.
As President Obama stated, Vin is our old friend. Let's appreciate the moments that will forever be etched by Vin Scully's voice. Most of all, as Vin said, "As long as you live keep smiling because it brightens everyone's day."
This article originally appeared on