Los Angeles Dodgers: Scott Kazmir Does Not Exercise Opt-Out Clause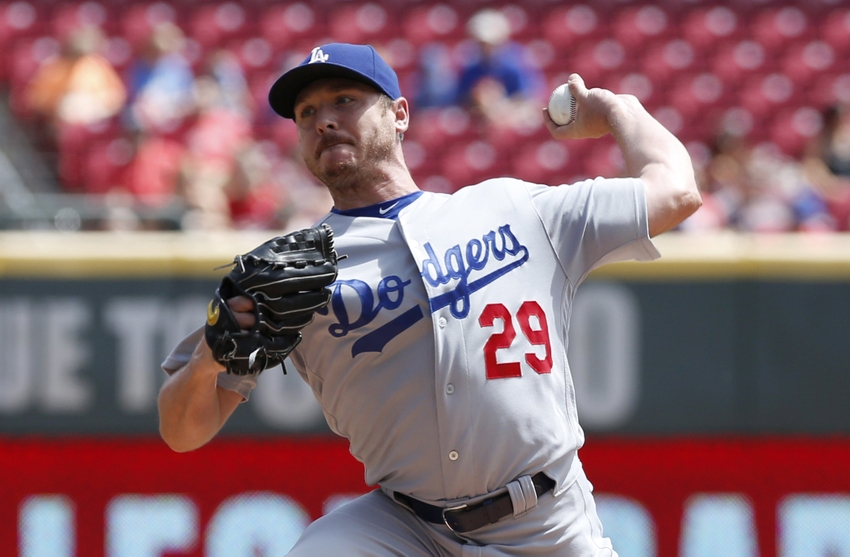 Los Angeles Dodgers starter Scott Kazmir has reportedly decided to stay with his current team by not using his opt-out clause after the first year of his contract.
A year after signing a three-year, $48 million deal with the Los Angeles Dodgers, Scott Kazmir has decided that he intends to remain in Hollywood for the next two years, according to a report from Matt Snyder of CBS Sports.
When the 32-year-old left-hander signed on with the Dodgers last winter, many expected that he would hit the free agent market again this offseason cycle if he had a season comparable to what he had done for the past few years.
Kazmir surprised many in 2013, when he won a rotation spot with the Cleveland Indians after being completely out of Major League Baseball for the entire 2012 season. He held his own in Cleveland, finishing that year with an ERA slightly over 4.00 with an impressive strikeout rate of 9.2 per nine innings pitched.
He improved over this when he signed on with the Oakland Athletics before the 2014 regular season. His ERA sat in the mid 3.00s after his first stint in Oakland and he had his best season of all in 2015, when he posted an ERA of 3.10. This was due in most part to his excellent first half with the Athletics. The veteran lefty struggled a bit after he was traded midseason to the Houston Astros.
However, Kazmir was still one of the best starters available in the 2015-16 offseason and got paid like it by fetching $11 million this past season with the possibility to earn $16 million in 2017 and 2018 if he didn't exercise his opt-out clause after this season, which we now know he doesn't plan to do.
The reason why Kazmir has gone in that direction is because even with a weak starting pitching market, his 2016 campaign was plagued by injuries and inconsistency.
After Zack Greinke bolted for Arizona in free agency, the Dodgers brought in Kazmir and Japanese starter Kenta Maeda to help fill the slots behind their ace Clayton Kershaw. While Maeda was solid in this role, Kazmir struggled to maintain his production from the past three seasons.
More from Call to the Pen
He had trouble staying on the field, as he went through multiple stints where he missed consecutive starts. Kazmir was unavailable to pitch during most of their late-season postseason push as well and didn't appear in the playoffs. He ended his 2016 campaign with a 4.56 ERA and his highest walk rate since 2011, allowing nearly 3.5 BB/9. His strikeout rate did improve from recent seasons as he averaged 8.8 per nine innings of work. However, diving deeper past the numbers, there are some legitimate concerns that teams may have had if Kazmir decided to test the free agent waters again.
While his fastball velocity maintained (91.4 mph) according to FanGraphs, the fact that a pitcher on the wrong side of 30 years of age experienced a barrage of injuries is never a good sign for a team looking to spend big money on a free agent arm. Also, Kazmir got close to three percent fewer groundballs in 2016, which is fairly concerning as well. If he hit the open market this winter he probably would have had to sign a one-year "prove it" deal. This would have been far less desirable than getting over $15 million guaranteed for the next few years.
When looking at how this impacts the Dodgers' rotation, the team may be losing trade acquisition Rich Hill to free agency. If they can't re-sign him, Kazmir looks to be behind Kershaw, Maeda and former top prospect Julio Urias in the rotation based on how things look on their roster right now. However, Los Angeles would seem to be in the market for a starting pitcher regardless of the decision. But getting Kazmir back does bring some clarity, even though he was clearly not a reliable starting pitcher for the club this past season.
How does Kazmir sticking around affect the Dodgers' 2017 offseason plans? Share your thoughts in the comment section below.
This article originally appeared on