Los Angeles Dodgers: Kershaw Experimenting with Arm Angles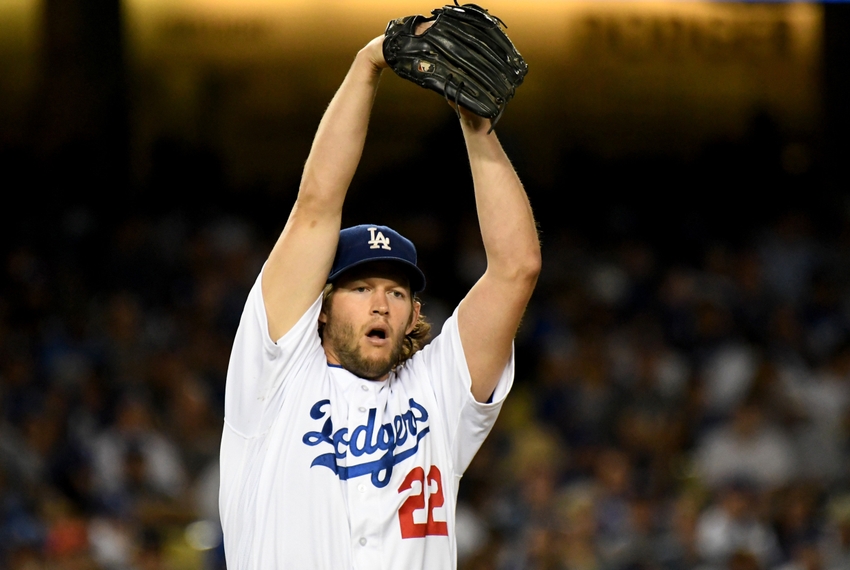 Before his 2016 injury, Clayton Kershaw was having his best season. Now that he's back he's working on more ways to make himself even better, and possibly give the Los Angeles Dodgers the playoff boost they've needed.
It's hard to believe that Los Angeles Dodgers pitcher Clayton Kershaw can add anything to his repertoire to make himself even better. With one of the best curveballs in the league, a devastating slider, and a fastball that isn't lacking he has a fantastic arsenal for attacking hitters. What more could a guy who has already put all of that together add? After all, Kershaw is already holding a 1.65 ERA, 0.71 WHIP, and ridiculous 16.8 K/BB. His innings pitched don't quite match up with those that have played all season, but those numbers are impressive regardless.
So what exactly is Kershaw adding to his game? Well, it's something that he's learned from his new teammate Rich Hill. Hill has long been known for his affinity to change his release point at different times throughout a game or at bat. Kershaw, an ultra competitor, is always looking for ways to improve his game. Despite it seeming like Kershaw doesn't really need any help, that's what he does. He wants to do everything in his power to strike batters out, limit baserunners, and ultimately allow as few runs as possible. Rich Hill's release points can be seen in the following chart.
The large blob in the upper right of the chart is Hill's "typical" release point. Like most pitchers he has an arm slot that is most comfortable, and he repeats that delivery. However, to add more deception to his repertoire Hill occasionally throws pitches from a different arm slot. This can be seen by the second, smaller blob lower and more towards the catcher's right side. For a pitcher like Hill who doesn't quite have the same "stuff" as Kershaw this is incredibly valuable. The ability to "drop down" and show the hitter something completely different in the middle of an at bat has helped Hill become (surprisingly) one of the best pitchers in baseball this season.
Hill has spread that knowledge to Kershaw during the time they've been together. When Kershaw was asked about the angle change postgame, he even admitted that the idea came from Rich Hill.
Now Kershaw is employing a little bit of his own "drop down" pitching. He's never done it before in his career, but on two different pitches in his last start he implemented the plan. The chart below shows Kershaw's release points from the 2016 season.
All but two pitches reside in Kershaw's "large blob" or normal release point. He's been a very consistent pitcher in terms of release point throughout the season and his career. There does exist a very small variation among where he releases his three different pitches, but we can assume that it's negligible to the point of view of the hitter. What we should focus on is the two pitches that don't reside in the big blob.
Why and when did Kershaw utilize these pitches? They were both in the 7th inning of the Los Angeles Dodgers game against the Rockies last week. As Kershaw was finishing his impressive start, he decided to try something new. The Dodgers were up 8-0 and he was cruising. No reason not to try, right?
What does this mean for Kershaw's future experimentation? That remains incredibly unclear. Kershaw didn't look entirely comfortable as he changed his delivery, but that's something that could be easily improved with more practice and time. He wasn't able to get Arenado out with the first pitch from a different angle. In fact, it wasn't even a strike.
As for the second pitch from the changed angle, it was incredibly effective. It was a strikeout pitch for the final out of the inning. Not only did it strikeout Parra, but it was Kershaw's fastest pitch of the 2016 season. Maybe Kershaw has found himself another useful way to attack hitters. That's certainly bad news for any National League hitter headed into the playoffs and 2017.
More from Call to the Pen
This article originally appeared on