Los Angeles Dodgers: Julio Urias Will Transition to the Bullpen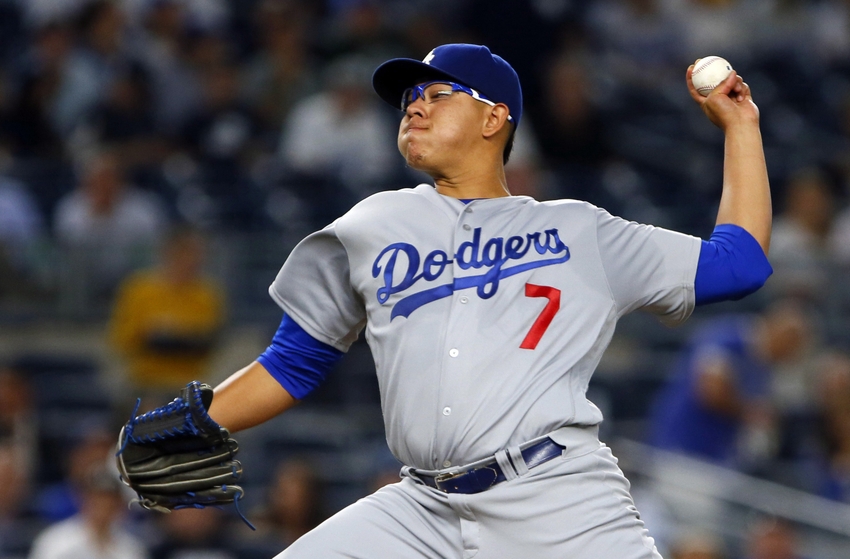 In that start Urias went 3.2 innings (78 pitches) and gave up no earned runs on three hits. It was the twenty-year-old's fourteenth start for the Dodgers this season.
The move shouldn't be surprising for fans who have followed the young pitcher. Andy McCullough of the Los Angeles Times noted that this has been the plan for some time.  "Dave Roberts reiterated what President of Baseball Operations Andrew Friedman expressed last month: When the playoffs arrive, Urias will contribute only as a reliever."
Urias made his debut for the Dodgers this year amidst considerable hype. Prior to the season he was ranked the #4 prospect in baseball by Baseball America and MLB.com. Baseball Prospectus had him listed as their #6 prospect. The Dodgers acquired Urias as a sixteen-year-old prospect out of Mexico in 2012.
Urias, who had never thrown more than 90 innings in a season, currently sits at 117 innings between the majors and Triple-A. The move to the pen will allow the Dodgers to minimize his remaining innings while still utilizing his talent. The young left-hander was dominant for the Oklahoma City Dodgers early in the year. In 11 appearances (7 starts) he held down a 1.40 ERA and stuck out 9.75 per nine.
His work at the major league level has been solid. In 14 starts (16 appearances) Urias has a 3.50 ERA to go with a 111 ERA+. His addition to the rotation was an important development for a Dodgers team that has struggled with starting pitcher health all season long. Clayton Kershaw missed just over two months this season with a back injury. Rich Hill has struggled with his now infamous blisters. Brett Anderson, Scott Kazmir, and Brandon McCarthy are all currently on the 15-day DL. That list doesn't even include Hyun-Jin Ryu who was only able to make one start for Los Angeles in 2016.
The Dodgers currently have a four game lead in the NL West, and they're looking to return to the World Series for the first time since 1988. A healthy top of the rotation will be the biggest key to reaching that goal, but adding quality depth to the bullpen will help. Urias' presence as a reliever will give Los Angeles one more quality option in their pursuit of a championship.
More from Call to the Pen
This article originally appeared on