Los Angeles Dodgers: Joe Maddon Wants a Balk Call Against Julio Urias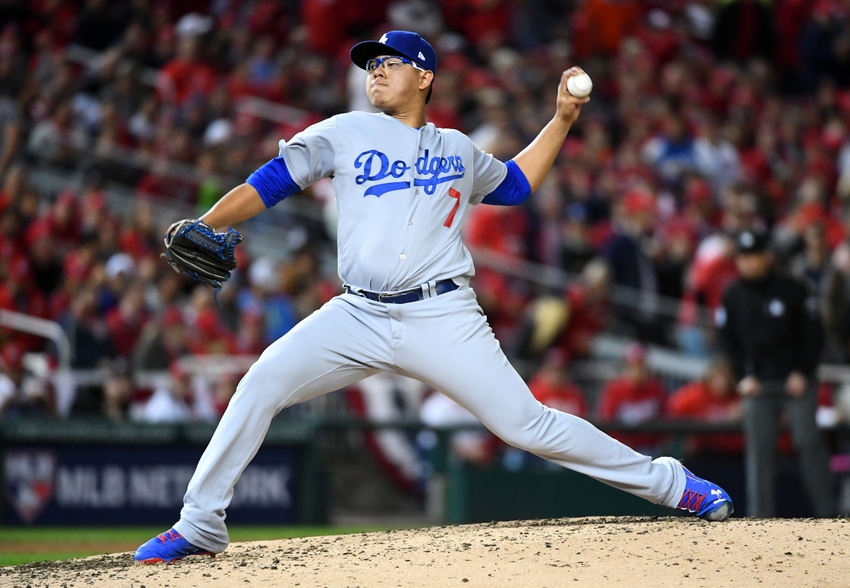 Young Los Angeles Dodgers star Julio Urias might receive extra attention from umpires in Game 4. Chicago Cubs manager Joe Maddon expressed his issues with Urias' pickoff move.
Los Angeles Dodgers rookie, Julio Urias, has made quite the name for himself. Today, he will be the youngest pitcher to start a postseason game in MLB history. He also has made a name for himself through his pickoff move.
Urias executed six pickoffs during the regular season which led the entire MLB while only pitching 77 innings. Urias also picked Bryce Harper off in the fifth inning of the NLDS Game 5. Despite Nationals manager Dusty Baker not arguing the call, Urias' move became quite controversial in the following days.
— vampires hate steak (@VanHicklestein) October 14, 2016
Now, Joe Maddon hopes that the NLCS umpiring crew will pay close attention to Urias if he uses a similar move against the Cubs. Urias starts Game 4 for the Dodgers who lead 2-1 in a best of seven series. The Dodgers lost Game One 8-4, won Game Two 1-0, and won Game Three 6-0.
Maddon is hoping the umpires will look more closely at the rule for pickoffs and balks. That's because, according to Rule 8.05, Urias appeared to commit a balk. Rule 8.05 states: "If a left-handed or right-handed pitcher swings his free foot past the back edge of the pitcher's rubber, he is required to pitch to the batter except to throw to second base on a pickoff play."
Maddon stated that he hopes umpires issue a balk if Urias tries a similar move during Game 4.
"When you get to see it on TV, it's pretty obvious," Maddon said. "It's not even close. It's a very basic tenet regarding what is and what is not a balk. Give him credit, man, for going through with it. That's part of the game.
"I think from the umpire's perspective, there are certain umpires that are in tune to that, some that are not. There are other balks that I always get annoyed with that aren't called. So I'm certain that the umpiring crew have been made aware of it. That's 101. That's not an interpretation. That's balking 101 for me."
However, Maddon did not state whether he has, or will, individually reach out to the umpires about Urias' pickoff move.
"We'll see how it plays out," Maddon said. "From [an] umpire's perspective, from the dugout, I'd like to see a little bit more scrutiny with that overall."
Game 4 starts at 8:00 PM EST tonight. The Dodgers are up 2-1 in the series and look to pull off the upset against the Cubs. They are sending their youngest starter out on the mound in one of the biggest games of the year. And now, the thousands of eyes that were already watching him, may be watching a bit more closely.
More from Call to the Pen
This article originally appeared on