Los Angeles Dodgers: Is Yasiel Puig Done with His Charade?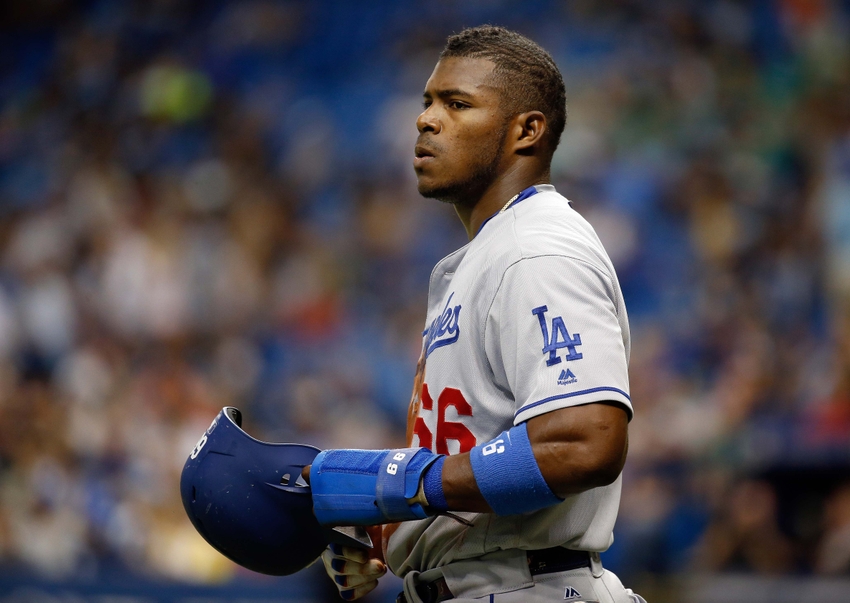 Los Angeles Dodgers Cuban outfielder Yasiel Puig claims that his time in the minors has humbled him. Is Puig really ready to be a better teammate?
When an international prospect signed to a $42-million contract is sent down to AAA, it typically comes as a pretty surprising move. For Yasiel Puig, however, it was a long time coming. The Cuban star had seen his production fall in each of the past three years. His .706 OPS in 81 games this season was the worst mark of his career, forcing Los Angeles Dodgers manager Dave Roberts to slide him down the batting order.
Puig's biggest downfall was not taking place on the field, however, but off of it. He tended to show up late to meetings, was lazy during workouts that he didn't find necessary, and overall was inconsistent with his reliability.
"There are certainly things we believe he could do better off the field," general manager Farhan Zaidi said. "And those have been communicated to him. I don't want to elaborate on it further." (h/t Andy McCullough, Los Angeles Times)
More from Call to the Pen
Only a day after failing to trade him before the August 1 non-waiver trade deadline, the Dodgers opted to demote Puig to AAA Oklahoma City. It was the first time Puig had been sent down to the minors for anything other than a rehab assignment since he broke into the league in 2013.
Not even a week into his MiLB stint, Puig got himself into trouble once again. Following a loss in Iowa, Puig and a few of his teammates decided to hit a party bus. Rather than subtly settle in with his new team, the Cuban outfielder posted videos on Snapchat throughout the night. While the incident probably got blown up more than it should have, it simply created more attention when that was the last thing Puig needed.
Since that debacle, Puig has managed to stay out of the spotlight. He has found his groove at the plate, hitting .369/.414/.631 with four home runs and 12 RBIs in 18 games with Oklahoma City. In a recent interview with ESPN's Marly Rivera, Puig claimed that his time in the minors has humbled him.
"It is something that has taught me humility, and I am very grateful. I do not know what the future will hold in the next few hours," Puig said. "I don't know where I will go. I don't know my fate. God only knows my destiny and I am here to fulfill it. He gave me many opportunities, the way [the Dodgers] did, and I put myself in this situation." (h/t Marly Rivera, ESPN.com)
Whether or not the former All-Star truly has turned his attitude around, his time in Los Angeles may be coming to a close soon anyway. The Dodgers placed Puig on revocable trade waivers Sunday, and multiple outlets have indicated that a mystery team has placed a claim on him. While whether or not a deal is going to be made remains to be seen, Puig will most likely be shipped off to another club in the offseason regardless.
The Dodgers gave their young star all the chances in the world. He chose to squander them one after another, and his performance on the field was not enough to justify his negative presence in the clubhouse. Puig may claim that he is a changed man, but actions speak louder than words. Only time will tell if he can prove everyone wrong. It will just most likely be happening in a city other than LA.
This article originally appeared on