Los Angeles Dodgers: Five Moves for the 2017 Season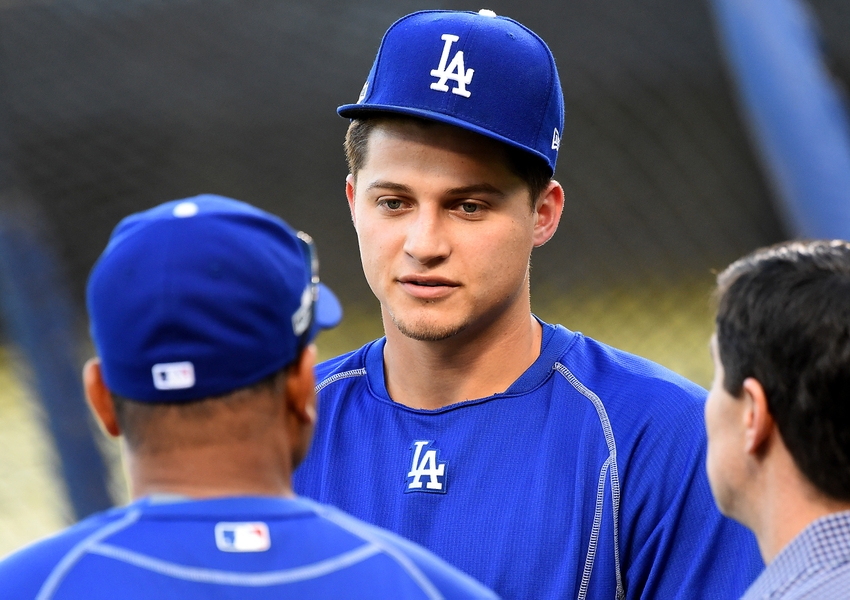 Despite a historic level of injuries, and an injury to their ace, the Los Angeles Dodgers made the postseason. What will they need to do in order to get back to the World Series?
The 2016 season was a trying one for the Los Angeles Dodgers. With a rookie manager, and high expectations, the pressure was certainly on Dave Roberts and his staff. Then came a rash of injuries the likes of which had not been seen in MLB history, as the Dodgers had 27 players on the disabled list throughout the season.
That led to a great deal of turnover. A total of 55 players made an appearance for Los Angeles, as the team was desperate for anything resembling a healthy body. It got to the point where 31 different pitchers took the mound, including 15 different starters. Roberts had quite the test in his first season.
Yet, despite a plethora of injuries that would destroy another team, including Clayton Kershaw's back issues, the Dodgers rolled along. They finished the season with a 91-71 record, winning the National League West before falling to the Chicago Cubs in the National League Championship Series. Even though they entered the season with World Series aspirations, the 2016 cmapaign has to be considered a success, all things considered,
However, next season, that pressure will be back on. The Los Angeles Dodgers will be aiming to return to the World Series for the first time since 1988. With a seemingly unlimited payroll, and one of the best executives in the game, nothing less would be acceptable. So what moves would they need to make to return? Let's take a look.
Find a second ace behind Clayton Kershaw
Clayton Kershaw is easily the best pitcher in the game right now. Coming off of a historical 2016 campaign that would have left him in the discussion for the MVP award had he remained healthy, he is the type of pitcher that any team would love to front their pitching staff.
However, behind Kershaw, the Dodgers pitching staff proved to be thin. Kenta Madea, the prized import from Japan, proved to be a solid middle of the rotation starter. Free agent signing Scott Kazmir struggled, battling his own injury issues. Julio Urias showed a great deal of potential, but as a 19 year old, will have quite a few growing pains.
Quite simply, for the Dodgers to get back to the World Series, they need another arm in the rotation. A second ace, one who can step in should something happen to Kershaw once again. The problem is, there is nothing like that in free agency this year, with Andrew Cashner possibly the best available arm.
Fortunately, the trade market could be active. Arms such as Zack Greinke, Chris Sale and Masahiro Tanaka may be on the market, both of which would be a perfect fit in Los Angeles. Greinke has already proven to be capable of handling that second ace role, having some of his better performances in Los Angeles. Sale, meanwhile, appeared to be doing everything possible to get out of Chicago, although now that Robin Ventura is no longer on the bench, his desire to leave may have changed. Tanaka is a more interesting case, as the Yankees do not have as much motivation to trade him as the other pitchers. However, with the thought that he could be available, he would be a nice addition.
Obviously, any of those pitchers would cost a great deal. Yet, even though the Dodgers have a high payroll, they also have a solid crop of prospects, even after their trades last season. If a team could afford to meet the asking cost, and the payroll considerations, the Los Angeles Dodgers may be able to.
Find a left fielder
For as solid of a lineup that the Los Angeles Dodgers put together last year, left field was a concern. Eleven players received an at bat as a left fielder, as the Dodgers looked to find some level of consistency at the position. Eventually, Howie Kendrick, who was expected to fill a super utility role, settled in as the primary left fielder.
Even with the plethora of players that took the field in left, the Dodgers received little production. In total, left fielders for the Dodgers produced a .240/..316/.386 batting line, as their .702 OPS ranked 23rd in baseball. They tied for 21st with 14 homers, ranked 24th with 233 total bases, and were typically in the lower third of the league in production by any metric.
This is an area where the Dodgers need an obvious upgrade. Despite their perceived logjam of outfielders, no one was able to take over that position. Fortunately, they have options, both internally and in free agency. Yeonis Cespedes opted out of his contract with the Mets, and while he would draw a great deal of attention on the open market, the Dodgers lack of payroll constraints would make him a possible target.
Internally, the Dodgers have top prospect Andrew Toles, who appears ready for the Majors. In a brief trial last season, he produced a .314/.365/.505 batting line, hitting three home runs and nine doubles. Although Toles is a natural center fielder who spent only 14 games in left in his minor league career, he had 18 games in left for the Dodgers. He acquitted himself well, notching three assists while putting forth a claim for the left field position next year.
In what was a solid lineup, left field was a glaring weakness. They need to find a way to bring in an upgrade, either with Toles or externally.
For a time, it appeared as though Yasiel Puig had worn out his welcome with the Los Angeles Dodgers. He had gone from one of the more exciting players in the game to a distraction. His production had dropped each season, and questions about Puig as a teammate, as well as his effort, began to circulate.
When he was banished to AAA in August, along with the revelation that he was offered to the Milwaukee Brewers for Ryan Braun, those whispered rumors became a shout. It was no longer a matter of if Puig would be traded, but when. His time in Los Angeles appeared likely to come to an end once the season ended and trades could begin once more.
Then, something interesting happened. Puig reinvented himself in the minors. After his videos showing his teammates partying surfaced, Puig dedicated to becoming a better teammate. He put in the work that the Dodgers desired, and tried to rehabilitate his image.
That turnaround led to a return to the Majors in September. During that time, he appeared to be a vastly different player, producing a .281/.338/.561 batting line with four home runs and four doubles in 57 at bats. He looked closer to the player that the Dodgers had in 2013 and 2014, as opposed to the malcontent of the past two years.
Now, the Los Angeles Dodgers need to determine if whether or not that turnaround in attitude and production was more than just a blip on the radar. If they feel that Puig is ready to be more mature, and a model teammate, he may have played his way back into their future.
Last season, the Los Angeles Dodgers had 3.35 bullpen ERA, the best mark in baseball. However, the bullpen had their struggles at times throughout the season.
Fortunately for Dave Roberts and the Dodgers, they had one of the best closers in the game at the end of the bullpen. Kenley Jansen put together a season that may earn a good deal of consideration for the Cy Young award, as he notched 47 saves with a 1.83 ERA and a 0.670 WHiP, striking out 104 batters in 68.2 innings. He was a major reason as to why the Dodgers were able to withstand the numerous injuries they had to their pitching staff during the 2016 campaign.
Now, the Dodgers need to decide what to do with Jansen. A free agent in a matter of days, he is set to become one of the more sought after free agents this offseason. Given the lack of starting pitching on the market, it is expected that Jansen, as well as Aroldis Chapman, will command top dollar in free agency.
After the success of the Kansas City Royals in 2014 and 2015, as well as the Cleveland Indians dominant bullpen in this postseason, a renewed focus has been placed on relief pitching. Teams will be scrambling for those top tier arms, looking to shorten the game to five or six innings. The Dodgers will certainly not be alone in their pursuit of their current closer.
The Los Angeles Dodgers do not have any constraints when it comes to payroll. Now, if they want to retain one of the top closers in the game, they will need to open the vaults once again.
Lock up the youngsters
When Andrew Friedman was with the Tampa Bay Rays, he achieved a great deal of attention for locking up promising young players, like Evan Longoria, to long term contracts early in their careers. Now, with the Los Angeles Dodgers, it is time to revisit that strategy.
More from Call to the Pen
First, the Dodgers should look at shortstop Corey Seager. Considered to be the consensus Rookie of the Year, Seager made his presence felt with the bat. With his  .308/.365/.512 batting line, 26 home runs and 40 doubles, Seager made an immediate impact at the plate. Worth 6.1 WAR on offense, the second highest mark in the National League, Seager appears to be a star in the making.
On the other side, Julio Urias appeared ready for the Majors. He produced a solid 5-2 record with a 3.39 ERA, striking out 84 batters in 77 innings. There were concerns, as Urias had a 1.455 WHiP, walking 31 batters, but he pitched quite well for a 19 year old. As he acclimates to the Majors, Urias should only get better.
Yes, there are risks associated with signing these players this early. They have yet to truly establish themselves in the Majors, and the history of the game is littered with those who blossomed for one season, then faded to obscurity. However, when a player has the pedigree and prospect status that both Seager and Urias possess, then it is more than worth the risk to lock them in at a contract that could be far below their value in free agency or arbitration.
The Los Angeles Dodgers have the framework for a contending team next season. With a few moves, they could finally get back to the World Series.
This article originally appeared on