Los Angeles Dodgers Contemplating Aroldis Chapman–Again?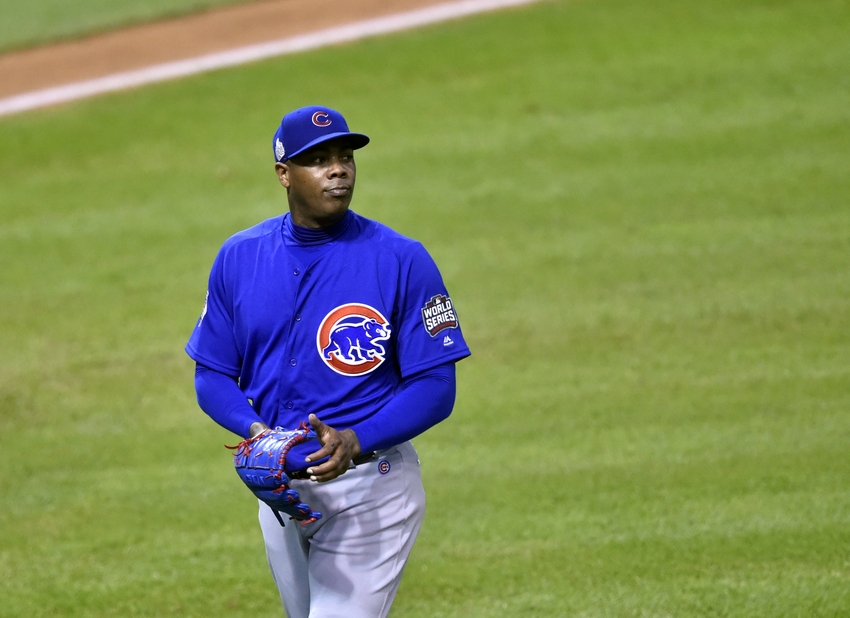 Last offseason there were rumblings that the Los Angeles Dodgers were discussing forming one of the more potent back of the bullpens by pairing Aroldis Chapman and Kenley Jansen. Are they revisiting signing the lefty now?
It was last winter, that the new Los Angeles Dodgers President of Baseball Operations Andrew Friedman was reportedly looking to pair the then Cincinnati Red, Aroldis Chapman, with the team's incumbent closer Kenley Jansen to form one of the most unhittable 8-9 inning combos in the history of baseball. Ultimately, Chapman was traded to the New York Yankees at what was seen as a bargain price because of his impending suspension regarding his domestic abuse trial.
Now that the 28 year-old closer is coming off of a World Series run with he Chicago Cubs, which included a tremendous effort in the final three games of the Fall Classic, he will be one of the more sought after free agents in this year's class.
There will be a long list of teams, including the Yankees, who will wish to bring Chapman in as their late game weapon. According to a report from Keith Law of ESPN, the Dodgers are shaping up to be one of those closer-needy clubs looking to make a pitch to the left-handed flame thrower.
Chapman is clearly one of the best relief pitchers that the game has to offer. His electric 100-105 mph fastball is something that remains unmatched in baseball. He had another exceptionally strong season in 2016, finishing the year with a 1.55 ERA and posted a massive strikeout rate of 14.0 per nine innings. The impending free agent was also able to decrease his walk rate from 2015 as it dropped from a pretty high rate of 4.5/9 IP to just 2.8/9 IP this season. In fact, Chapman was better after he got dealt to the Chicago Cubs and he proved to be one of the difference makers in what was a historic postseason run from the longest cursed team in sports.
More from Call to the Pen
Of course the only reason why the Dodgers are interested in acquiring Chapman's services is because its current closer, Kenley Jansen, will hit free agency this offseason as well. To his credit, Jansen has been just as good if not better than Chapman in recent seasons as the Dodgers all-star pitched to an impressive 1.83 ERA and saved 47 games in 2016, which was tied for second most in the entire league.
At 29 years old, Jansen is effective in a different way than his free agent counterpart. He doesn't have the pure fastball of Chapman as he only throws his heater at 93.6 mph, according to FanGraphs. But it's the fact that his pitch is a devastating cutter that he throws close to 90 percent of the time. Many, in fact, most great closers are one-pitch pitchers and that holds true with these two hurlers.
The numbers and track records of both closers are pretty even, so it makes sense that the Dodgers would do their due diligence on both in order to cover their tracks if another team comes into the fray to snatch up one of them. The Dodgers certainly need to consider making a run at both because there is going to be a long list of teams lining up for their services.
Which closer should be the Dodgers bigger priority this offseason? Share your thoughts in the comment section below.
This article originally appeared on