Watch: Turner's hard slide on Arenado causes fuss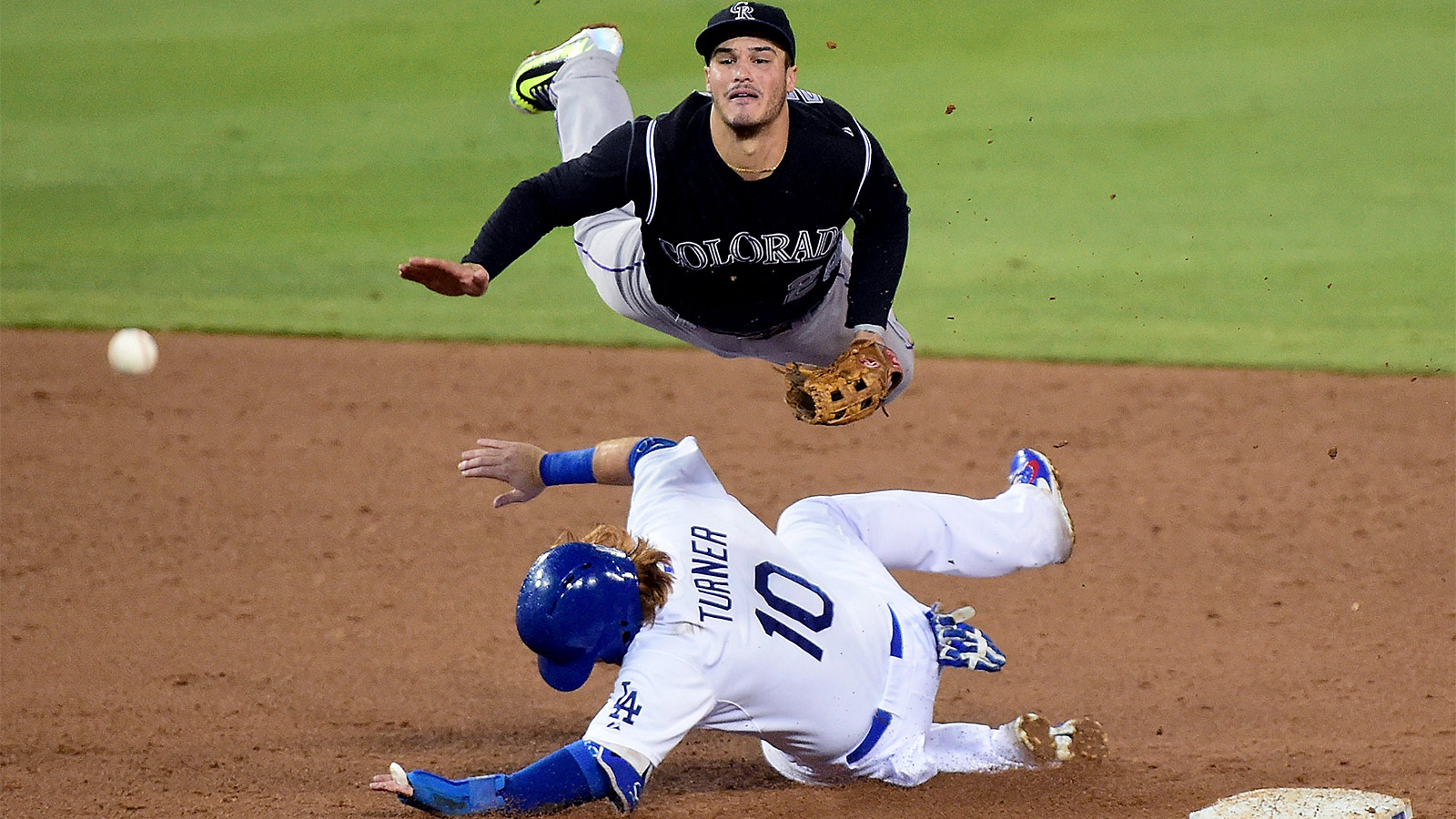 What Justin Turner and the Los Angeles Dodgers thought was just a good hard slide to try to break up a double play was hardly seen the same by the victim of the slide, Nolan Arenado, and the opposing Colorado Rockies.
In the fourth inning of the Dodgers' 5-4 16-inning loss to the Rockies on Tuesday, first baseman Adrian Gonzalez hit a comebacker that was fielded by pitcher Chris Rusin, who fired the ball to second to start a double play.
Arenado, who was covering second because of a defensive shift the Rockies put on Gonzalez, was handcuffed by the throw and required an extra split-second to make the transfer, which allowed Turner, who was on first base, to slide right into Colorado's third baseman, sending him lunging horizontally.
The 24-year-old infielder didn't have much of a reaction at the time of the incident, but Arenado and manager Walt Weiss, who said he thought the slide was late, were seen barking at Turner as he took the field the following half-inning.
"I don't want to talk too much about that. I don't think that had any motivation for us winning that game," Arenado said. "We were just trying to play good baseball, trying to win the game. We don't want to lose any more. Losing gets old. We're tired of losing to the Dodgers."
The chirping resumed when Arenado took his position the ensuing half-inning, and the Gold Glove third baseman was seen grumbling to himself in the field.
"They've probably forgotten it by now, but if they look at it, they won't have any problem with it," Dodgers manager Don Mattingly said after the game. "I'm not sure what the problem was. Arenado didn't seem to have a problem with it."
Whether the slide was fair ground within the parameters of baseball's unspoken rules is a matter of perspective, but Arenado would eventually have the last laugh in the game, when he bashed a solo home run in the top of the 16th inning to give the Rockies a 5-4 win over the division-leading Dodgers.
(h/t MLB.com)