Los Angeles Angels Kole Calhoun's is finally getting red hot.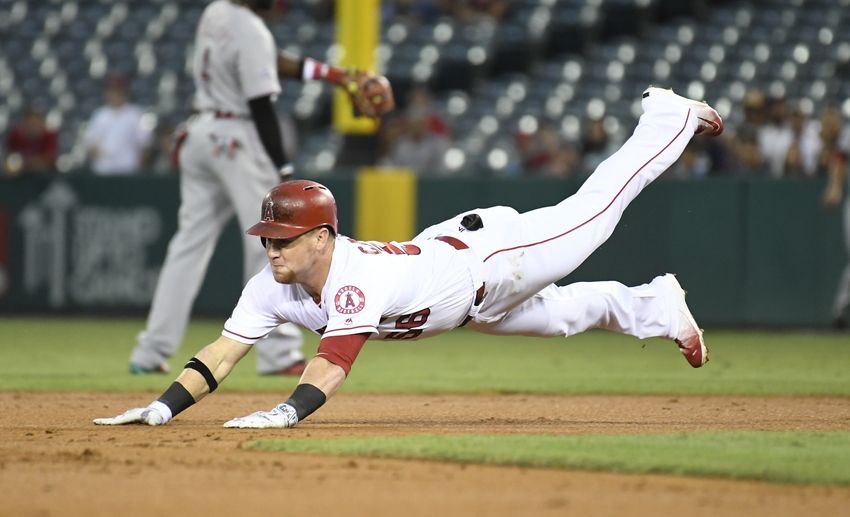 Los Angeles Angels Mike Trout has and always will own the spotlight in the outfield for the Angels, and rightfully so. However, his partner-in-crime Kole Calhoun has been on quite the hot streak as of late, and the team's success has benefited from his exceptional play.
Since Yunel Escobar went on the disabled list for a concussion, Calhoun has been hitting leadoff for the Los Angeles Angels. In the past seven games, Calhoun is hitting .318, has a .375 OBP, 5 runs 3 home runs and six RBI's.  He has provided the spark at the top of the lineup that most feared would evaporate with Escobar out. However, with the likes of Trout, Albert Pujols, and CJ Cron hitting behind him, Calhoun has realized getting on base in any way possible is the best way to approach each at-bat.
With the Los Angeles Angels so far out of contention for a Wild Card spot, it is sad to see them finally performing so well as a team. With Calhoun leading the way to start games, pitchers have to take into account the power he brings to the table that Escobar had not. With 13 homeruns on the season, Calhoun has shown he is capable of providing some pop to a line drive, turning a double into a long ball. Another interesting part of Calhoun's power is that it comes in bursts. When he hits one homerun, he will usually hit another in the coming days.
Calhoun always plays average to above-average, always seeming to tease the fans with the potential of a hot streak, but they all seem to sizzle out. Hopefully this streak can live on for Calhoun to ride out the season playing well.
Want your voice heard? Join the Halo Hangout team!
This also gives time for Escobar to come back from his concussion at a slow pace, and ease himself back into the game one step at a time.
Every time a player is playing at a level like Calhoun, it is great for all Angel fans given the hardships they have all encountered this season. Hopefully Calhoun and Co. can finish the season strong and contend in years to come.
This article originally appeared on