Los Angeles Angels: J.C. Ramirez To Compete For A Starting Job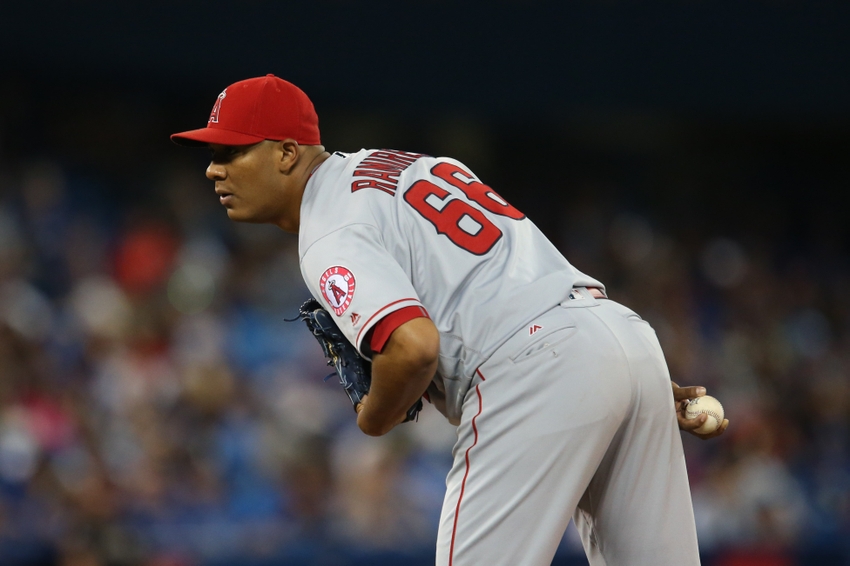 The Los Angeles Angels are shaping the roster earlier than some expecting. It's being reported that some pitchers from the bullpen will get a chance to start during Spring Training.
We can expect for multiple Los Angeles Angels pitchers to get a chance to show their work during Spring Training. This means, that the starting roster could look completely different next season. It's likely that Garrett Richards will undoubtedly be the number one. The numbers two through five; however, could be a toss-up between starters from last season and some bullpen pitchers.
Currently, Jeff Fletcher of the Orange County Register has reported that J.C. Ramirez will get a shot at a starting position for the 2017 season. He'll start during Spring Training and if that goes well, he'll earn a spot on the starting roster.
Last season, Ramirez was a pleasant surprise for the Los Angeles Angels. In Fact, he was such a surprise that GM Billy Eppler talked about moving him to a starter during the GM meetings on Wednesday.
"As we watched him pitch and control the strike zone, we thought maybe there's an aspect of this guy that could be pretty usable in the rotation." – Billy Eppler.
Whether this impacts the Angels bullpen is unclear. Although Eppler did say that if he isn't a starter, he will have a home in the pen. In 43 games last season, Ramirez posted an impressive 2.91 ERA with the Angels as a reliever.
Ramirez isn't the only pitcher due for a starting stint in Angels Spring Training. In fact, there are five other pitchers looking to earn a spot on the Angels roster. Alex Meyer, Nate Smith, Manny Banuelos, Vicente Campos, and Daniel Wright will also vie for a spot with the Halos.
As of now, Meyer and Smith are arguably the favorites in this group of pitchers. However, I wouldn't count out Ramirez who has starting pitching experience with Cincinnati as well as others teams in the league. Ramirez could be a valuable player for the Angels or even a trade piece as the trade deadline nears next season.
We can expect for the Angels to explore the trade and free agent market for pitching as well. There's a chance that the starting rotation could look drastically different next season with Billy Eppler wheelin' and dealin' for the Angels.
This article originally appeared on