Los Angeles Angels Fill Clear Hole with the Addition of Danny Espinosa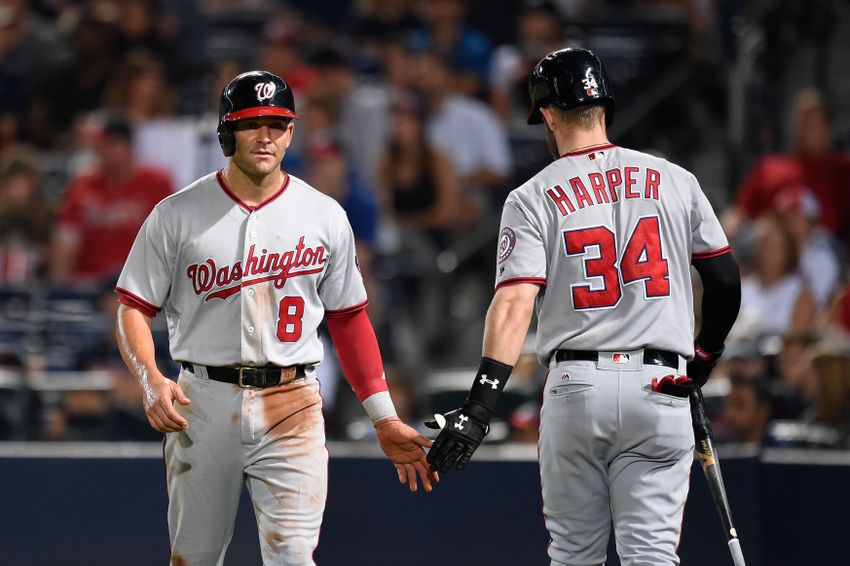 It was widely known that the Los Angeles Angels wanted to find an everyday second baseman this offseason. Well it looks like they've found their man with them trading with the Washington Nationals for Danny Espinosa.
Turning back to last offseason, the Los Angeles Angels had major needs in both left field and at second base. Their solution was to go to the bargain bin and hope that Daniel Nava and Cliff Pennington could hold down those respective positions. We all know that this plan did not go so well.
Nava only suited up in 45 games for the Angels in 2016, hitting a pedestrian .235 and collecting a WAR of -0.1. Pennington was able to stay in Los Angeles for just a little bit longer, appearing in a total of 74 games for the team. Although, not known as a hitter, Pennington stayed consistent with his reputation, finishing the year with a batting average of .209 and a meager .308 slugging percentage. Needless to say, the Angels need more offensive production from these two spots if they hope to even compete for a postseason spot in what's gearing up to be a tough AL West.
New York Mets History: Mets Trade Nolan Ryan
General manager Billy Eppler was able to address the left field situation quickly, by trading for Tigers outfielder Cameron Maybin in early November. The 29 year-old is a reasonable upgrade for the Angels as Maybin built off a resurgent 2015 by hitting for an impressive .315 average and swiping 15 bases in 94 games last year. This completes an outfield trio that should be potent all around with the bat.
A month later, Eppler has now filled another major need by completing a trade with the Nationals for Danny Espinosa in return for minor league hurlers Austin Adams and Kyle McGowin. Los Angeles took advantage of a situation where Espinosa was left without a spot in the Nationals starting lineup because of the Adam Eaton deal, which inevitably shifts emerging star Trea Turner to his natural position of shortstop.
Nevertheless, Espinosa is a clear step up from what the team had to work with all of last season. While the 29 year-old (30 in April) is not a superstar by any means, he is a starting caliber option at second base. After having some up and down moments during his first six years in the majors, Espinosa put up the best power numbers in his career in 2016. In 157 games as the team's starting shortstop, Espinosa was able to hit 24 bombs, which is three more than his season-high of 21 that he finished with four years ago. His batting average and on-base percentage took a dip because of his uptick in the power department, but the Nationals were clearly happy enough that he remained the the club's starting shortstop for the entire regular and postseason. He did finish with a solid WAR of 1.7 as well.
Now Espinosa will shift over the second base, a position that he came up as a prospect in the Washington farm system. The infielder has had better fielding percentages at second base than at shortstop during his major league tenure, so Mike Scioscia should feel comfortable trotting him out there everyday.
More from Call to the Pen
It may not be a super flashy addition, but the Angels are getting good value for a player that will add more power and stability to a lineup that is shaping up quite nicely. Mike Trout, Kole Calhoun, Albert Pujols, Yunel Escobar, C.J. Cron and Andrelton Simmons make a good core, and now with the additions of Maybin and Espinosa, this batting order has to be considered an above average group. However, while pitching will probably determine how far the Angels will go in 2017, their lineup should provide the rotation with some breathing room day in and day out.
In addition, neither pitcher that the Angels gave up in the trade are ranked in MLB PIpeline's top 15 prospects. It's widely known that the franchise hasn't had a quality farm system in a while, so it's not like the team is dealing from a strength with young players on the outside of their most talented prospects. The return was not that great in part because Espinosa had already shown his frustration with his new role by allegedly pulling out of the Nationals' upcoming FanFest event.
Acquiring Espinosa was a nifty move that took advantage of a Nationals front office whose hand was forced into trading a starter who didn't have a starting spot. The Angels will certainly be happy to take him off the hands of Mike Rizzo and company as now the front office can focus on filling out the rest of their bullpen during the remainder of the winter.
What do you think of the Angels acquiring Espinosa? Share your thoughts in the comment section below.
This article originally appeared on