Looking ahead with Michael Saunders in new Blue Jays landscape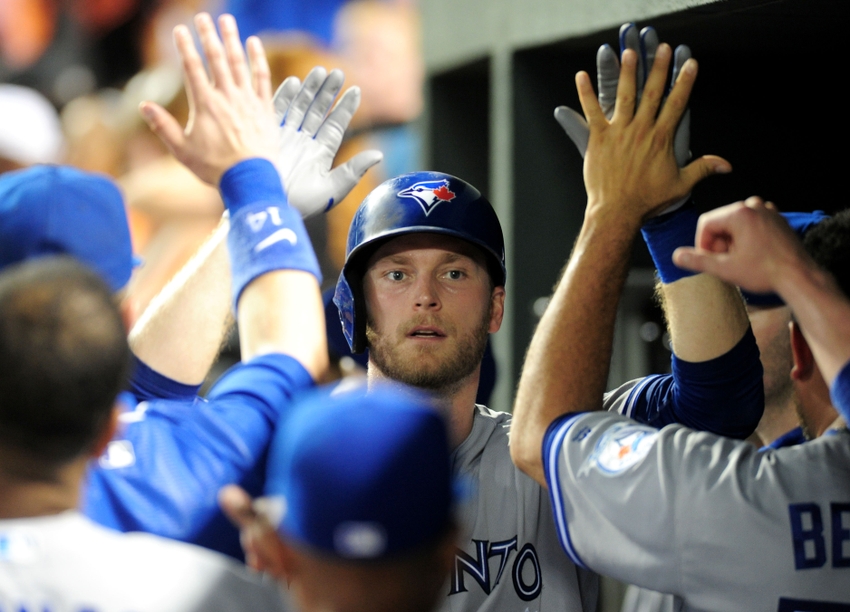 The Toronto Blue Jays have seen two versions of Michael Saunders in 2016. With his free agency looming at the end of this season, Saunders won't receive the attention of a Jose Bautista or Edwin Encarnacion, but he's generally been seen as a more realistic (and affordable) option for the Blue Jays to re-sign.
Late last week, Jon Heyman suggested that Saunders will be suiting up for another franchise in 2017.
"The conventional wisdom is that Edwin Encarnacion and Jose Bautista are elsewhere next year," Heyman wrote, "and now the belief is that Michael Saunders will be, too."
This is easy to say of any player in a contract year, frankly. With Saunders, though, his up-then-down season has made him a very difficult free agent case to forecast. As his season has changed, so has this conversation.
Prior to the All-Star break, Saunders was one of the more valuable outfielders — and one of the biggest surprises — in the American League. He appeared in 82 games, hitting .298 with 16 home runs and an OPS of .923. Since then, however, he's played closer to his career average value.
Entering play against the Rays yesterday, Saunders was hitting .181 since the break (35 games) with a .719 OPS. Perhaps this is turning a corner, though, as dating back to the beginning of the Cleveland Indians series, Saunders has been hitting much better and recently gave the Blue Jays three home runs in five games.
In the big picture with both "halves" balanced, Saunders is still enjoying a career season. With a fWAR of 2.1, he's on pace to narrowly surpass his previous high of 2.3 from 2012. It's important to note that this is happening with a BABIP much higher than in 2012 — .335 compared to .297 — but there's little argument that Saunders' game has evolved and improved.
"The 2016 All-Star has at least temporarily been displaced by Melvin Upton," Heyman added, "who has a year to go in Toronto, unlike the others."
Upton's presence in 2017 holds real value for the Blue Jays, but given that the majority of his remaining salary from the San Diego Padres trade is being paid this season, his money owed in 2017 will not be nearly enough to push him into a starting role without contest. Kevin Pillar is firmly entrenched in centre-field and Dalton Pompey is poised to be given a shot at a prominent role next season, but assuming Bautista leaves the Blue Jays, or at least leaves right field, there is still room for depth at competition.
Depending on how Saunders finishes the season, his free agent case could include a qualifying offer. He's also a prime candidate for a three-to-four year contract, given that he is just 29 years old. Past injuries will keep some cautious, but if he's able to close the year with 140+ games played, that will go a long way in a market that is not overflowing with starting-calibre outfielders.
Having Upton and other internal options do complicate the free agent case of Saunders as it pertains to the Blue Jays. With his open market value normalizing, his viability as a mid-level option, especially if his market is unexpectedly soft, hasn't changed.
This article originally appeared on