Little League, police come together to honor fallen NYPD officers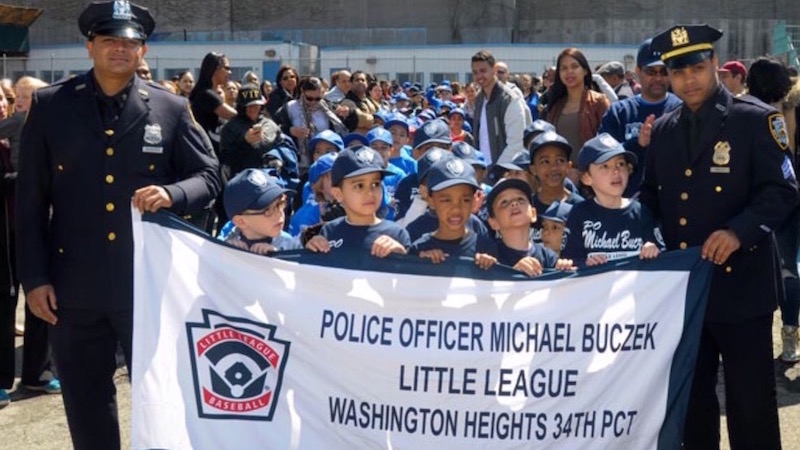 "I don't give a (expletive) about most things, but I really give a (expletive) about this thing, so I had to talk to you."
That was the first thing Brian Hyland said when he called Thursday from Madrid, where he'd taken time out of a vacation to respond to an email inquiring about the Police Officer Michael J. Buczek Little League.
The league, which kicks off its 28th season Saturday, was founded in 1989 in memory of Buczek, a New York City police officer who was killed in the city's Washington Heights neighborhood.
Buczek was one of two NYPD officers murdered in separate incidents the night of Oct. 18, 1988, and one of more than 800 killed in the line of duty in the history of the department. And for nearly three decades since Buczek's death, it's been the mission of both the league and the Buczek family to make sure the legacies of all of them live on.
"They could have looked at Washington Heights and said, 'It's an awful neighborhood and they killed my brother and that place is the worst place in the world,' " said Hyland, who has volunteered as a coach in the league for each of the past two seasons. "They could have just been filled with hate, and you know what, they would have had a pretty legit gripe.
"But Michael loved that neighborhood, and even though it was so dangerous, he knew the heart and the people there."
They could have just been filled with hate, and you know what, they would have had a pretty legit gripe. But Michael loved that neighborhood, and even though it was so dangerous, he knew the heart and the people there.
Brian Hyland
At the time of his death, Buczek was a 24-year-old in his third year on the force. He was working out of the 34th precinct when he was called to an apartment building at 580 W. 161st St. shortly before 10 p.m. that fateful Tuesday.
Buczek and his partner, Joseph Barbato, weren't on the scene to investigate a crime — they were dispatched in response to a medical emergency — but as they exited through the lobby after an ambulance arrived, they encountered two men who "passed them in a manner they deemed suspicious," NYPD commissioner Benjamin Ward said at the time.
When ordered to halt, the men fled, and Buczek, who was not wearing a bulletproof vest, was killed when he was shot in the chest and abdomen during the ensuing pursuit.
And while the murder of a police officer wasn't overly common, even in those days — Buczek and Christopher Hoban, who was killed during a failed drug bust less than three hours earlier, were the sixth and seventh officers killed in action in 1988 — crime was rampant in the city, particularly in Washington Heights.
"Back in that time, in 1988, we used to have 2,000 homicides (in New York City) every year, and up in that area there, northern Manhattan, it was really considered the drug capital of the East Coast," said Sgt. John Moynihan, who worked alongside Buczek and later helped found the league.
Rather than wallow in sorrow over the loss of their son and brother, the Buczeks banded together, hoping to effect positive change in the very community where criminals took Buczek's life.
"My parents were the driving factor, specifically my father," Buczek's sister, Mary Jo Buczek, told FOX Sports. "That was their baby. Michael had just turned 24 and it was devastating, but he liked being up in the Heights. So the next step was just, 'OK, well we're going to continue working with children, since they were the future of the Heights.'
"Something had to change," she added, "so why not be the ones to change it?"
Something had to change, so why not be the ones to change it?
Mary Jo Buczek
Within a few months, the league had been formed, originally holding its games on a dusty, glass-strewn field behind George Washington High School. From 1989 through 2001, the teams, coached by cops, were named after local sponsors, and fees for uniforms, equipment and trophies were paid by the Buczek family and donations.
However, in the aftermath of 9/11, the league took on a new meaning. It was at that point that the league began naming each of its teams after the men and women of the NYPD. The league started printing the name of a fallen officer on the back of each jersey the following season, and it's been that way since.
"The classic sports cliche is, 'Hey, we don't play for the name on the back of our shirts, we play for the name on the front, we play for the team,'" Hyland said. "No, in this league, you play for the name on the back of the shirt."
Last season, the league named teams in honor of detectives Wenjian Liu and Rafael Ramos, who were killed in December 2014 when their patrol car was ambushed in Bedford-Stuyvesant. Both the Liu and Ramos families attended opening-day ceremonies, as did the family of Michael Williams, who was killed in a vehicle crash in September 2014. This season there are teams named for detectives Randolph Holder and Brian Moore, each of whom was killed by gunfire while on duty in 2015.
Hyland's team last year was named for Williams. The year before, his team was named for officer John D'Allara, who was killed on 9/11. Hyland always hangs a photo of the officer his team plays for in the dugout and said he stresses to his players the importance of understanding the sacrifices the officers made. It's often a concept the players grasp more quickly than the game itself.
"The mind of a 10-year-old boy is an amazing thing to witness sometimes," Hyland said. "Last year, I put my best player at first base, and he had a problem. He had a mental block that, when he'd get a ground ball, he felt like he needed to tag the runner when all he needed to do was tag the base. So I'd coach first base and I'd tell him, 'Dude, listen, if you get a ground ball, just step on first base,' and he'd go, 'OK, Coach, you're right, OK.' Then point-two seconds later, the ball's hit to him and he runs to try to tag the runner. They don't listen. Their 10-year-old minds are someplace else.
"But when I tell the story of those cops, when I tell them about those cops and their lives, they sit with rapt attention," Hyland continued. "And by the end of the season, they're asking questions about them and wanting to learn more about them, getting on the Internet and learning more about their lives."
Since the league started the facilities have improved — kids now play on a lit, turf field named for Buczek — and over the years, nearly 12,000 area children have come through the program, with another 275 to 300 more participants expected this season. More than two dozen former Buczek league players have grown up to become NYPD cops, and two alums have been drafted by major league teams, with Mike Antonio and Viosergy Rosa going to the Royals and Marlins, respectively, in 2010.
Still, one might question whether the league or the officers' direct involvement in it is having any measurable impact on what was once a highly dangerous Washington Heights neighborhood, but the numbers don't lie.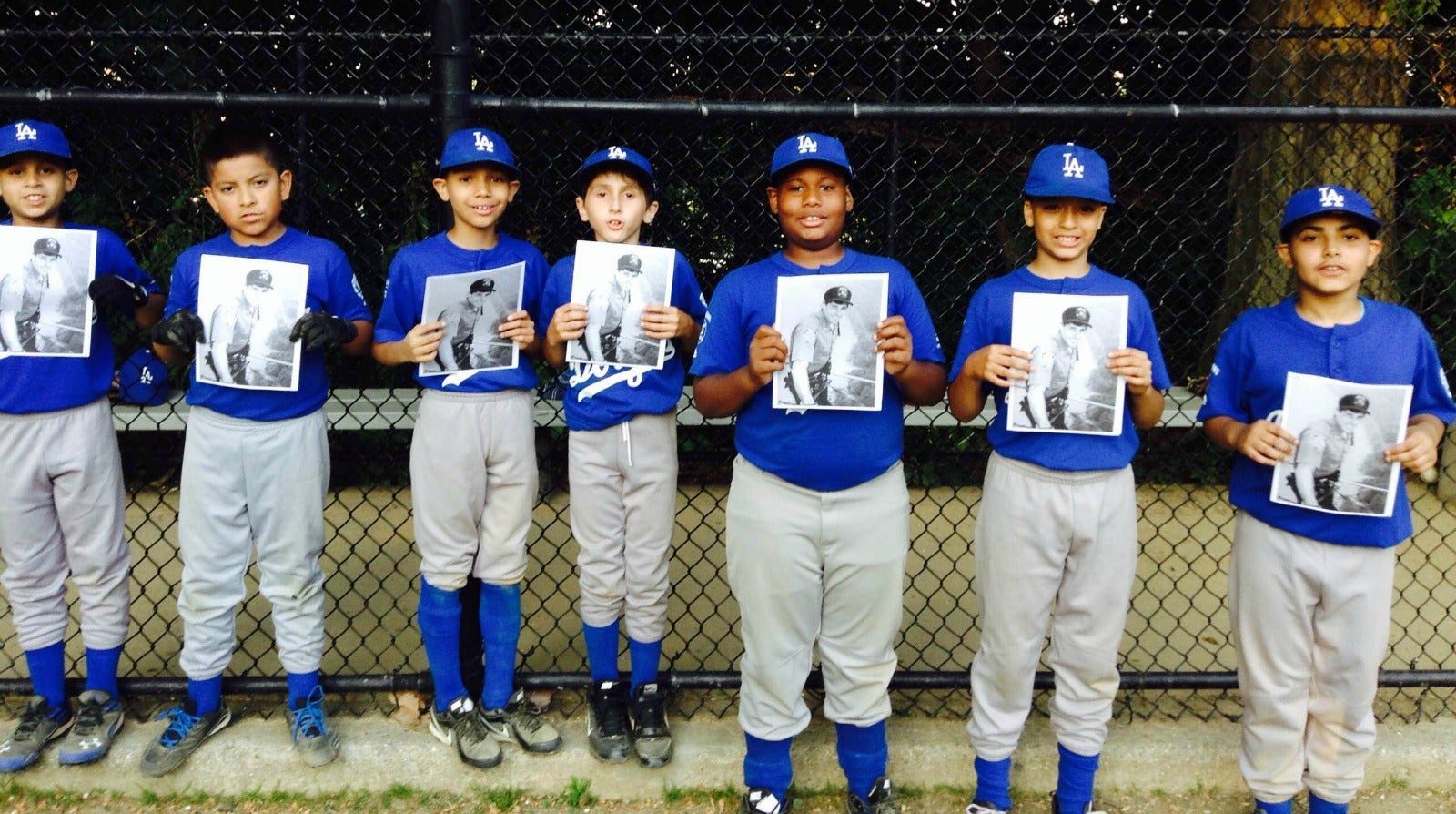 In 1990, there were 103 murders in the 34th precinct alone. Last year, that number was down to three. Robberies, assaults, burglaries and car thefts are also down 87.2, 78.2, 92.7 and 96.7 percent, respectively, over the last quarter-century, and the improved relationship between the 34th precinct officers and the community is undoubtedly a reason for the drastic change.
"(In 1992) they had the riots up in Washington Heights with Michael O'Keefe when there was a shooting up there, and it was horrible," Buczek said. "It was just like you've seen on TV the last year and a half. That's how it was up in the Heights, and that was another driving factor. We wanted to build that bridge between the families of Washington Heights and the police officers because there was a lot of mistrust. But I don't see that anymore."
"(We've had kids) go to West Point, they've fought in Iraq and Afghanistan, and a lot of that is because of the influence of playing in this league and learning not to fear the police," Hyland added "The neighborhood has gotten safer, and a lot of that has to do with these changes. People in that neighborhood respect the police because a lot of them played in a little league coached by the police."
The league has also been a boon for the officers involved, as well.
"Who wants to go to work every day and be hated and be belittled and be berated?" Buczek said. "We want to build that trust there, so the child sees the policemen and they see a friend. They don't see the uniform, they see a mentor."
Who wants to go to work every day and be hated and be belittled and be berated?
Mary Jo Buczek
"It's really putting a face to the uniform," added Moynihan, who just celebrated his 30-year anniversary with the department and acts as president of the league. "It's letting people see the police as people, too, and that's really the greatest thing that we've been able to accomplish.
"They're all my sons, to be honest with you," Moynihan continued. "I have a son at home, my son Johnny, who's 8 years old, but I have all these other sons who I've developed these special bonds with over the years. And it doesn't end at the baseball field. We try to mentor them as far as school and how important it is, really, to be major league citizens."
And while certainly the Buczeks would give anything to undo what happened on Oct. 18, 1988, there's no denying the good that has come in the aftermath of Michael Buczek's death. That influence was a point of pride for Michael's father, Ted, until his own death in 2010 at age 84.
"I can tell you, without question, that we wouldn't be where we are today without Mr. B," Moynihan said. "Mr. B was a driving force behind everything we do with the league. He was so proud to see these children — he would call him his little munchkins — wearing shirts bearing his son's name on the back. Because he was so proud of his son. Keeping his son's name alive, that was what he lived for, and as tragic as it was, what happened to his son, it was really a gift for the community that Mr. Buczek got involved here.
"Other families may not have done that," Moynihan continued. "To come back and give to the community where your son was killed is very difficult, but he didn't hesitate. He was more than willing to get involved and try to help out and make a difference, and believe me, he's done that a million times over."
I really believe that you die twice in life, and the second time is when someone says your name for the last time. So when we keep these heroes' names alive
Johnny Moynihan
This week, Mary Jo Buczek has spent as much time in Washington Heights as she has in her New Jersey home. She's spent the last couple nights at the 34th precinct distributing jerseys to players and took Friday off from her full-time job to finalize last-minute preparations for opening day.
She'll be back in the Heights again Saturday, when the police and players march together in a parade from the 34th precinct, past the public school named for Michael Buczek and down to the ballfield where hundreds of kids will play baseball in his memory. And while nothing can erase the pain she's been feeling for nearly 28 years, seeing her father's and brother's dream carried out for yet another season certainly helps.
"I remember coming over the bridge when we brought my brother back home — he rests in Franklin Lakes, N.J. — and I said I never wanted to go back into New York again," Buczek said. "But your heart changes and you see the people and you know some of them are really struggling. And you know what you do for them makes a difference because they want the best for their children, too."
"I really believe that you die twice in life, and the second time is when someone says your name for the last time," Moynihan added. "So when we keep these heroes' names alive, I think we're really doing our job. I told Mr. Buczek a long time ago that I have a longtime commitment to him, and I would never turn my back on the league. And God willing, I'll be around for another 28 years."
You can follow Sam Gardner on Twitter or email him at samgardnerfox@gmail.com.