Cubs phenom Kris Bryant strikes out in first three major-league at-bats
Kris Bryant was called up to the Chicago Cubs in time for their game Friday, but his debut didn't get off to the best start.
The phenom prospect was in the lineup batting fourth and got his first at-bat right away in the first inning. Anthony Rizzo drew a two-out walk to bring him to the plate to face San Diego Padres ace James Shields, as the Wrigley Field faithful stood and cheered in anticipation. And then this happened: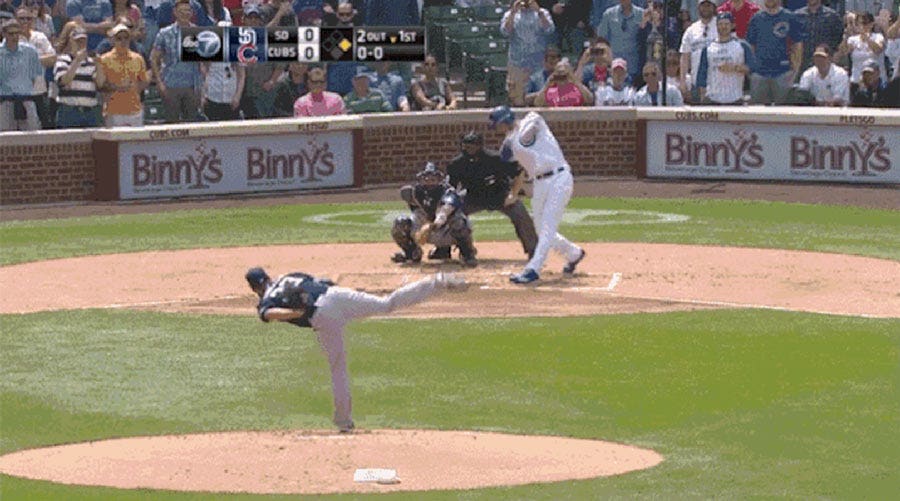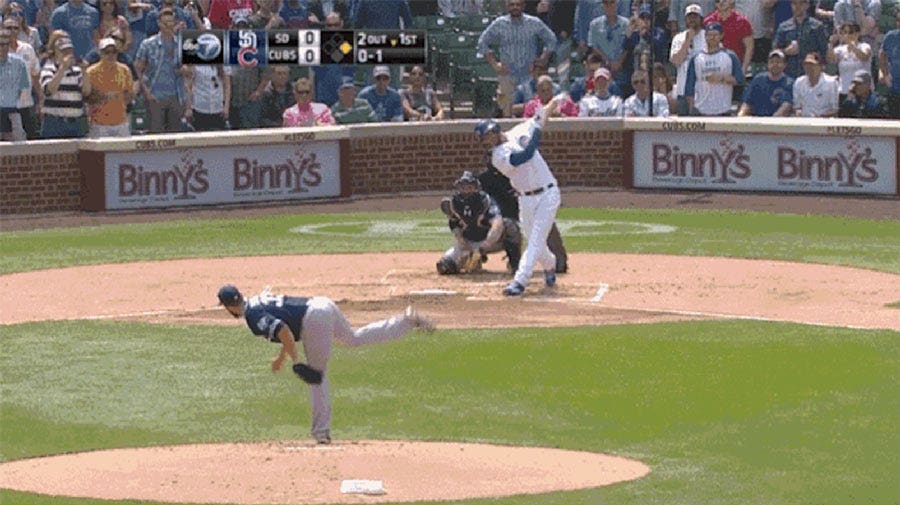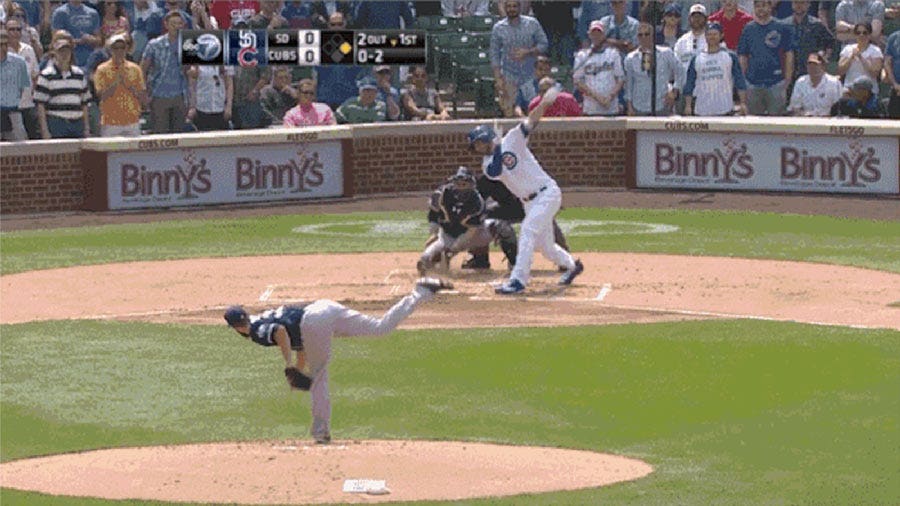 Three pitches. Three swings. One strikeout. Watch a GIF of it here.
Bryant foul-tipped the first pitch and missed the next two offerings from Shields.
Twitter, of course, had plenty of good-natured fun with the ballyhooed prospect getting off to a slow start:
And Kris Bryant just tied Hank Aaron for number of first plate appearances.

— SkitchP (@skitchP) April 17, 2015
Why Kris Bryant is the biggest bust in MLB history. MY COLUMN:

— Barrett Sallee (@BarrettSallee) April 17, 2015
Looks like the Cubs knew what they were doing by not rushing Kris Bryant up to the big leagues.

— Andy Nesbitt (@anezbitt) April 17, 2015
Cubs fans' reaction to Kris Bryant's first at-bat: pic.twitter.com/GWTDRXY2QT

— CBS Sports (@CBSSports) April 17, 2015
Even the Cubs pitcher had a better start at the plate Friday: Jason Hammel doubled in his first at-bat in the third.
It got a little bit better his second time up. He gave Shields a battle and worked the count to 2-2, hitting a couple hard foul balls down the left-field line before ultimately striking out swinging once again, this time on a full count.
But Bryant didn't take his two early K's onto the field, as he flashed some serious leather in the top of the fifth, diving to snag a line drive off the bat of Derek Norris for the final out of the inning.
Diving line drive catch by Kris Bryant confirms it: Good field, no hit 3B. #Cubs

— David Haugh (@DavidHaugh) April 17, 2015
At-bat No. 3 for Bryant brought more buzz from the bleachers, as the Cubs rallied for four straight hits and two runs off Shields, leaving runners at second and third with one out for Bryant, his first true RBI opportunity in the bigs.
But after a mound meeting, Shields took Bryant to school by pounding him inside with hard sinkers and cutters, before pulling the string on a slider away for strikeout No. 3.
Cue Twitter yet again, first the grim:
5 innings into the season & Kris Bryant has more K's than Callaspo, Andrelton, & Pierzynskihave combined all year @KevinMcAlpin #Cubs

— David Denson (@DTDenson80) April 17, 2015
Kris Bryant's getting a clinic on how good MLB pitching can be. Will make him see how much he has to learn. He will. @Cubs @MLBNetwork

— Greg Snowden (@SnowdenGreg) April 17, 2015
Still, not every fan was jumping off the Bryant bandwagon just yet.
Kris Bryant. 3AB..3 strikeouts. Willie Mays an 0-23 start- NY Giants-51. Walter Payton -4 yds8 carries vsColts in '75. Relax Cubs fans.

— chuck swirsky(@swirsk054) April 17, 2015
In his minor league debut, @KrisBryant_23 went 0-5 with 5 strikeouts. Settle down, Internet. #Cubs #LetsGo

— Pat (@AngryMick) April 17, 2015
Can't believe people are actually judging Kris Bryant on three, yes THREE, at-bats!!! 😂😂 I'm disappointed but ffs its 3 at-bats lol #CUBS

— Andrew Labib (@Andrew_Labib) April 17, 2015
Bryant came up again in the seventh with the Cubs down a run, runners on first and second and two out. He finally put the ball in play, grounding into a fielder's choice at third base. He finished 0 for 4 in the Cubs' 5-4 loss.
The Cubs brought up Bryant on Friday, one day after the team ensured he can't be eligible for free agency until after the 2021 season, a move that was met with some criticism.
The Cubs selected Bryant's contract from Triple-A Iowa and immediately inserted him into their starting lineup as the cleanup hitter and third baseman against San Diego. Bryant said he got only three hours of sleep before Friday's game.
"Time of my life really," he said. "Can't really put into words how good of a feeling this is to work for this your whole life and finally get that chance."
Friday is Day 13 of the season, which means Bryant could at most accumulate 171 days of major-league service time. Because 172 days of service count as a year, he could have been eligible for free agency after the 2020 season had he been on the big-league roster earlier.
"I sure hope I can look back on this and laugh at it 15 years from now," Bryant said. "It's all in the past."
Bryant hit .425 for the Cubs in spring training with nine homers and 15 RBI in 40 at-bats. He was batting .321 with three homers and 10 RBI in 28 at-bats with Triple-A Iowa.
"I said my expectations are that you play hard and enjoy yourself," manager Joe Maddon said.
When Bryant was sent to the minor leagues on March 30, players' union head Tony Clark said "this decision and other similar decisions made by clubs will be addressed in litigation, bargaining or both." After Bryant was brought up Friday, Clark said in an email to The Associated Press: "nothing new to offer at this point."
The Associated Press contributed to this report.