Kris Bryant started a new superstition after his three-homer game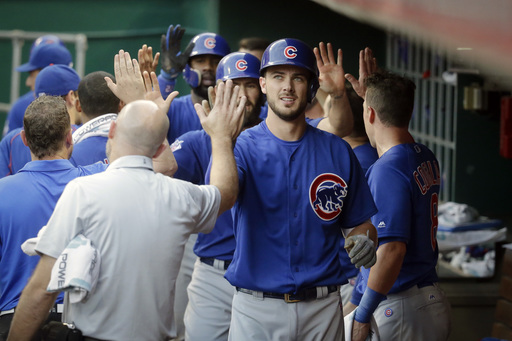 3 home runs, 2 doubles, 4 runs, and 16 total bases later — Chicago Cubs third baseman made history on Monday night in Cincinnati, becoming not only the youngest player in franchise history to hit three home runs in a game, but, the first player since the year 1913 to hit three homers AND two doubles in the same game. If it's any consolation, his 16 total bases was only three shy of Shawn Green's single-game record of 19 in 2002.
The youngest player in #Cubs history to hit three home runs in a game: @KrisBryant_23https://t.co/YNn9ohUVVn

— #VoteCubs (@Cubs) June 28, 2016
While Bryant is certainly capable of performing at this unprecedented level of success on his own, Kris did acknowledge an outside superstition that may have assisted him — a hole in his pants he sustained sliding into third base in the first inning.
So does Kris Bryant have "lucky" pants now @Cubs ? #RippedPants #KBoom #BaseballSuperstition pic.twitter.com/4JsL6VF6IU

— Nicole Roames (@nicroames) June 28, 2016
Bryant told Gordon Wittenmyer of The Chicago Sun-Times after the game:
And via his comments to The Chicago Tribune it appears the superstition is here to stay…
Whether this actually works or not, the fact remains: baseball continues to stay weird.