Keeping the Peace: MLB Avoids Potential Labor Stoppage with New CBA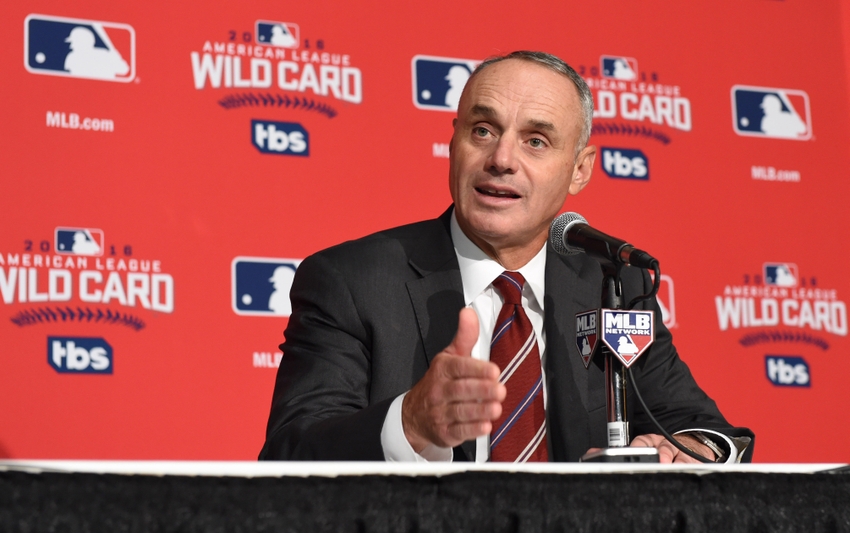 With a long run of labor peace in the MLB in jeopardy, the owners and players agreed to a new CBA to keep the peace.
More from Golden Gate Sports
With a 22-year run of labor peace in the MLB in jeopardy as the current collective bargaining agreement was set to expire on midnight of December 1st, the owners and players worked hard to avoid any potential labor stoppage. After late nights and early mornings, the two sides agreed to a new CBA just hours before the old one was set to expire.
The deal is still not completely official, because the two sides are still hammering out some of the more minor details, but there won't be a labor stoppage this year, or the next five years.
Among the big points of the CBA is the qualifying offer. The idea has not been done away with completely, but has been reworked. First-round draft picks will no longer be compensation for players with qualifying offers attached. Instead, the compensation will depend on the player's contract and the signing team's market.
Teams that attach qualifying offers to players will only receive draft picks in return if the players signs a deal worth more than $50 million. If the signing team is over the luxury tax threshold, they will forfeit second and fifth-round picks to the player's previous team. If the signing team is under that cap, they will forfeit a third-round pick.
It is important to note that these rules won't take effect until next off-season. The current qualifying offer rules will still apply to this year's group of free agents. Also, players can only be given qualifying offers once in their careers.
Speaking of the luxury cap, that threshold will be raised $6 million this offseason, from $189 million to $195 million. The cap will continue to rise, to $197 million in 2018, $206 million in 2019, and $208 million in 2020 before reaching $210 million in 2021.
Heftier penalties are also in place for teams that exceed the cap by a huge amount, like spending $250 million. Teams can be penalized by 60 percent or more, going up to 90 percent.
The two sides were negotiating on roster changes, like adding a 26th player and making September rosters more exclusive. It turns out there won't be a change in that area this year, although it seems like that could be a main talking point the next time a CBA is negotiated.
There were also rumors of an international draft, but that will not happen either. Instead, there will be a hard bonus cap on international signings, in the area of $5 million. That means teams can only spend that much money in bonuses, and won't be allowed to go over.
Changes are incoming with the schedule as well. The season will start in the middle of a week, allowing for more off days during the season. Overall, the season will extend by about four to five days. That begins in 2018.
Chewing tobbaco also became a surprise point. New MLB players (minor leaguers brought up for the first time, international free agents, etc.) will not be allowed to use the products, while players already in the league will be allowed to continue usage.
News that impacts a local team comes for the Oakland Athletics. The A's will be phased out as a revenue-sharing recipient over the course of the next four years. The team's frugal spending in a substantial market will no longer fly with MLB, and they must begin to use their own money with the sharing program. This could facilitate a change in ownership, or the team moving altogether.
This article originally appeared on