KC Royals: Should Raul Mondesi Jr. Have Led Off The 10th?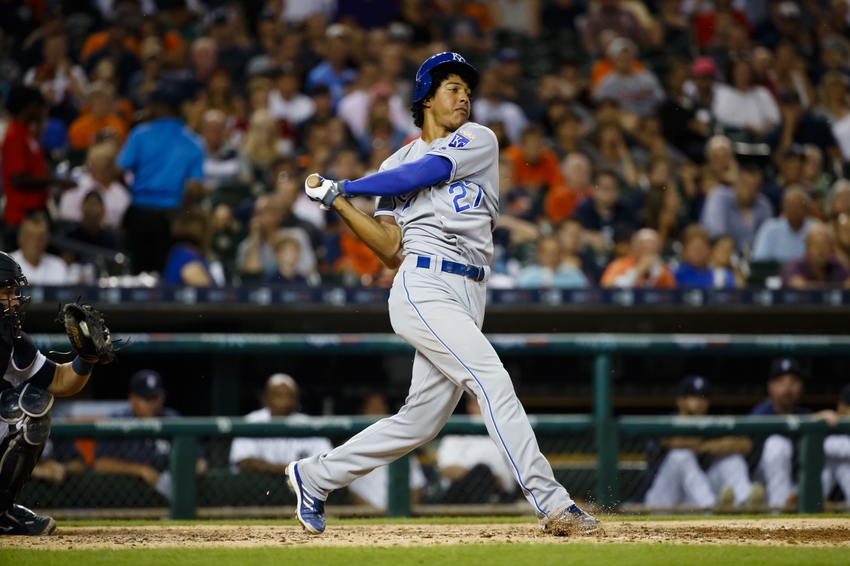 USA TODAY Sports
KC Royals manager sent Raul Mondesi Jr. to the plate to lead off the 10th inning of Tuesday night's key game against the New York Yankees with the Royals trailing 5-4. Was it a mistake?
I certainly thought so. To me, the key fact is that Mondesi is hitting a whole .196 in 2016 with an equally miserable .542 OPS. Throughout his minor league career with the Kansas City Royals, Mondesi sports a minuscule 3.7% walk rate. He's also a guy whose slow-developing bat has determined his promotions.
I tweeted my opinion just after Mondesi stepped into the box:
WHY IS FREAKING MONDESI HITTING HERE???? #Royals

— John Viril (@TheVirilView) August 31, 2016
In short, he's been a guy that's been largely over-matched at the plate and is playing in Kansas City due to his speed and exceptional range. Why should that guy bat in the top of the 10th when the KC Royals desperately need a base-runner?
However, Ned Yost's decision worked out for Kansas City:
#Royals WHY IS YOUR .196 HITTER BATTING DOWN ONE RUN IN THE 10TH??? SIgh, and a HBP puts him on. How lucky.

— John Viril (@TheVirilView) August 31, 2016
Note that Raul Mondesi was down O-2 when Yankees reliever Ben Hiller hit him with a ball that tailed inside. At the time, the KC Royals had Paulo Orlando, Cheslor Cuthbert, Billy Burns, and Drew Butera on the bench available to pinch hit.
Are you really telling me that Raul Mondesi Jr. was the best option to hit in that situation?
More from Kings of Kauffman
Apparently, Ned Yost thought so. There are some reasons to support such a move. First, the Kauffman Stadium field was slippery after drizzle had fallen most of the evening following a one-hour rain delay. Mondesi's bunting skills and speed could make fielding any grounder an adventure that could easily turn into a multi-base error.
And, if Mondesi got on, his ability to swipe bases could be the difference between winning and losing. Add in the kid's bases-clearing triple on Sunday in Boston and his three-game hitting streak, maybe Ned was confident that Mondesi could get a hit.
My choice would have been to bring in Cheslor Cuthbert and pinch run with Billy Burns if he got on base. Cuthbert doesn't have Mondesi's ability to beat out base hits, or put pressure on defenses, but he is hitting .290 and has a lot more pop than Mondesi.
Could the pinch hitting penalty be a factor?
The Pinch Hitting Penalty
Conventional baseball wisdom tells us that players don't hit as well coming in cold off the bench as they do when they've started the game. Andrew Dolphin wrote about this issue for Baseball Prospectus in 2006:
Indeed, an average hitter being used as a starter will have a wOBA of .341, while an average hitter pinch hitting will have a wOBA of .320. That's a 21-point drop in wOBA when pinch hitting (or, more precisely, a 6% drop), completely corrected for everything I can think of. For those who have read The Book, this is a familiar result. And indeed, we still find that the largest cause of this is a much higher strikeout rate (23% higher than when starting), though it's also true that fewer batted balls are hits.
Further, Dolphin points out that this penalty hits pretty much EVERY pinch hitter:
The current data also confirm the assertion made in The Book that all pinch hitters are equally penalized; there is no such thing as a "pinch hitting specialist" who is expected to hit just as well, or even better, as a pinch hitter than he would as a starter.
Get the FanSided App
Most major league veterans tell you that it's hard to get into the mental flow of the game after sitting on the bench for hours. Also, they don't get the benefit of having seen live pitches in their previous at bats. While in many circumstances, pinch hitters will be facing relievers anyway so the third time through the order penalty might not apply, it seems to me that at least seeing pitches probably helps.
If nothing else, a player gets an idea of how the other team is trying to pitch you.
Now, let's apply Dolphin's pinch hitting penalty to Tuesday night:
Applying The Pinch Hit Penalty To Cheslor Cuthbert
Applying Dolphin's 6% estimated penalty to Cheslor Cuthbert and his current .328 wOBA (to use consistent statistics) drops to .308. If we presume that the 6% similarly applies to OPS and Batting Average those numbers drop from .764 to .718 (OPS) and .290 to .272 (BA).
That's not good, but they're a lot better than Raul Mondesi's .237 wOBA, .196 batting average, and .542 OPS.
But, raw numbers aren't the whole story.
Ned Yost has to manage for more than one game. Yes, you're in a playoff race and you'd expect your players to understand you need to chase every edge to win. But, 21-year-old rookies can have fragile confidence. If your manager expresses confidence in you in a key situation, it could help Mondesi succeed for the rest of the season.
At this point, it's pretty clear that Ned Yost wants Raul Mondesi's exceptional range and speed on the basepath in the lineup. Perhaps Tuesday's decision was, in part, about helping Mondesi succeed over the last 30 games of the season.
Certainly, the move did work. Mondesi stole second after Hiller hit him with a pitch, and advanced to third on Jarrod Dyson's single to center. After Dyson stole second and Hiller struck out Lorenzo Cain, the Yankees escaped walking Hosmer, and bringing in reliever Chasen Shreve. Shreve then struck out Kendrys Morales and induced a fly ball from Salvador Perez.
In the end, the KC Royals players need to put the loss behind them. But manager Ned Yost can benefit from reviewing his decisions.
This article originally appeared on