KC Royals: Four Years After Trading For James Shields And Wade Davis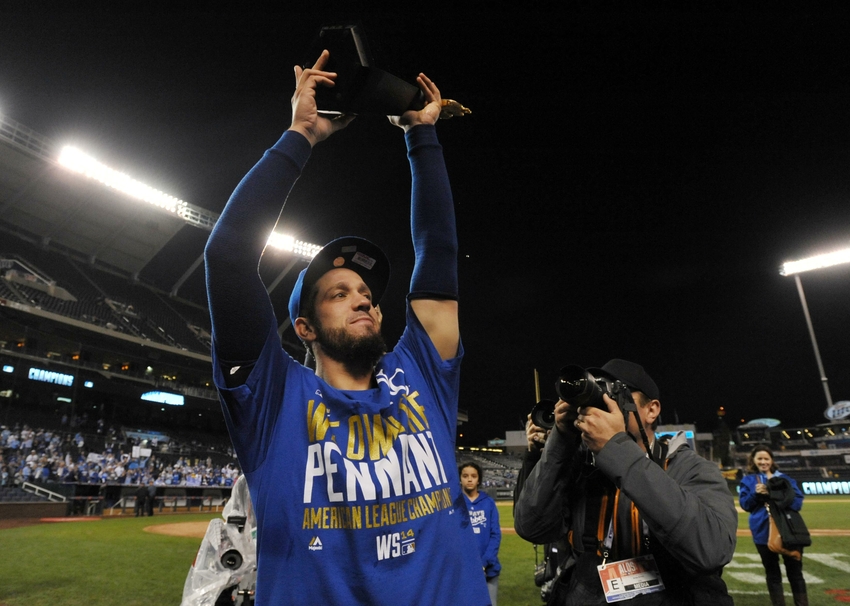 The KC Royals traded top prospect Wil Myers, along with three other minor-league players, to Tampa Bay in return for pitchers James Shields and Wade Davis on Dec. 9, 2012.
Pundits and analysts across baseball largely pummeled the Kansas City Royals front office for the deal. KC gave up super-prospect Wil Myers, pitchers Jake Odorizzi and Mike Montgomery, along with rookie league player Patrick Leonard. But, most analysts thought the Royals weren't close enough to contending to make such a deal and that general manager Dayton Moore was merely trying to prevent owner David Glass from giving him the axe. 
Former Toronto Blue Jays exec turned baseball writer Keith Law said:
"The deal reeks of a GM feeling pressure to improve short-term performance to keep his job," Law wrote, "which is a terrible situation for any executive both personally and for the way it can inhibit his ability to make rational decisions."
Moore told USA Today's Bob Nightengale on Dec. 10, 2012:
"To me, that's insulting," Moore tells USA TODAY Sports. "That's very insulting. Very, very insulting. I don't get too bent up about criticism, and I want to take the high road here, but that's insulting my integrity."

"If something happened, I couldn't get another job in baseball? Is that what people think?"
No One Questions Dayton Moore's Decision Now
You know what? Four years later, Dayton Moore stands completely vindicated. His team was indeed on the verge of winning, finishing 86-76 in 2013 before reeling off two straight American League pennants in 2014-15. The young KC Royals desperately needed the leadership James Shields provided. And, the team didn't come into their own until veteran role player Raul Ibanez infused his teammates with self-belief in a clubhouse speech in July of 2014.
I guess that's why Keith Law writes about baseball, and Dayton Moore is on his way to getting elected to the MLB Hall Of Fame. Don't laugh. If the Royals win one more World Series, Moore has a very good chance.
Wade Davis Was The Key
At the time, iconic KC Royals blogger Rany Jazayerli believed that Wade Davis was the key to the deal for Kansas City. If Davis succeeded, the trade might work out OK for the Royals. If Davis failed, Jazayerli believed KC front office would come to regret the deal.
Jazayerli turned out to be largely right. It was Wade Davis that turned this deal into a clear win for the Kansas City Royals. However, Rany believed that Davis would need to succeed as a starter rather than joining what he considered a stacked KC bullpen. What Jazayerli didn't foresee is that Wade Davis would become not just a "good" or even "dominant" reliever. Instead, Davis became the best bullpen weapon in baseball.
Trade Still Benefiting The KC Royals
Wade Davis turned out to be so good that the Kansas City Royals were able to flip him for four cost-controlled years of young slugger Jorge Soler. The James Shields/Wade Davis trade is still the gift that keeps on giving four years later. If Moore had wanted prospects, he might have been able to demand a package nearly as good as what he gave up to acquire Shields and Davis.
After failing as a starter in 2013, we know that Davis became the best reliever in MLB. Shields also provided two good years in a Kansas City uniform, going 27-17 with a 3.18 ERA. More importantly, Shield helped the young pitching staff gel. Danny Duffy, in particular, cited Shields for teaching him how to temper his internal fire into success on the mound.
Oh, and the Royals selected prospect Nolan Watson as an exit bonus with the draft compensation they received for losing Shields.
Tampa Bay's End Of The Deal
Though the Kansas City Royals ended up the clear winner of the trade, the Rays DID capture significant value. In fact, the biggest problem for Tampa Bay wasn't that they made a bad deal. It's that general manager Matt Silverman (who replaced Andrew Friedman in 2015) lost faith in much of the talent that he had inherited.
Outfielder Wil Myers won the 2013 A.L. Rookie of the Year award, but struggled with injuries in 2014. Myers rubbed the Rays front office wrong, and they dealt him to the San Diego Padres in a deal that has largely turned into a disaster for Tampa Bay. Myers rebounded to post a stellar first half for the Padres in 2016, which earned him his first All-Star berth at age 25.
Jake Odorizzi has turned into a solid no. 2/no. 3 starter for Tampa Bay, posting a 3.53 ERA in 357.0 innings pitched with a 8.0 K/9 over the last two seasons. The Rays control Odorizzi through the 2019 season.
Get the FanSided App
Mike Montgomery never cracked the big leagues for Tampa Bay. But, he did bring back pitcher Erasmo Ramirez in a one-for-one deal with Seattle. Twenty-six year old Ramirez looked good in 2015 with a 11-6 record and 3.75 ERA in 163.1 innings for Tampa. But, he regressed in 2016 as a reliever.
Meanwhile, Montgomery blossomed into a valuable lefty-swingman with the Mariners and Cubs in 2016. He wen 4-5 with an outstanding 2.52 ERA in 49 appearances and seven starts. Monty ate 100.0 innings with a solid 8.3 K/9.  He also played a key role in nailing down the 2016 World Series title for the Cubs.
Finally, Patrick Leonard has risen to AAA in the Tampa Bay system, but struggled in 2016 while slashing a mere .198/.276/.252. However, the now 24-year-old Leonard thrived at AA hitting .286/.323/.400.
While Myers could yet blossom into a perennial All-Star, Tampa Bay won't reap the benefits. Odorizzi is more good than great. The Rays only real hope of drawing even with the Royals is if Patrick Leonard pulls a Josh Donaldson and becomes better than anyone expects.
In the end, the KC Royals won the trade due to winning the 2015 World Series. James Shields and Wade Davis played large roles in two A.L. pennants and touching off baseball mania in Kansas City. Perhaps the team might have still won had Dayton Moore kept his prospects and signed free agents. But, we'll never know.
What we do know is Moore made the trade and brought home a championship. Flags fly forever.
More from Kings of Kauffman
This article originally appeared on