Kansas City Royals: Potential Trade Partners for Lorenzo Cain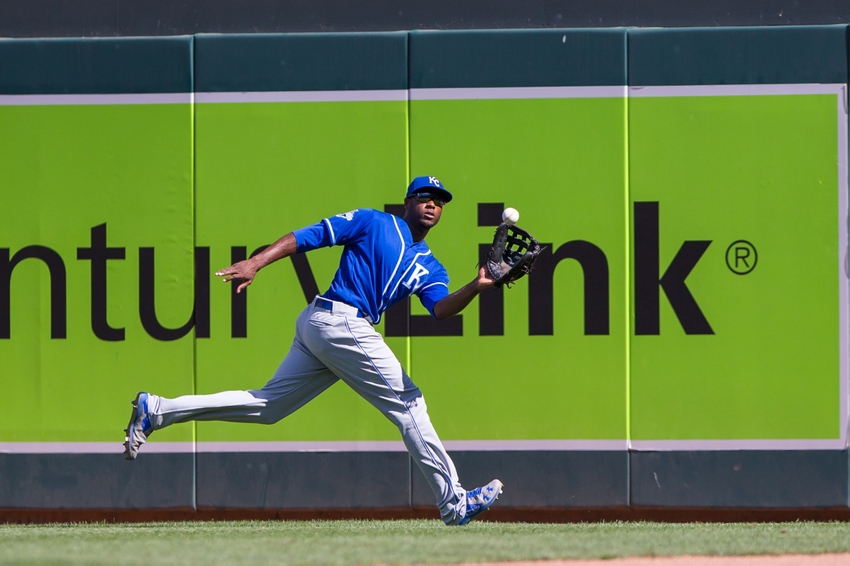 Former World Series Champion Lorenzo Cain still is one of the best outfielders in baseball. Despite his injuries last season, Cain can still contribute to a championship push.
The former 2015 all-star and third place MVP may be on the trade block heading into the winter meetings. Despite his contributions when healthy, the Kansas City Royals may be looking to rebuild instead of resupply. Cain, who is only locked down for this next season, may be the Royals first go to trade. Because of his great 2014-15, and productive time in 2016, Cain still has value to a team making a World Series push. Cain will be a one-year rental outfielder, so wherever he goes must be ready to contend for the World Series in 2017.
Despite only playing in 103 games last season, Cain still put together respectable numbers. Cain slugged 9 home runs and 56 runs batted in with a .287 batting average. Stealing 14 bases, Cain scored a total of 56 runs in 434 plate appearances. Cain still proved to be one of the biggest contributors for the Kansas City Royals. In games that Cain played, the Royals went 58-45, in games without Cain the Royals went 23-36. Despite his numbers take a very slight dive in 2016, Cain still proves to be a factor that helps win ball games.
This is evident by Cain's Wins Above Replacement. In 2016, Cain posted a 2.4 WAR, with a full season of play at the same pace Cain would have posted a 3.8 WAR, tying for sixth best out of center fielders. While this isn't the same Lorenzo Cain as two or three years ago, he is still providing towards wins. Insert him into a line-up that is ready to win a World Series and we will see his numbers improve to what they once were. With that being said, here are potential trade partners to acquire Lorenzo Cain.
Washington Nationals
With the Nationals already being rumored to be working out a deal for Andrew McCutchen, a potential deal for Lorenzo Cain isn't too far-fetched. Obviously, they wouldn't look to acquire both men. However, if the Nationals cannot work out a deal for the former MVP they can approach the Royals for Lorenzo Cain. McCutchen can be locked down through 2018, Cain cannot, so the asking price for Cain would likely be significantly lower.
Cain wouldn't be that much of a downgrade from McCutchen either. Actually, just taking into consideration 2016, Cain is the far better player. Cain has a lower strike out rate, higher batting average, and higher on base percentage. If you average out Cain's numbers to McCutchen's at-bats the numbers are even more revealing. Cain would have slugged 14 homers to McCutchen's 24, 87 RBI's to 79, and 87 runs to 81. In 50 fewer games played Cain had a better WAR and significantly better defense. It's commonly thought that McCutchen has tremendous fielding, but according to Fangraph's Def statistic he is "poor".
Especially with Chris Sale just being dealt to the Red Sox, the Nationals can shift their focus elsewhere. If the price of McCutchen rises because Pittsburgh knows Sale is off the table, the Nationals can counter by pursuing Lorenzo Cain. While McCutchen has more potential to be great because of his past, for the asking price Cain should be the route the Nationals take. Then, Trea Turner can move back to his natural shortstop, making the team leaps and bounds better.
Baltimore Orioles
The Baltimore Orioles have the possibility of losing a lot of pieces heading into 2017. The biggest loss of course would be Mark Trumbo. And while the smartest route may be to bolster the starting pitching, the Orioles may want to stick to what they know and bolster the bats. Lorenzo Cain is a realistic, cost-effective choice. With very little young talent in the farm system, the Orioles could potentially snag up Cain for a year lease in order to not only make a push into October but to lure back other key pieces.
To acquire Cain, Baltimore likely would have to give up some of their best farm talent along with a big league ready young talent. The name that instantly jumps off the bat is Joey Rickard. Rickard is only 25 years old and has a great amount of upside. His numbers weren't the best, but his later minor league numbers should be a sign of upside. In 74 games between AA and AAA in 2015, Rickard hit a combined .330. This is a promising sign that makes his .268 average last season more promising. Regardless, Rickard as shown potential to be a potential factor in the future and should be included in the deal.
Rickard wouldn't be close to enough however. Baltimore may have to give up young arm Dylan Bundy, who at 24 years old put up pretty good numbers in 2016. A package of Rickard and Bundy may be enough, but depending on the Orioles desire they may end up shipping more arms off. It would not be surprising to see Baltimore ship off 2016 1st round pick Cody Sedlock to Kansas City in order to lure in Lorenzo Cain.
Texas Rangers
The Rangers have the pieces to acquire Lorenzo Cain and seem to be the perfect fit. The Texas Rangers are short a third outfielder, and with depth in other positions the Rangers can afford to give away a young talent. Lorenzo Cain would be a huge addition to the Rangers. Cain would help Texas contend with the Red Sox and Indians for AL supremacy. The one year lease of Lorenzo Cain may be Texas' best bet, regardless of what they give up.
More from Call to the Pen
Personally, a deal that makes a lot of sense to be is a deal swapping Cain for Joey Gallo, along with a minor prospect or two. Ranked the sixth best prospect in baseball by MLB.com in 2015, Gallo is a huge trade chip waiting to happen. Being in and out of trade talks, Gallo has always been a go to name when discussing bringing talent into Arlington. However, it may be the end of the line of these talks as he will be shipped off to Kansas City.
Gallo has been slightly disappointing in his short time in the MLB, but that shouldn't be a prime judging point. His tremendous upside will still draw interest from a team like Kansas City that could use a young DH in 2017. A straight swap for Gallo and Cain is very possible; however the Royals would likely want at least one more player included as well.
It very well could be a player to be named later. It could be a low-level big leaguer, or a minor prospect. Likely, the Rangers would pair a mid-level prospect, such as LHP Brett Martin, with Gallo. This makes a lot of sense for both sides of the trade, as the Royals start a rebuild with a MLB ready talent and the Rangers can further push for the postseason without giving up too much.
Because of this, the Kansas City Royals should look first to the Rangers to trade Lorenzo Cain. This swap makes the most sense, and will have the most impact.
This article originally appeared on