Kansas City Royals: Four Moves to Return to the Playoffs in 2017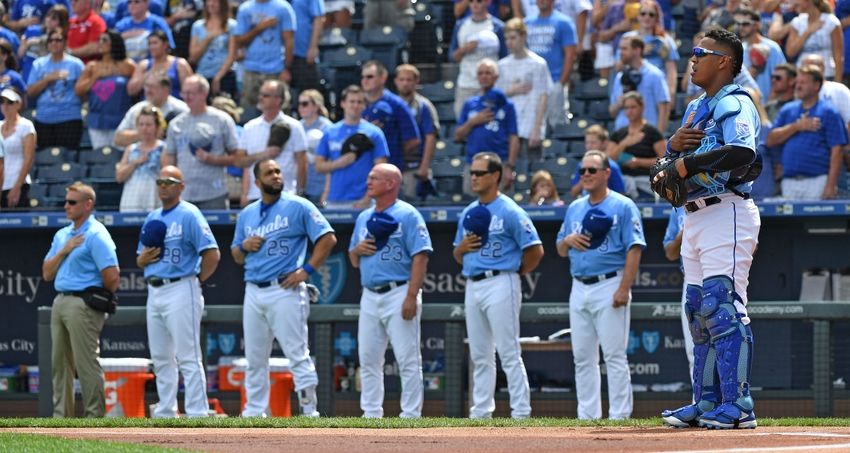 In 2014 and 2015 the Kansas City Royals were America's team. After their World Series win, they saw themselves take the backseat in 2016.
I remember watching the 2014 World Series like it was yesterday. I'm not a Royals fan, but that year was perhaps the first time I was solely rooting for a team that wasn't my own. I remember Alex Gordon hitting the little league triple in the bottom of the ninth. Jumping up, I waived my hands like I was the third base coach waving him home. He stayed, and the next batter Salvador Perez flew out to end the game. I wasn't alone that year, because it seemed like all of America was rooting for the Royals. Now, well Kansas City has lost the title of America's sweetheart to the Chicago Cubs.
2016 was sort of a dud of the year for the Royals. They finished exactly .500 at 81-81, 8.0 games out of the wild card. Sickened with injuries and an underwhelming pitching staff, the Royals could not recreate magic for the third year in a row. However, the team is still very promising with the likes of Eric Hosmer and Lorenzo Cain. Lorenzo Cain only playing 103 games actually was a big reason the Royals struggled. In games that Cain played the Royals went 57-44. Therefore, without Cain the Royals went 24-37.
The Royals still have talent that can propel themselves into an October push. With the right moves to fill the right holes, Kansas City could very well compete with the Cleveland Indians for the AL Central title next season. Kansas City has always had that never die attitude, and the boys wearing Royal blue are certainly out to redeem themselves in 2017. So with that being said, here are four moves that can help the Royals reach the playoffs in 2017.
4. Bolster Their Bullpen
The Kansas City Royals' bullpen is alarmingly thin heading into the 2017 season. As of today, the Royals have eight arms listed in their bullpen, with three of which also listed as starters. While their bullpen did rank eighth last season, they are losing four arms and should further attempt to improve it. With so many options on the free agency market, Kansas City should be looking into getting another quality arm for two or the back-end of games.
Despite the starting pitching being underwhelming, the bullpen last season was actually pretty good. They ranked eighth in Wins Above Replacement, fifth in ERA, and 13th in WHIP. While those are good numbers, there is still room for improvement. The bullpen may not be their primary concern this off-season, hence its low ranking, but it should still be an area to address. There are so many good options out there for Kansas City to pick from, and adding an extra arm or two will only improve the bullpen's production.
Notable guys for the Royals to attempt to sign are Joe Blanton, Scott Feldman, and Drew Storen. Blanton had a good 2016 campaign, posting a 2.48 ERA in 75 games pitched. Feldman and Storen may not have put up the same numbers, but could contribute to Kansas City's bullpen. Ultimately, the best target would be Joe Blanton as he was a consistent work-horse for the Dodgers last season. Also, lets not forget about the big three of closers in this free agency. If Kansas City can somehow snag one of them, moving Wade Davis to set up man, they will improve drastically.
Hunter Dozier is the Royals number one prospect according to MLB.com. Dozier is a third baseman, who can also play outfield. His biggest quality is his power hitting, but can hit for good average as well. The Royals called him up last season in which he played eight games. However, they should permanently make the move for him to be on the opening day roster. Dozier is 25, and has shown in the minors that he is ready for the challenge of MLB.
Dozier has put up good numbers in the Kansas City farm system. In 2016, his combined AA and AAA numbers were very impressive. Dozier batted .296 with 23 homers and 75 runs batted in. Those numbers are mostly at the AAA level as well, as he played 26 games in AA and 103 games in AAA. Despite his eight games in the majors being rather disappointing, Kansas City should not sit on that fact and trust in his ability to succeed.
Dozier provides a nice outfield option and back up third base option to Mike Moustakas. Dozier is a decent fielder, not great and certainly better at third base, but may see himself in the outfield more often. With Alex Gordon struggling and the potential of injury to the other starters Dozier may see a surplus of playing time. However, we may as well see Dozier become a starter as early as game one, and to figure out why well you need to continue further down this list.
Kendrys Morales put up pretty good numbers for the Kansas City Royals last season. Morales led the team in home runs (30), second in runs batted in (93), and third in hits (147). Morales was a productive middle of the line-up bat that leaves a big hole after he departed for the Toronto Blue Jays. While Kansas City's current listed DH, Cheslor Cuthbert, put up decent numbers, they can definitely improve with an every day designated hitter.
There are plenty of power hitting free agents that can replace the production of Kendrys Morales. As stated here, Matt Holliday would produce near identical numbers to Morales if he had the same amount of plate appearances. Sure, Holliday is an outfielder, but with his age and declining fielding a permanent move to DH may be appropriate. Other options are available as well. Carlos Beltran may be a fit to return to the Royals and still could slug 20 or more home runs. Jose Bautista may even be an option as his fielding has gotten awful and a permanent switch to designated hitter could boost his numbers higher than they were in 2016.
Kansas City has even more options outside of those veterans. Guys like Mike Napoli and Pedro Alvarez would be a great fit in Kansas City to fill in at the DH slot. There are so many options out there in the market, and Kansas City would be foolish to settle with Cuthbert being the every day starter. While he did put up decent numbers in the chances he was given, the Royals may be wiser to go with a veteran power hitting presence in the DH slot.
1. Trade For an Elite Pitcher
The Kansas City Royals lack a true ace in their rotation. Danny Duffy did well, and Yordano Ventura has shown glimpses of greatness. To truly make a deep push into October, the Royals need to make a move for an elite pitcher. They also could sign good pitchers available, but their lacks to be any superstars. Therefore, Kansas City should make a move to acquire an elite pitcher.
The guy that jumps right off the bat to me is Justin Verlander. Verlander is a veteran, and age is not on his side. At 33 years old and a whole lot of money to be owed, the Tigers may be shopping the right-hander. It's not like Verlander can't produce a quality season either. He quitely had perhaps the best season in the AL in 2016. Verlander went 16-9, posting the second best ERA at 3.04. He had the third highest K/9 ratio, averaging 10.04 strikeouts for every nine innings. Verlander can still pitch, plain and simple.
Because of Detroit's heavy amount owed the asking price for Verlander may not even be that high. Kansas City should attempt to package some outfielders in a deal with Verlander. Alex Gordon may be a hard sell, but they should at least tinker with that option. However, sending off the duo of Paulo Orlando and Jarrod Dyson along with pitching prospects like Miguel Almonte and Kyle Zimmer may get a deal done. Detroit would then get two solid outfielders that they could keep, or flip for areas of need and two pitching prospects that could find themselves at the back-end of their rotation.
Other options persist as well. Chris Archer has been rumored to be on the trade market for a long while now. Archer is young, and may only cost Kansas City the pair of outfielder. Tampa Bay is short outfielders, and trading them paves a way for Hunter Dozier to start.
More from Call to the Pen
This article originally appeared on